Season 2/ Episode 5/ HBO
*spoilers in the morning and the middle of the night*
Let's get right into this… traffic ain't shit, ain't never been shit, ain't never gonna be shit. Ain't nothing like sitting in traffic so long that you start perusing IG or snappin' ya nail game. When Issa had to stop for gas and hit the tank with the sacred Black $10 spot, I giggled. Gas gone be $4 a gallon in 45's America and we still hitting that tank with a ten. Some things are universal and will never change. Forget the gas, tho.
Issa showed up on somebody's porch about to catch that heat, why she playin'. Oh, but she is playin'…….with Daniel. Swear on salt and pepper on grits, I knew that was poppin' off after last week. Issa might be building her roster, but ain't nothing like some good familiar when you getting you hungry and single.
It's good to see Molly in Chicago doing big things and racking up the mileage points on the company's card. Especially when that includes being in a firm with some representation and getting to let her hair down with another Black colleague. He's schooling her on getting out of a firm filled with white-walkers and getting to some place where she won't just be fulfilling a quota. Lil Rel plays his part, too. I love seeing him all suited up and still throwing tiny quips. When he asked Molly to bring him some Roscoe's, talking about he slim thick and got the body of a pastor. I was slain. They needed an organ cue on that.
I still can't get past this The Chained and The Unchained slave soap. Was he talking about his man bush? Nah. Nope. I'mma turn my head and focus on the fact that Issa's at Daniel's crib and he sitting up in that bed looking like a chocolate Axe commercial. He asking Issa about her plans like he tryna be her man. Pulling her all close with his washboard stomach having ass. Bastdammit. I have to admit, whether these two are in a situationship or just chillin', I like seeing Issa comfortable and in her own groove. Get that groove back, sis.
Looks like Lawrence tryna get back into some kind of groove the next day, too. He out running with the colleagues and training for a marathon while still dealing with that jury duty shit that got him to get that mail from Issa in the second episode of the season. Issa and Molly are working on the flower arrangements for Molly's parents vow renewal while doing what they do best… talkin' shit. Daniel textin' Issa and she got a smile wider than this damn eclipse. Molly getting Issa to spill it and define wtf is going on with her and Daniel. Issa is staying true to not catching feelings and just doing her right now. I hope Daniel knows that, because he was looking mighty comfy with her if you ask me. He may be her FWB, but she betta make sure he's down with that. Issa is truly feeling herself with this new heauxtation: Daniel (CheatBae or nah?), NeighborBae and potential LatinoBae who is looking like OldBae. I will never be mad at a good silver fox.
Lawrence is sitting in the waiting room for jury duty surrounded by wood paneling, looking like a mundane level of Dante's Inferno, flipping through IG. Can we pause for a second and talk about Kelli's crazy ass? Sweatergawd she is hil-fuccing-larious. Why is she eating the hottest peppers ever for the 'gram? Lawrence was wincing at her pain until he started getting in his own feelings after seeing Issa in an eye gaze with Daniel in the back of another photo of Kelli's. He mad, yo. His chest got all huffy as he stood up to go into that courtroom.
Lawrence about to be like Issa was with Tasha, putting puzzle pieces together tryna make some since outta shit. While he's in his feelings, Issa is at work with all these pretentious, privileged do-gooders tryna build that rapport back up with Frieda and Frieda ain't having it, honey.
That coffee break chat was intense and Frieda dropped some knowledge on how racism works, but Issa ain't having it. Issa ain't right with being okay with Principal Oil Slick purposefully shading the Latinx student population. After all the time they spent making zero progress in that school and Issa begging for another chance with it, she's willing to take what she can get right now, but it's at a mighty cost.
I hope this shit doesn't blow up in her face. I also hope to never have such an intense conversation around my coffee. Caffeine is sacred, that could've waited until after she got some cream in her cup. Damn.
Instead of intense conversation over coffee, Molly and married dude are getting real over flowers in her parents' driveway. Looks like these two have been friends for a minute. That friendship seems to be the thread that keeps them cool after such an awkward last encounter when he let Molly know his marriage was open and he was tryna get her open, too. Molly seems to respect the arrangement but throws a pass at it. She doesn't see her life going that way.
Looks like someone was listening to Therapy Nana after all. Molly seems to have her feelings sorted out, while Lawrence is all up in his feelings sitting in a courtroom trolling Daniel on FB. That's why they dismissed his ass. Too bad sista girl in the BLM tee didn't just sit there looking complacent as hell, they'd have gotten rid of her. Judge Paw Paw wasn't studdin' her blazer pop in the least bit. Lawrence leaves and we see Molly's sibs slide into the kitchen after her parents was damn near bumpin and grindin in front of her. Lol. I'mma be that kind of old lady, talking about "don't start nothin' you can't finish." Mama nasty.
Speaking of nasty. Issa out in the freakum dress meeting up with LatinBae/OldBae. He tryna grab martinis and she tryna grab them drawls. We hadn't seen a good rap/soliloquy this ep, so that 'easy on the chata, heavy on the whore' scene had me dying. OldBae going in on his love for DC Comics on the first date? Issa might have to rethink this one or she's going to find herself in her t-shirt and panties with this dude, eating dry ass pretzels and watching Batman vs. Superman.
Silver fox or nah, that ain't worth it. Despite his love for DC, Issa is feeling him so much that she swerved Daniel and stayed for more than one drink. He seems to be feeling her, too. When that check came and Issa pulled the polite lean in and pause, he picked it up and told her to commit to the grab next time. Oooh? Chivalrous and speaking in future tense. I see you, OldBae.
At work the next day, Issa is on her heauxtation duty…checking in with Daniel after choosing different company the night before. She's still trying to ease back in to Frieda's good graces during their retreat exercise, but Frieda got that ice box where her heart used to be so….. Frieda shades Issa and pairs up with Patricia aka Dark & Lovely. I mean, she cute, but she grim as fuck. I just knew we were about to see some old school ABG behavior with Issa and Sujata Day's character Sarah, but nah. Too bad. I miss me some Issa and CeCe.
Molly back at her folk's crib getting ready for the big day with Lionel. She can't even introduce dude right, don't know his job title or nothing. He there to be a blocker between her and married dude. Why else? Jarrell ain't buying it either. She didn't even try to introduce Lionel until he gave her the good firm shoulder hug to claim her from Jarrell with the good hair. Lawrence out with Tiffany's husband trying to piece this Issa-Daniel thing together and getting schooled on how fucking wack he was and how even though Issa wasn't right to step out on him, he wasn't no spring chicken, Roscoe's Chicken or Popeye's Chicken. Nah Lawrence, you was sitting on your ass for two years like some ole GMO KFC chicken, bruh. Takes a real one to call you out, homie.
Molly's brother is a real one, because he sho'nuff called her out on settling for Lionel. Don't get me wrong, I love me some Sterling, but this brotha ain't the one for Molly. He trying mad hard, too. The sibs are putting in work this episode, because Issa's brother is getting her right, too. She is okay with leaving out all of the Latinx kiddos. All. She literally said all and she can't handle the truth. NeighborBae hits her up while she's mad and now she's snappin' for self care? That heauxtation stay spinnin' Issa, but next time you tryna sext lock the door mama.
Oh, it looks like some shit is about to pop off. Molly's aunties runnin' they mouths at the renewal and Molly look shook. Issa driving and get that good DIstraction piC and it looks like that car is totaled. You can't drive and text, boo. Especially if you stacking that heaux roster cause them nudes will come at you when you least expect it.
Molly figures out that her dad slipped up and cheated back in the day and throws and full fledged fit. She storms out with Lionel looking like he got caught in a wind storm and Jarrell taking the lead on calming her down. You can tell they've been friends forever, because he knows Molly's a hot head and wasn't about to let her drive off like that. Issa stuck with a tow truck and Daniel is coming to the rescue. Lawrence is drinking and FB trolling Issa. He either clicked on a new pic or unfriended her.
This last scene is on a spiral, yo. Jarrell tryna calm Molly and get her to be a realist, cause folks make mistakes and get through it. Daniel threw on a cape to save Issa and she felt the wind of commitment kick up and had to make sure they were both on the "non feelings" track of kickin' it. Daniel look a little hurt, but he okay. Jarrell drove Molly home in her car, so he's about to take a Lyft home (that's a good brotha—
Did Molly just pull him in? I mean… she pulled him all [clap] the [clap] way [clap] in [clap]. MOLLY!!!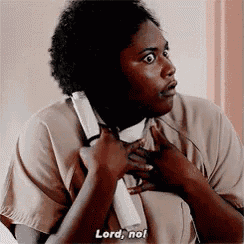 Are you following Black Nerd Problems on Twitter, Facebook, Tumblr or Google+?