Season 2/Episode 8/HBO
*Spoilers coming at you as fast as Kelli can throw shade*
We made it. The Insecure season 2 finale is here and it is something to behold. Before we jump feet first into the recap, let me break a few things down for you. If you missed this episode then you missed a whole helluva lot. You also need to know that the flow is mad different than our usual episodic recipe of sliding in and out of a 2 day sequence of events. Nope. This episode gives us, you guessed it, different perspectives from the three main characters in a 30 day time lapse. The cinematography draws you into each characters' perspective, giving you a sense of immediacy in whatever the hell is happening and who is doing it.
This episode also does what Insecure does best, give you the angle of the characters' point of view and then hit you with that shocker! Basically, the cinematography on the finale is on point. It's a slow winding roller coaster of "oh hell naw," "what the fuck," and "pssshhhh." Let's do this…
Opener
The finale starts off with Issa walking through the neighborhood with the same N-word sweatshirt we saw in the season opener. She's eating fro-yo and getting a few reminders of what gentrification looks like. Those reminders include a chipper ass barista with the nerve to shorten Inglewood into I-wood. This barista has no idea what family owned spot used to inhabit her little store front and could apparently care less. Up and down the block, Issa is seeing signs selling and leasing different store fronts, white folks walking unafraid, and did that barista really say I-wood?
30 Days with Lawrence
We meet Lawrence at mile 14 of the marathon he's been training for with his coworkers. He's got a colleague with nipple bleeds, Aparna at his side, and a swift peripheral of Issa and Molly on the sideline. The scene moves from the marathon to a kitchen scene three days later with Lawrence feeding Aparna and these two are most certainly boo'd up. He's cooking salmon and they're talking shop.
Next thing you know, Lawrence is getting the 411 on Aparna's past with Collin and then he starts getting deeper and deeper in them feelings. So deep, that he's spilling her details with colleague Collin to the home boys while Aparna's orchid is in the back looking more like a walking stick than a showcase of their virility. The homies are giving horrible advice and Chad called Collin extra dick. Boy bye. Chad gotta be the most extra dick in any space he's in with women. Remember how the realtor was giving Chad them eyes when she showed Lawrence the new crib? Yeah. That's what I thought.
Lawrence goes deeper and deeper into these insecurities of his as he just keeps bringing up Collin and Aparna checks that ass. As quickly as she slid into place in his life, she slid right the fuck back out. Aparna jumped smooth out of the car on a date night and was done with Lawrence, honey. All the way done. Next thing, we see Lawrence in an oatmeal colored Carl Thomas sweater walking up to Issa's crib…. Shit is about to get mad emotional.
30 Days with Molly
The episode cuts away from Lawrence as he's walking through the door and we're back at mile 14 of the marathon. Issa and Molly are doing what they do best, talking mad shit. Molly is telling Issa about Quintin (Lil Rel) coming into town and keeping things casual. The next thing you know, we see Molly sitting at a round table of Black lawyer magic on an interview. She's working the room and they are loving her. It's all smiles from Molly even at dinner with Quintin and even after she peeped Lawrence on a date with Aparna. Quintin is shooting his shot by complimenting Molly and offering to take her out when she comes to Chicago. "Gotta eat….homie!" Oooh, Molly ain't never awkward, but that shit was played. I love that we see her talking it out with Therapy Nana. Yes, honey, Therapy Nana is back and they are walking Molly out of those "shoulds" and into the "coulds" until she gets a text from Dro. Negro, no.
Later on, it looks like Molly is chasing "could" and getting hot and heavy with Quintin. He had no idea what was coming. When Molly hit the switch and came up outta her shirt he dropped them pants so quick…. I died. When Molly is giving the details to Kelli and Issa later, it seems like Q came up a bit short. Well, maybe not short, but just "eh." Molly is trying so hard to give him the benefit of the doubt, but when you skip over the "oohs and ahhs" with your homegirls and just start talking about how mad funny and supportive someone is? That means it wasn't good. Flat out. They ladies begin to dig more into work with Molly and size up the new Black firm and it's potential or whether Molly should stay with her current situation.
Kelli in preacher mode and gives a laundry list of pros and cons for each side. When Molly shares her worth and how the other firm valued her with the Wonder Bread Brothers, they hand my girl an honor roll certificate. Honest to Bast, this shit had a gold foil stamp and everything. No zeros attached. No promotion. An honor roll certificate in a manila folder. These rich, pompous assholes couldn't even bother to frame her shit? Molly bit that lip but you could tell that she was heated.
Hot. 50 shades of pissed. From the look of how this segment ended, Molly blew off some steam with a little rendezvous. Maybe she gave Q another shot? All I know is, Molly was relaxed and all smiles until Issa called and then my girl sat straight up.
30 Days with Issa
Back at mile 14 the crew, Tiffany and Derek included, walk to meet up with Kelli. Kelli been training for months only to have her running goals thwarted by the Red Wedding in her drawls (her words, not mine). Issa being Issa, laughing and snorting and shit. It was all funny until she and Molly were the last ones to know about Tiffany being pregnant, even though her dramatic ass had been throwing hints like candy at a parade. They got a weed baby and Issa got feelings as she stares off and sees Lawrence with Aparna. Now, all of a sudden, she's announcing that she's moving. Ummmm, okay.
Wait. Speaking of Issa's place. Can we talk about how they never addressed her little rampage? Issa ransacked her own shit and then was hosting a Due North watch party? Who helped her clean up? How did that table survive? I got questions.
Shit gets mad real when Issa has to tell her boss about the real reason they got all the Latinx kids at We Got Y'all on a weekend. So this was the big ass idea you had and Frieda cosigned on last week? The idea that Frieda replied to by saying she had the same idea? Neither one of y'all saw the implications in that? You just put your gotdamn job on the line, for some pride shit and a lack of common sense?
Next we see Molly, Issa, and Kelli sitting in that "clean" ass apartment of Issa's watching the season finale of Due North. They're knocking Tiffany for being pregnant and dramatic. Issa's trying to get help to pack. Kelli is keeping it all the way real, because everybody knows that Issa ain't got no where to go.
Looks like work isn't offering her any vertical moves either, because Frieda just snatched up that director of student outreach position. Issa should have had that shit. Since last season, Issa has been working her ass off and she let her personal shit get the best of her. Turning that blind eye to Principal Oil Slick and his prejudice got you losing promotions and buying drinks for Frieda in I-Wood. Yes. Frieda said I-Wood. Issa 'bouta be butt hurt over that one.
Now, Issa is outside of The Dunes selling her shit while her brother is nagging. The best part of this is Thug Yoda/Miles coming up with his daughter to buy that Brock Pot for baby girl's bauliflower soup with five dollars and an EBT bard. That bouch got Issa all up in her feelings, too… After the yard sale, we see that Issa called Lawrence and told him about the move. She leaves a voicemail telling him to pick up the couch on Saturday.
Full Circle
Saturday, Issa is doing a walk-through before handing in the keys and finds Lawrence still there….waiting. This is the true conversation we all have been waiting for.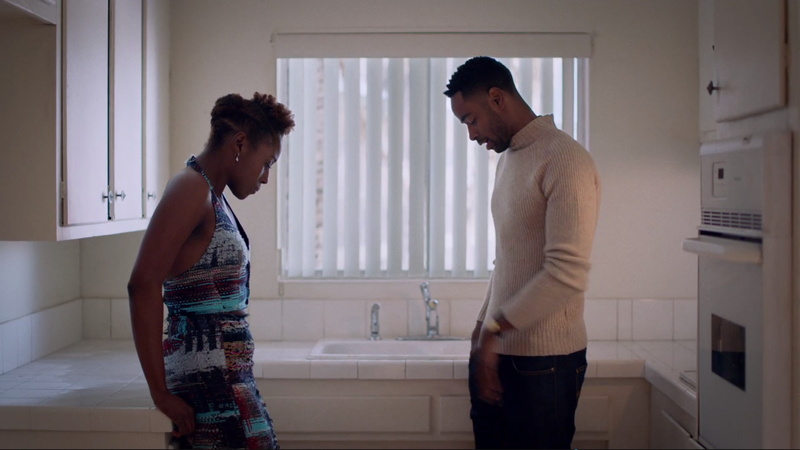 Issa and Lawrence reminisce and joke about the realness of gentrification just before the apologies get flowing. Lawrence apologizes for his years of depression and sulking in his setbacks. Issa apologizes for not being able to be there for him during that time and for cheating on him. This is probably the most honest that we've seen either of them be in these two seasons. With tears in their eyes, they both tell one another that they love each other. Just as Lawrence leaves, we see him turn around and drop to one knee….
Insecure gives us a whole dream sequence of Issa and Lawrence married, with child, all of that. It's all a dream.
Lawrence and Issa say good bye. Issa leaves and next we see her and Molly on their Bali vacation in Molly's living room. They've got caftan's, music, food… the whole nine. Molly hooked up the staycation, forreal.
When Issa leaves the next day in a Lyft (why does this child still not have a car) we see Molly getting ready for some company. Yes, I said company in the voice my aunties used to use when they had a midday booty call before I knew what a booty call was. Company. Male company.
Issa is walking up to a door and Molly is opening hers. Dro. That dude Dro?? Daniel? This ship again? This is how we're ending this shit? Issa on Daniel's couch and Dro in Molly's bed? I guess we know who was in the bathroom when Molly answered Issa's call. What we don't know is what made Molly jump up while on the phone, unless Issa was calling to tell her where she was and why.
Like I said earlier, this finale was a slow winding roller coaster of "psshhhh." I've sucked so much air between my teeth that I gave myself the hiccups.
Not only did Insecure leave us with cliffhangers until season 3, they left us with all of the Due North clips from the entire season. Those clips/episodes probably deserve a recap of their own, so I'mma let that be.
Hopefully you enjoyed this season as much as I did. I would be lying if I said I wasn't looking forward to season 3. I'm mad at who Molly and Issa ended up with, but we'll see what happens.
Are you following Black Nerd Problems on Twitter, Facebook, Tumblr or Google+?