Remember when Captain America: Steve Rogers #1 smacked us all in the face with the brilliant plot twist of a Hydra (aka Nazi) Steve Rogers that no one asked for (and if you did ask, block me on Twitter right now). Granted Steve Rogers looks like he stepped out of an Aryan wet dream, but I'm had to give that one a hard pass. Instead of taking a big gulp of that garbage water Marvel's offering I prefer sticking to a simpler time: Captain America: Civil War.
Captain America: Civil War, that happy time when our biggest questions were: Steve/Bucky vs Steve/Sam, why is new Aunt May so hot (or "Aunt Bae" as I overheard at my theater in Brooklyn), or why couldn't Dawn of Justice be this good?
I saw Captain America: Civil War. I mean, of course I saw it. I'm firmly in camp DC (in spite of their cinematic failings) but the was zero chance I was missing out on that fierce fight choreography. The Russos can't pronounce Lagos but they can capture fights beautifully.
I take you back to Captain America: Civil War and ask you to remember the beauty of Chris Evans' biceps in the helicopter scene (#NeverForget) and most importantly, the magnificence that is Wakanda and all her people. What can better rid us of the bad taste of Nazi-Cap than Wakanda?
Wakanda: technological powerhouse and home to Marvel's fabled vibranium. Witness the lush, green jungle, the majestic black panther presiding over all. A land barren of one thing: fucks.
Forget vibranium. Forget cutting-edge technology. Wakanda's true number one export? Not giving a fuck. Wakanda is clearly the world's leading manufacturer of IDGAF. The true home and reigning champions of Petty Olympics 2KForever.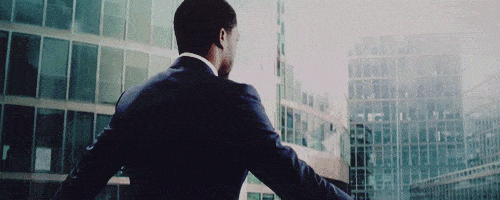 I've found my people.
For the 147 minutes of Civil War's run time, I lived my best life while every single representative of Wakanda proceeded to not be here for any of the fractured Avengers' quips. And what a glorious 147 minutes it was. I'll be honest, I've been dreading the unending banter in the film that unites Iron Man, Ant-Man, Star-Lord, Rocket Raccoon, Spider-Man, Hawkeye, and the MCU's latest big bad. But T'Challa has given me hope for the future of the MCU and in Wakanda I trust. Wakanda is clearly the world's leading manufacturer of IDGAF. The true home and reigning champions of Petty Olympics 2KForever.
T'Challa maintained a lack of fuck giving ( along with the ability to back it up) rarely seen in the MCU. Probably because he's both a hero and uninvolved in Tony and Steve divorce and Avengers custody battle (Sidebar: Would Steve qualify for alimony in the Avengers divorce? Does he even have a source of income? Can he still collect VA benefits if he's off the grid?).
Things T'Challa Don't Give a Fuck About (in no particular order):
Helicopters
Standard NATO helicopters shoot 30mm rounds. Big ass bullets from an autocannon intended to fuck your shit all the way up. But…
Unphased. That rooftop is being destroyed. Whoever's on that top floor's been riddled with bullets and Black Panther looks like someone on the subway tapped him when he had his earbuds in. Who but someone who can't find a fuck to give responds like that? This isn't someone interrupting mid-listen of Panda, he's being shot at. Bless.
International Relations
There are issues with chasing a criminal across state lines let alone between countries. T'Challa follows Bucky, Cap, and crew across Europe for funsies (well for revenge but you get what I'm saying). He even gets arrested in Romania, definitely an international incident. But King T'Challa gives so few fucks he even removes his mask. Diplomatic immunity is a thing so Bucharest's finest can't really do shit (and how glorious was the police response of "Your highness" instead of a bullet to the back).
Governing Wakanda
Okay, this one I have to call him on. The reigning king just died and meanwhile the new king is chasing a guy across Europe. Revenge is a thing, I get it. But you have a kingdom to rule, a state funeral to plan, like actual governmental responsibilities. No? Gonna have a foot race through what looked like Bucharest's longest underpass instead?
Well, all zero fuck giving can't be positive.
The Avengers
Collectively or individually, Black Panther don't care. Forget #TeamIronMan or #TeamCap. T'Challa is strictly #TeamBlackPanther. He's in the Iron Team lineup only until he discovers the truth. And unlike Cardi B, beef with T'Challa isn't beef fo'evah. While they're all going through their emotional rollercoaster infighting, T'Challa's focused on T'Challa. He threatens Bucky to Steve's face (literally sitting right beside him), shakes off multiple hits of Black Widow's Widow's Bite, and when Clint tries to add a little levity to the complete destruction of Leipzig/Halle Airport…
Of course, the rest of Wakanda follows their king in lacking any fucks to give. MVP status goes to T'Challa's bodyguard who's ready to take out Black Widow in a bodycon dress, stilettos, and gold hoops (the most confrontational of all earrings. Never take on a woman in gold hoops.)
I turn to these beautiful memories to tide me over until 2018 when I'll get to return to Wakanda. And, just so I'm all the way ready, I'll be salting the earth where I grow my fucks because it's finna be lit.
Are you following Black Nerd Problems on Twitter, Facebook,Instagram, Tumblr, YouTube or Google+?