Ladies, ladies, ladies!!! "Don't make me spell it out for ya" Janelle Monae has catapulted me into Women's History Month vibrating on high. I am obsessed! I cannot stop watching. "Make Me Feel" is a mesmerizing, tantalizing Prince tribute freedom song — a funky jam to party to like it's 1999. This video walks up to Justin Timberlake's Superbowl projector ode and slaps it with the bass. Janelle, you do it right, you do it well.
Make Me Feel Is Tribute Glory
Where do I begin? They walk on the scene in style — if Bruno and Cardi are dripping in finesse, Tessa and Janelle are soaking in swag. Just the sight of these two stunting together gives you shivers.
We then spot futuristic yet retro-styled peoples all up in the spot just chillin. By this time, the beat has come in with that funky bass and Janelle is playing no games with her musicality. Her lyrics, rhythm, and dissonant tones are just as colorful as the set. Then someone catches their eye and it's another Janelle. Getting the vapors over yourself, YAAAASS QUEEEEN!
We don't stop there. The sexual energy right off the bat can be licked up like sweet lemonade of a luscious debutante's lips. With these beautiful brown ladies and infectious music, you can't help it. The energy is expelled everywhere, we then explore this Downtown Julie Brown set, with retro arcade games and flirtatious intentions. At one point, we see another touch Tessa and Janelle with the ill SIDE EYE, like "uh uh."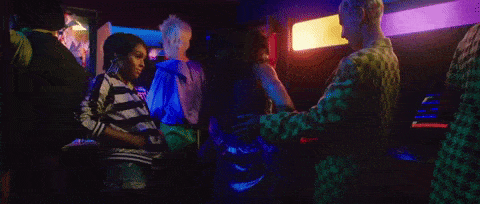 Then we back to business, sharing lollipops and playing Pacman, (I hope that is the name of my first porn). At one point, Tessa gives a look and Janelle gives the eye – as if Tessa just said "Oh look a shhhnack" and Janelle said "mmm ok." Then we're off flying free — if you thought you could bring heteronormative thoughts up in here you best get to steppin! Janelle has always been "Labels what? Labels who?" and now it feels so good to just watch her play.
Her artistry is so alive in this piece. I remember hearing someone say, now that Prince is gone Janelle Monae is our closest artist to him. I questioned it cuz…who could ever fill those pleather pants? Then I saw Janelle dance in mesh flower print see-through pants with a two-step and a guitar and I was like "OKAAAAY!" (Got me quoting Lil Jon what is happening to me?)
The dance movements with the James Brown shimmy and slide, I CANNOT. "It's like I'm powerful with a little tender…. There's nothing better." Then that drum/bass mix bridge! These goosebumps are real and permanent.
Not to mention the fervor that has been created in all of our hearts and minds that this union of Tessa and Janelle could be real. I am not one to believe hype until I get the facts, but… I ship this. I purchase it, order next day delivery, and pay extra shipping for this!!!
That's just the way you make me feel! And thank you for cursing on a track Janelle, it is so f*#$ing real. You have delivered fire to us. I may be an Airbender but everything changed with the Fire Nation attacked and girl, I'm just trying to feed the flames.
Django Jane Keeps Wakanda Alive
BUT JANELLE you didn't just drop that swag — you dropped Black excellence just in time for our return from Wakanda. "Django Jane" brought me the women of Zamunda who left to live in Queens and joined the Black Panthers, cuz We highly melanated.
We gave you life,
We gave you birth,
We gave you God,
We gave you earth.
Regal AF!
I don't know how we ever lived without this imagery in our lives. How did we survive without this inundation of beautiful brown confident couture culture? It's like everyone has been given the stage and we all decided to resurrect Grace Jones and the kingdom of avant-garde Afro-futurism and Majesty.
The big ups to her past, to her foundation, are ironclad. Not just a nod to the hard work she herself did, but her mother, her father and even referencing her past album while representin' her new ventures and stylin' crew, Wondaland.
Now Wondaland knows how to dress for success and this video reminds us how to celebrate with a type of class the world has GOT to get ready for. Costumes with strong Duuurty lines, deep tones of color, music with a head-boppin' beat and her flow so sick — I think I caught a cough.
Her references,
You want the world?
Well, what's it worth?
Emoticons, Decepticons, and Autobots
Who twist the plot?
What!! My nerd clan yes we in here. Janelle, she who be beautifully enraged with the calm sensibilities of a woman on fire, commanding us to salute each other.
This is my palace…
And
We gonna start a pussy riot!
All women in unison quieting the crowds in this video.
Remember when they used to say I look too mannish…
She said –
Hit the mute button
let the vagina have a monologue.
A que ahorra? Time is up!!

Naming herself Jane Bond! Yes. Can that be real? Can you imagine a Bond flick with Janelle Monae as 007?! Ava can you write that? Ava can you cast Tessa as the Bond girl? *breath* I need to stop, but Janelle keep going.
I cut em off like Van Gogh (motion to the ear).
I've never been bursting with so much pride and joy in my life. Through all the strife and pain we have always persevered, fought and spoke up, spoke out, and the cycles continue. Now we showing up and showing out, our art, our expression is my revolution, cuz I've been on the rebel squad for a while now but these artists have given me my first mission.
Are you following Black Nerd Problems on Twitter, Facebook, Tumblr or Google+?