Writer: Brian Michael Bendis / Artist: Michael Gaydos / Marvel Comics
Jessica Jones #10 is another slow day at the office: the issue fills the time and has a few trademark quality exchanges of dialogue in an otherwise uneventful series of events. It progresses the story in a slow burn, the type where we are acquiring pieces of the puzzle that don't yet fit together, but the story itself doesn't do us any favors by spending over a quarter of its time on yet another life-model decoy to fool the audience. You thought it was this character – but surprise! – it's not that character at all, but a decoy, again, leaving you more annoyed than entertained. Without significant impact, the life-model decoy twists betray more a lack of substance than actual storytelling, and by this point are more irritating than amusing.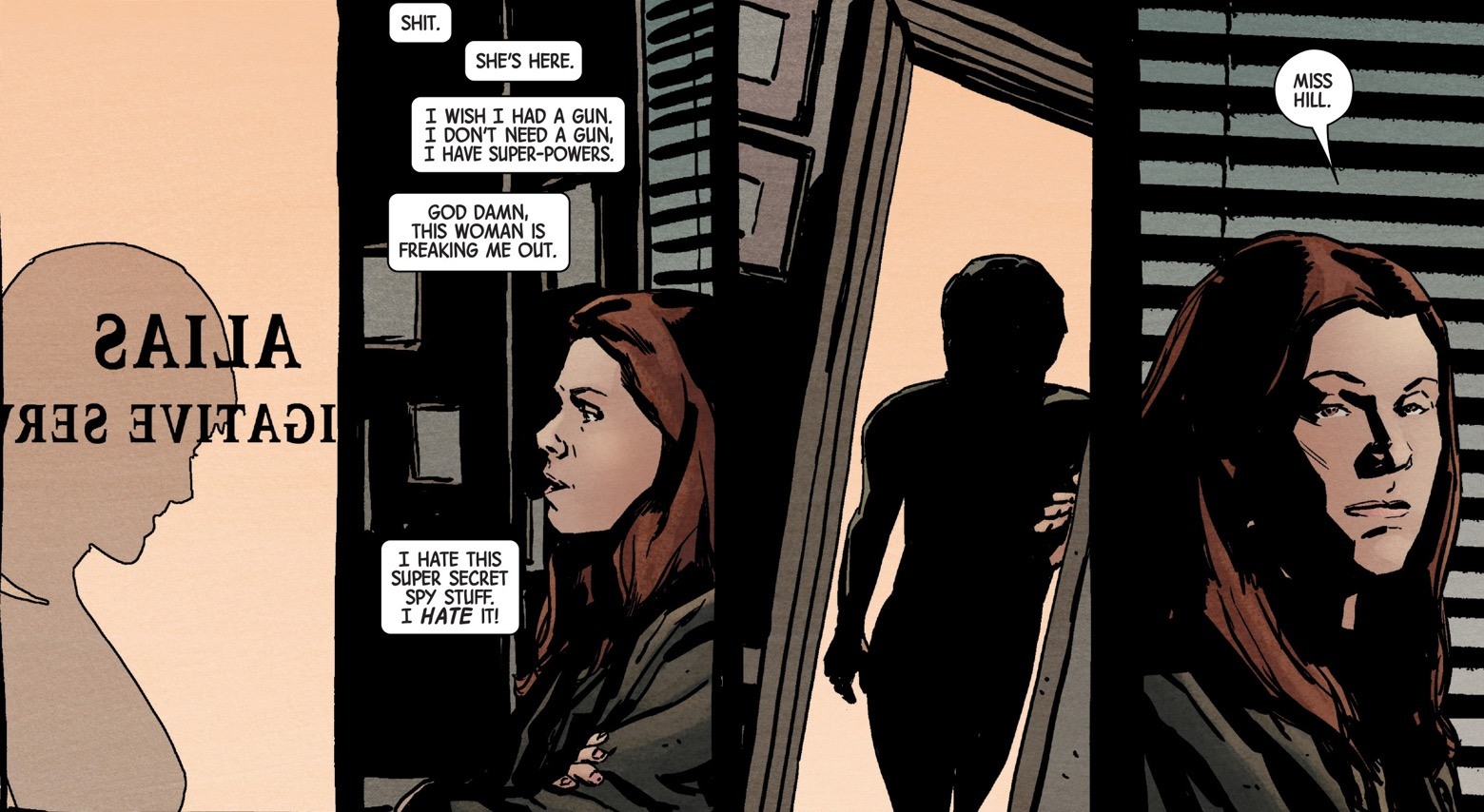 The previous issue of Jessica Jones played on her humanity as a good-hearted person armored with a rough exterior, this one misses that mark, and thusly misses the biggest appeal of a character like Jessica. The audience wants to feel that they know her better than the people in her world – that if the characters just knew her heart like we did then things would get better; we root for her inner self to be revealed to everyone else in the story as it's been revealed to us by privilege to her inner dialogue. Except this time there's no Luke Cage or Carol Danvers, but simply a Maria Hill who Jessica's not trying to win over or help. She's just someone Jessica hates. Filling the space in between are pieces to the story that will come to play later, leaving this issue to fall flat without the main leg it stands on.
Overall, this issue reminds us the volatility of the series, the up-again-down-again wave that feels like a bad relationship. When it's good, you remember the potential; when it's this, well, you wait for the next one.
6.5 out of 10
Reading Jessica Jones? Find BNP's other reviews of the series here.
Are you following Black Nerd Problems on Twitter, Facebook, Tumblr or Google+?