This weekend, I was psyched to see The Incredibles 2, as the original is one of my favorite films and in my Pixar top three, alongside Ratatouille and Up. (I have yet to see Coco, because reasons, and as I wasn't really a fan of Nemo, I've figured I'll get around to watching Finding Dory when my preschooler makes me.) Anyway, I was happy to see what the Parrs have been up to for the last fourteen goddamn years when I settled into my seat, but I had no idea I'd be knocked on my ass by the preceding short, Bao.
Now, if you live on the west coast, regardless of your own ethnicity, you're probably familiar with bao, the tasty pork-filled steamed buns found at dim sum restaurants. Apparently bao also means "treasure."
In this fairytale written and directed by Chinese-Canadian Domee Shi, the first woman to direct a Pixar short film, a middle-aged woman is in her kitchen carefully making dumplings by hand. When they're ready to eat, her husband wordlessly shovels his in and leaves for work. (It's worth noting that we never see him return, as though he went out for the proverbial pack of smokes and forgot where he lived. He doesn't reappear until the end of the film. More on that below.) It's while the woman is eating her own bao that we hear the stark cry of a newborn. She looks into the basket on the table, and one of the dumplings has…a face. It strains a bit and out pops a body and limbs. It's a bao baby.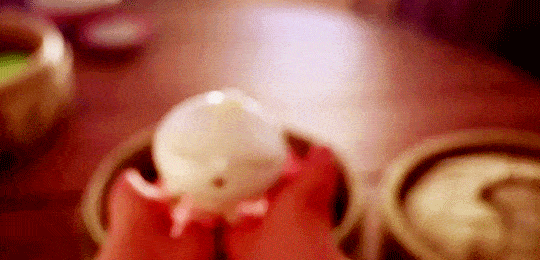 She tends to it as a mother would tend to an infant, though understandably a bit more carefully than most: bao are a bit delicate, you know, which is played to comedic effect as the toddler-bao continuously gets himself smashed, and his mother/maker must add more stuffing and reshape his head. But we can almost forget that the woman's little companion at the market while she shops for produce or sitting beside her on the bus eating pastries from one of those ubiquitous pink boxes is not actually a little boy.
Their tender relationship feels both familiar and real, even as the little bao boy grows up and away from her overprotectiveness. He insists on playing soccer (despite her attempts to keep him from getting smashed, again), puts "KEEP OUT" signs on his bedroom door, and sits in his bed eating junk food and talking loudly on the phone. He's a typical kid, even if he is made of dough and stuffing.
But like all children, he does grow up, even if he doesn't get much bigger physically. (The penciled-on mustache to mark his adulthood is a nice touch.) Soon, he's ready to strike out on his own: Bao brings home a blonde, blue-eyed Becky wearing an engagement ring. And this is just too much for his mother/maker. So she does what any mother would. She–
Now, I'm not going to spoil the film, but I will point out a couple of things that occurred to me while watching it and in the days since. I remember being a small child, and how often aunts, towering over my tiny toddler frame, would pinch my cheek and say things like, "I could just eat you up!" It always struck me as odd–until I noticed in my late teens and early 20s a similar impulse when presented with adorable puppies, kittens, or babies (even though I was certain at the grand old age of 22 that I was CHILDFREE4LYFE, yo!). This phenomenon is, in fact, part of what inspired the film's creator. As she told NPR during an interview, she is an only child and her mother once said to her, "Oh, I wish I could put you back in my stomach so I knew exactly where you were at all times."
This desire to ingest or absorb children is something cultural critic Barbara Creed addressed in darker terms in her 1993 work The Monstrous-Feminine: Film, Feminism, Psychoanalysis. Creed specifically writes about the mothers as monstrous archetypes in the horror film genre and, using the writings of Freud and other psychoanalysts, interprets the vagina dentata myth as representing both cannibalistic mother and an all-encompassing maternal figure, both of these posing an existential threat to their children. Through this lens, the words of my well-meaning aunts feel a bit more threatening, and maybe that's why the pivotal scene of this short is so shocking, eliciting gasps and nervous laughter throughout the theatre I was in.
What sits atop the magical realism of this story, however, is the loneliness of an empty nest for this mother. As the rest of the story plays out, we understand the truth behind her infatuation with the bao and fierce desperation when he prepares to leave home. Her husband, who went to work during the first scene is absent for what must be decades until the end of it, but we can assume that his absence is primarily emotional, not physical. She has been alone for so long that food is the only thing upon she can rely for companionship.
Yeah, for a Pixar short, this film is heavy–almost "first 10 minutes of UP" heavy–despite its initially light and humorous tone. As the mother of a three-and-a-half year old, it definitely hit me squarely in the feels. I've spent his entire life loving him and protecting him, and I know that as he grows up and becomes increasingly independent, it will be hard to let him go, even as I'm proud of the person I've raised.
All that said, I believe that when the time does comes any sadness I feel will be tempered by the many other ways in which my life is fulfilled outside of being a mother. And I'm pretty sure I won't need to turn to a steamed bun for affection.
[All images © DISNEY/PIXAR]
Heartwarming moments are meant to be shared. Bring home behind-the-scenes, exclusive footage from Bao and 10 other critically-acclaimed shorts when you get the Pixar Short Films Collection: Volume 3 on Digital, @Movies_Anywhere, and Blu-ray today: https://t.co/aNv3akp3OZ pic.twitter.com/hpnroh4xtm

— Disney•Pixar (@DisneyPixar) November 23, 2018
Want to get Black Nerd Problems updates sent directly to you? Sign up here!
Are you following Black Nerd Problems on Twitter, Facebook, Tumblr or Google+?