Writer: Mark Millar / Artist: Frank Quitely / Image Comics
[quote_simple]"SUPERHEROES WERE THE SUMMIT OF AMERICAN ASPIRATION AND SO OUR CHILDREN GREW UP TO REMIND MANKIND OF EVERYTHING WE COULD EVER HOPE TO BE."[/quote_simple]
Well, Mark Millar certainly knows how to tug on some gotdamn heartstrings and then sever that cord with the heartlessness of a lion leading a pride (they kill all their male cubs sometimes). These guys Millar and Quitely gonna give us the reunion that we deserved then snatch that shit away quicker than 7th-grade promise to stay together forever. Shit was teary eyed, filled with proud father moments, and even included a lil man-hug humor. Hutch and Skyfox were really lucky to get time together to catch up on decades apart, because we all know that sentimental noise don't last in these Good vs. Evil streets!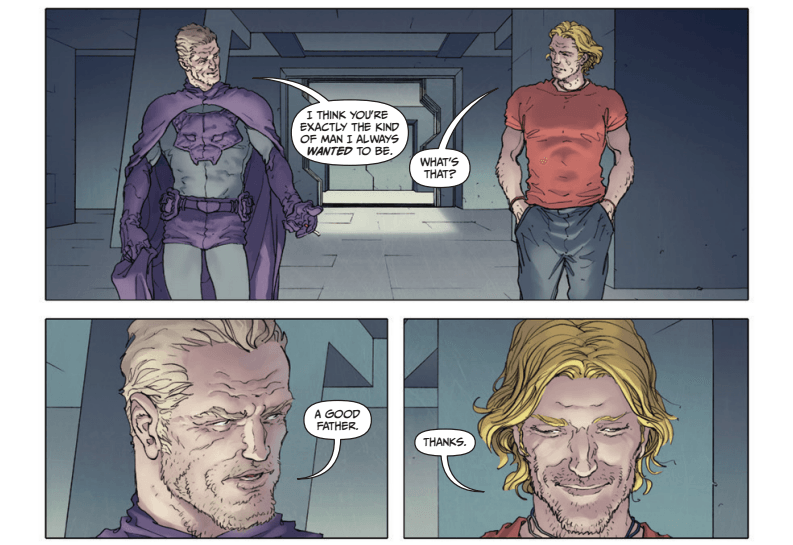 Skyfox reassured the Anti-Brandon and Walter "Supervillian" squad that his technology could shield them from the "heroes" radar, but oh was he wrong! And boy did he pay for his mistake. Brandon, Walter, and the minions bust through the door like:
Skyfox, Hutch, and Chloe make a stand as Son-Jason sets a recently concocted plan into motion. While Brandon handles his sis, Walter is not taking a single prisoner and ends any hope we had for more sympathetic Poppa-Slugger moments. It's looking grim for our team trying to make this world right again, and lookin' particularly fatal for Hutch.
This issue had a few big moments and left us with a pretty heavy cliffhanger. Quitely was solid but a little less stellar than usual, but Millar once again comes through with the 360 windmill tomahawk slam.
8 Teary Eyed Father-Son Moments out of 10
Are you following Black Nerd Problems on Twitter, Facebook, Tumblr or Google+?