Writer: James Tynion IV / Artist: Alvaro Martínez Bueno / DC Comics
Tynion IV has been juggling a few different plot lines throughout the course of Justice League Dark. Now that all of them are getting woven back together in the "Lords of Order" arc, you got to appreciate how he's played the long game. The existential threat of the Otherkind has provoked the Lords of Order to wipe out all magic everywhere, from the Myrra and the Outer Realms to Heaven and Hell. It's an impressive scale for the Justice League Dark to be combating in the name of the magic, and I remain here for it.
Justice League Dark #10 opens with Khalid more fully recounting how Nabu's dogma has driven him and the rest of the Lords of Order to this extremist solution. It is an attempt to starve out of the Otherkind and try to preserve humanity. The perspective then pivots to the folks on Myrra attempting to understand which poses the greater threat. The Otherkind are eldritch abominations, but the Lords of Orders are threatening to unravel the very land everyone stands on so it's a fair toss-up.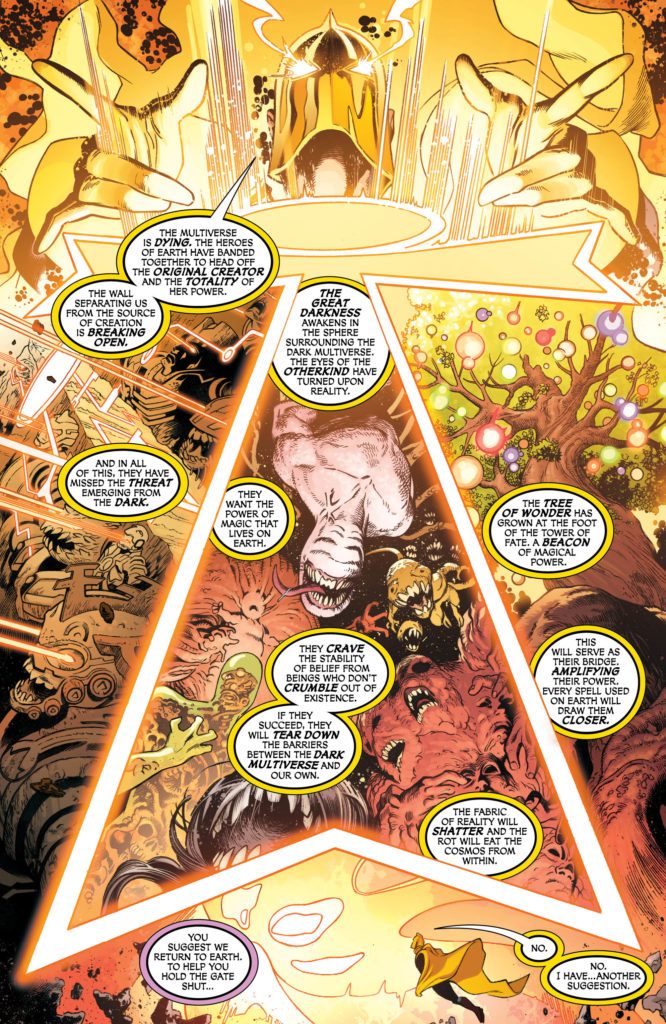 Elsewhere, Wonder Woman and Zatanna are continuing their side quest with Circe. They get a history lesson into various background machinations that always seem to be behind cataclysmic events. Their role in events to come is clearly ramping up and ready to collide head on. I can't wait.
But perhaps my favorite thing that Tynion IV has done is give Martínez Bueno so many fantastical panels to draw. Martínez Bueno's artwork continues to be one of the main draws of Justice League Dark. As the magic becomes more esoteric and more brazen, the artwork reflects a twisted world. It is a truly awesome spectacle to see magic depicted like this on the page. Every spell is grand, every environment ethereal, and every turn seems to escalate perfectly.
If Tynion IV and Martínez Bueno can keep up the stakes with every issue, we're going to be in for quite the treat.
9.0 "Great Action, Great Sacrifice" out of 10
Reading Justice League Dark? Check out BNP's other reviews here.
Want to get Black Nerd Problems updates sent directly to you? Sign up here!
Follow us on Twitter, Facebook and Instagram!