Chances are if at some point in your life you were put into the Scorpion Death Lock or the Figure 4, you were either the youngest sibling, backyard wrestling, or just a straight up wrasslin' fan. There's something about growing up loving wrestling that creates a bond between friends and family. My father and I don't have a many shared interests (we're two very different types of nerds) but we both enjoy wrestling, and I know straight up and down that his favorite wrestler is none of than The Nature Boy, Ric Flair.
I'm talking if WCW was on he'd stop in his tracks to watch Flair. "Is that… Is that Nach'? Oh, Flair back on?" he'd say like he saw an old friend in the street, and as soon as Ric was done talking he'd go back about his business. When you're so nice that folk gotta stop their lives to watch you get on the mic and talk that talk? Or to see you get in the squared circle and throw hands? That's when you know you done made it. You made it, baby.
Ric Flair put wrestling on his back for years as one of the sport's Olympic gods. Talk about Ric Flar to your parents and watch ya daddy swoon and ya momma give the "oh that man's real" head nod. That's muhfucking respect. You hear the name Ric Flair and immediately you pay homage to the strength of the name. If you're in Flair county North Carolina they don't give high fives as hellos, they say hi with knife-edge chops and a "Wooooo."
That being said, we're going to be seeing the dirtiest player in the game get his due from ESPN in their award-winning 30/30 series tonight. It's like thirty-minute documentary shot major motion picture style. They're going to go in on The Nature Boy… I'm talking bout the rolex wearing, diamond ring wearing, kiss stealin',(wooo) wheelin' dealin', limo riding, Jet flying, son of a gun! And I'm having a hard time holding these alligators down from the excitement over this. You can say what you want about wrestling, but there is no off season for these guys. They're on the road day in and day out performing for fans. Ric Flair been a pioneer of this shit, the fucking pinnacle.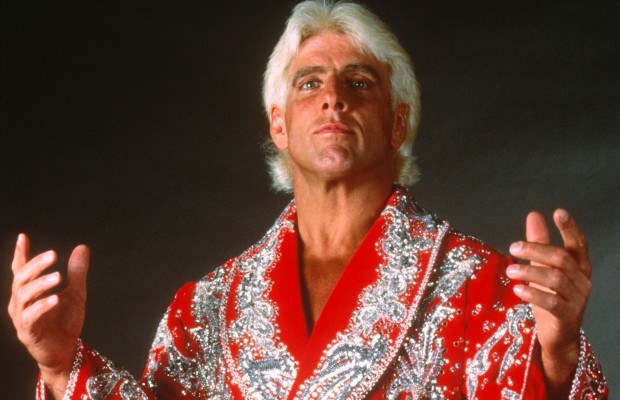 When Flair comes out in that chinchilla fly ass robe, you know it's real. When he came out with his mans and dem Arn Anderson and the rest of the Four Horsemen? You knew it was real. When Flair cuts a promo, where it's just him talking that shit to the camera, you hear his voice crack from the passion of putting the fear of god (Zeus, Shiva, Set, Odin, all of them) onto an opponent, telling them how he's gonna beat his ass? Then legit acting that shit out by elbow dropping the floor, bouncing off the rope and knee dropping the floor? (HE FUCKING KNEE DROPPED AND ELBOW DROPPED MICK FOLEY'S BOOK IN THE RING ON TWO SEPARATE OCCASIONS, YO) You know it's real. When one of the hardest rappers, Pusha-T, whose verses contain as much white as Flair's hair or a unicorn mane samples Flair on his beat MORE THAN ONCE and drops a verse saying,
"(Woo!) That's rare n***, (Woo!) Ric Flair n****
(Woo!) The power's in my hair n****,
(Woo!) I give this beat the chair n****"
When Pusha-T is quoting you?! When King Push is paying respect to your name, you know you made it. When football players are quoting your Slick Ric promo before the game and asking for two claps and a Ric Flair (WOOO)? The hood backs Ric Flair. I don't know when it happened but the hood been backing Ric Flair, yo. What did Marc Lamont Hill say when Hogan drops his N-bomb mixtape?
For the record, I always preferred Ric Flair….

— Marc Lamont Hill (@marclamonthill) July 24, 2015
Off the fucking strength, kid. Off the fucking strength that's respeck right there, man. I gotta say too, as great a wrestler as Flair was and as much as he did for the business and the fans, Flair was also helping other wrestlers get a push too. He was actually very selfless in that way — one great example being when Jay Lethal was paying homage to Flair (doing his voice and mannerisms) in TNA, and Flair came out (in character) offended and started feuding with Lethal leading up to a pay-per view match. You see them behind the scenes later, and Flair is telling him what a good job he did and Jay Lethal is just bewildered and can't believe he gets to feud with this legendary wrestler that he watched as a kid.
Flair earned this shit, man. He got buried a G in his retirement match by Shawn Michaels and they had a terrific match with a very heartfelt ending as Shawn pulled the trigger to end Flair saying "I love you and I'm sorry," then post 3-count hugs Flair, kisses him on the head, and leaves so Flair can stand up and give his good-bye to the fans. Now Flair has still been around helping upcoming wrestlers as well as his daughter Charlotte. With this ESPN doc airing tonight at 10 pm, it will be good to see a different in-depth view at The Nature Boy, the gawd body of the ring.
"To be the man, you gotta beat the man."-Rick Flair
Are you following Black Nerd Problems on Twitter, Facebook, Tumblr or Google+?