I'm sure I speak for everyone when I say that we all wish we had the ability to reverse time, especially in high school. You would never fail another math test ….you could find out what your crush would say to you if you poured out your heart to them….life would just be easier. Life is Strange is the story of a teenage girl named Max Caulfield who returns to her hometown of Arcadia Bay, Oregon to attend a reputable art academy. While she is there, she deals with the everyday problems of being a teenager. The catch is she discovers that she can reverse time.
When it comes to superpowers, this one may sound somewhat simple, but it plays a big part in the story. It gives Max the opportunity to cheat in her photography class, stop a murder from occurring, and get back at the "popular" girls. This game mainly focuses on character interaction. There is no fighting, no hiding from blood-thirsty zombies. None of that! You pretty much get to interact with different objects and people and choose a path for yourself. If you are unsatisfied with how something went down, you have the ability to rewind and change your actions. We have complete control over the protagonist's destiny. Now this may sound like cheating, but you will automatically realize that all your actions come with positive and negative consequences and being able to rewind is crucial to the game. The good thing is, Max only uses her power for good, never evil.
One episode in, the ending leaves us wanting more. It shows us that the town could possibly be destroyed. There aren't that many interesting characters however. The ones Max does interact with, like the security guard and her friend Chloe, do help grab our interest and keep us longing for episode 2. Unfortunately, Life Is Strange doesn't do to well when it comes to the script. Apparently, the game was originally written in French, and was then translated into English. Most of the dialogue is dragged out and sounds somewhat boring and unnatural. The storyline would have been stronger if the voice acting was a bit better. The visuals are pretty good. The sketchy effect gives character to each person. I also liked the use of folk music in certain scenes. It helped add to the mood.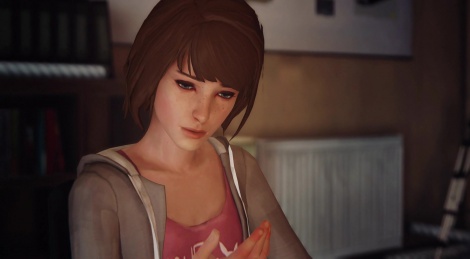 Life Is Strange's opening episode definitely leaves you with more questions than answers. This will make players want more out of the story and cause them to play the future episodes. I'm definitely interested in finding out more about Max and can't wait till the next episode. What about you?
Are you following Black Nerd Problems on Twitter, Facebook, Tumblr or Google+?