Words/Art/Cover: Amelie Flechais / English Edition Translator: Jeremy Melloul/ Design: AndWorld Design / Lion Forge (Cub House)
Once upon a time in the middle of a thick and mysterious forest, stood a strange tree house, the home of a little wolf known to everyone as "Little Red Wolf …" Thus begins The Little Red Wolf, a retelling of Perrault's famous fairy tale in the hands of Amelie Flechais who works diligently to make this version fresh and unique while still flipping you for a loop. Our "Red" is a adorable little wolf cub decked out in his red hooded cloak living happily with his parents in the woods without much care in the world. Mother warns him of dangers, of who and what to avoid but he is a child and curious and innocent and unknowingly of the world.
---
I want to share a secret: I love fairy tales. I've always loved them. As a child these were my favorites because the same stories were seemingly told nearly all over the world in different versions in different cultures. For example while Cinderella was written by Charles Perrault in 1697, there is a Chinese version with a heroine named Yeh-Shen, written perhaps in 850 A.D.?
Little Riding Hood, also written by Charles Perrault, is an European fairy tale that I loved because of the visual of the main character and her red hooded cloak. I always found that image to invoke bravery in me for some reason, perhaps how a child might see Superman's cape or some other noteworthy item that sets a favorite character apart. I've studied adaptations where character roles were reversed or retellings where compromise was the key. To be honest though, I've been known to root for the wolf, go figure.
---
I just really adore all the makings of this book: the font used, the opening illustrations for each chapter — it is really presented as a genuine vintage tome of your favorite story to read before bed. I love Flechais' dedication to all the small details. It shows a commitment to her craft and makes the overall product something to enjoy twice-fold.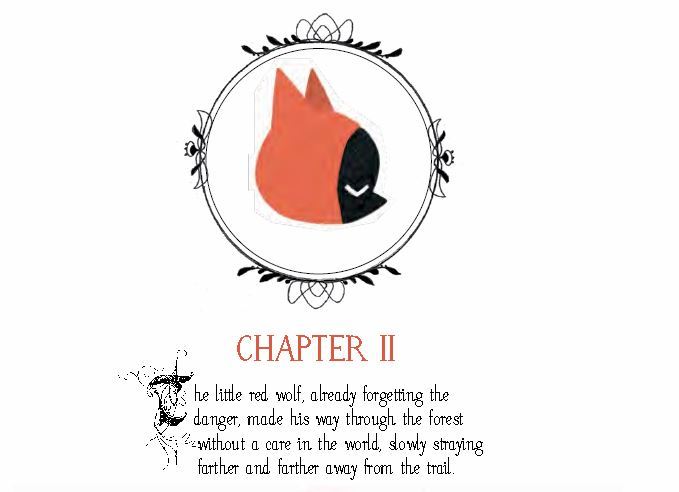 The art is what intially drew me. Flechais , who is a French children's book illustrator and a visual development artist, is no stranger to the art world as she has three books under her belt. Le Petit Loup Rouge, or The Little Red Wolf for the English translation, is her second.
Each page is lovingly created to serve as a door that takes us to some far off place where we're not sure if we want to leave. The art we see is vast, almost limitless and intricate — showing, us a place with eyes we've never seen. It's magical. There are plenty of full page spreads showcasing the woods in all their glory. There are moments where emotions like Little Red's fear are on full on blast for us to see.
Going back to the themes of the original version — The importance of listening to your parents, trusting your intituion when you feel something is off, STRANGER DANGER — here the very same themes can be applied. However, there is a much darker backstory at play intertwined with Flechais' retelling that should not be glossed over which includes a certain little girl. Looks are deceiving and we shouldn't be tricked by appearances. Not everyone who looks nice can be trusted and this is a lesson that certainly applies to today's world. This retelling plays on definitions of "good" and proves that in the eyes of a child, navigating the world is little bit more difficult. At 80 pages or so all together, The Little Red Wolf is a treat. We are lucky it has been translated to English for us to read and enjoy.
9.4 Songs To Sing out Of 10
Are you following Black Nerd Problems on Twitter, Facebook, Tumblr or Google+?