Writer: Al Ewing
Art: Lee Garbett
I am a huge fan of Al Ewing's writing on from his time on Mighty Avengers. I wanted to see how he does on a solo book so I checked out Loki and the man does not disappoint. Even when having to deal with (sigh) yet another cross over with Axis. Ewing seamlessly tells the tale. Loki The Gawd of Mischief has been inverted and is now a hero. He doesn't lie, doesn't cheat and has gone all nobel everything. We see Loki busting up some no name villains robbing a casino. Lee Garbet captures a good "Heroic" Loki as opposed to the sly/cunning/ "you know I got some shit up my sleeve" Loki we are so use to seeing in this series.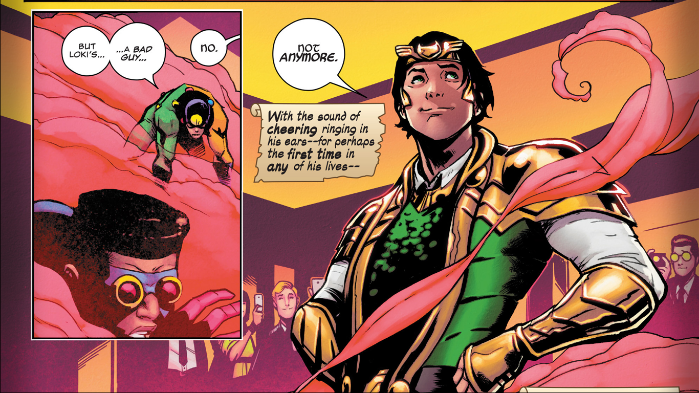 Loki tries to convince the rest of his squad to join up with the right side of things as well. They aren't here for that tho. As previed in Avengers we will be seeing the continuation of Loki dealing with the inverted Thor. We saw Loki go so far as to say that he is trying to help Thor because he loves him. Remember he can't lie so we are being lead to believe that through everything, all the bullshit Loki been on in his past that somewhere DEEEEEEEEEEEEEEEEEEEEE(gathers breath)EEEEEEEEEEEEEEEP down he does in fact love Thor. I'm really interested to see where Ewing goes with this in the coming issue.
The best part overall is that the older Loki, the one present Loki is fighting so hard not to become is watching all this and laughing his ass off with all caps on his "LOL(s)".