Writer: Chelsea Cain / Artists: Kate Niemczyck & Rachelle Rosenberg / IMAGE
Fears Manifest and Make a Home
When you're trying to figure out if you can trust people, your fears take over what's left of your body. You're trying to analyze what is going on around you and why certain things exist and what do they mean. This issue of Man-Eaters is slower than the rest. We get to hone in on Maude's fears and her perception of safety. Throughout Man-Eaters #6, readers are able to notice Maude being pried on from different angles. This happens when suspicious things start showing up by her and her friend's houses and the main question resurfaces: "What the heck is going on"?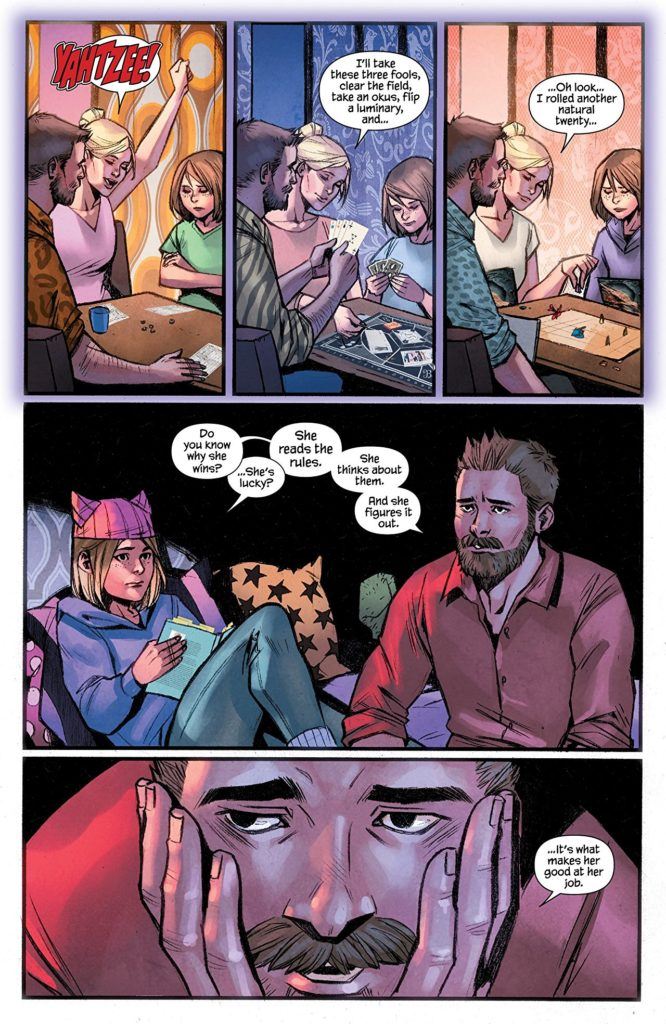 On Secrets and Revelations
What worked for this comic was the sweet build up and mystery of the metaphors within the issue. In Man-Eaters #5, the main scene was the bathroom. How does the women's restroom serve as an important metaphor for privacy and the femme experience? Within Man-Eaters #6 we see this privacy being questioned and invaded. The contrast helped push the storyline forward but at the same time I kept questioning, what is going on exactly? I get how this became a snapshot of what is going on, but it doesn't seem to move passed that. I felt stuck in a limbo trying to figure out exactly what this issue does to push forward the narrative. The most interesting part to me was the Scantron. It felt like the most important piece of the puzzle.
I loved what this issue offered, but its delivery this time did not hit the marks exactly where it should have. On one hand, I understand the "women in hiding." The consistent battle of deciding what parts of womanhood to hide. What's normal for public consumption versus what is seen as too feminine to exist. I am also here for the feminist videos and metaphorical placements in Maude's life as she opens up to the idea of womanhood more. At the same time, I feel like these were just tools for young readers to find feminist content in everything, which I am high key here for. At the same time, how can we use these tools to push forward Maude's narrative outside of "passive aggressive hiding."
7.9 "8 hour+ Ultra Thins" out of 10
Reading Man-Eaters? Check out BNP's other reviews here.
Want to get Black Nerd Problems updates sent directly to you? Sign up here!
Follow us on Twitter, Facebook and Instagram!