Writer: Marcus Rinehart / Artist: Stefano Simeone / Boom! Studios
I've been reviewing comics for a few years now, and I know myself well enough to admit that hyper stylized robots is enough of a draw for me to give a series a second shot. And Mega Man: Fully Charged is very much the personification of of sleek stylized robots. This iteration of the Blue Bomber is dynamic and animated as only the comic adaptation of an old TV series could be, and while I haven't gone back to find circulated footage of the original Fully Charged cartoon, I did dive into the second issue to see what shenanigans abound and I'm pleasantly here for it.
Aki Light/Mega Man continues to dwell on Skull Man's ominous words about another Hard Age and unfortunately his father, Dr. Light, is not nearly as forthcoming with information which leads him to seek Dr. Willy.
It's always fun seeing a new interpretation of a character, and Fully Charged's Dr. Willy is no exception. His legacy as Dr. Light's counterpart is fulfilled nicely and the less overtly antagonist character, but the seeds that Rinehart has sown indicate a couple cool avenues of where potential conflict with come in for future issues.
The comedic tone of the book works wonder, and the jokes have a sincere awkwardness to them that you'd want from something originating from Saturday morning cartoons. Couple that with Simeone's fantastic character work and dynamic action sequences and you ultimately have a recipe for success.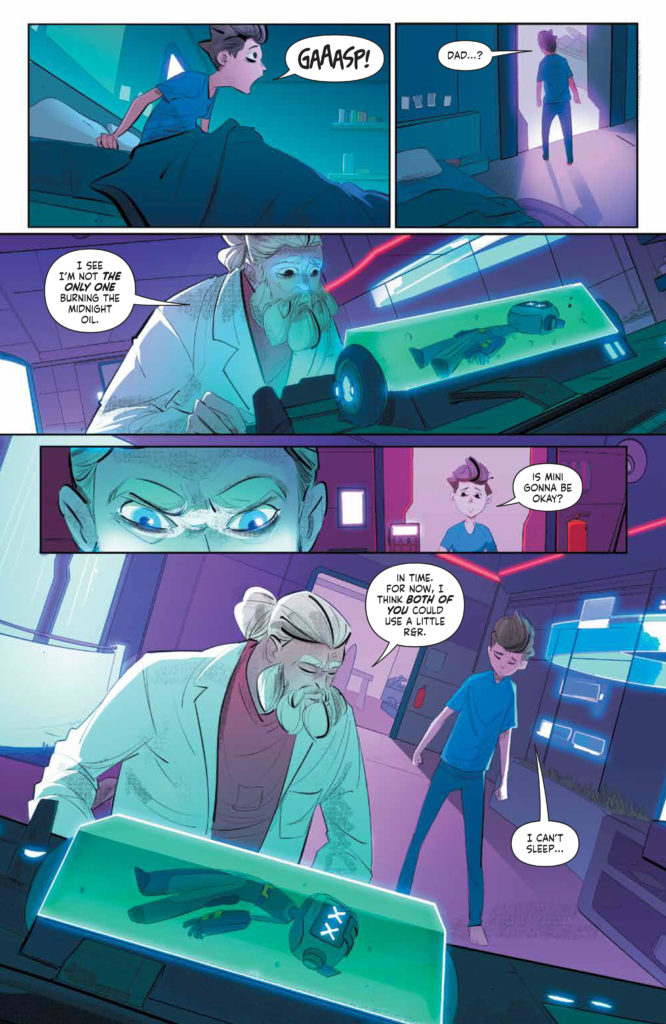 The sophomore venture of Fully Charged is endearing and charming in unexpected ways. As more and more elements of the Mega Man lore get drawn in, I can only imagine the series will become even stronger.
8.5 "Dreams" out of 10
Reading Mega Man? Check out BNP's other reviews here.
Want to get Black Nerd Problems updates sent directly to you? Sign up here!
Follow us on Twitter, Facebook and Instagram!