It's time to get cautiously excited. It looks like Milestone is officially on its way back after a few hiccups over the past few years.
If you have no idea what I'm talking about, here's a quick little history lesson to catch you up.
Milestone was founded in 1993 by the late Dwayne McDuffie, along with Denys Cowan, Derek T. Dingle, and Michael Davis. The subsidiary of DC Comics' main goal was promoting diversity on the comic book page as well as behind the scenes, creating a space within a white male-dominated industry that forced everyone to see that diversity was possible. It was wildly influential.
Characters like Static, Rocket, Icon, and Hardware entered comic book fans' collective consciousness soon after.
There was an announcement to revive Milestone a few years back, but it was halted by a lawsuit filed by co-founder Dwayne McDuffie's widow Charlotte Fullerton over unpaid royalties to his estate. It seems like all of that has now been settled, and everyone is back in good graces.
In an exclusive interview with CBR, Denys Cowan, Milestone co-founder and co-creator of Static dropped some exciting news about Milestone's return.
Not everything that was printed was true, but there was still a situation. Well, that situation has been resolved to all parties' satisfaction. So we're all happy and the person that had an issue with us is happy. We're all together; we're all friends; we're all good. And DC and Milestone were going forward with their plans after a very long delay and, just when we were starting to pick up everything again, is when the pandemic hit."

I can't say anything really big right now, some of the stuff had already been announced a while ago, and we're still proceeding with a lot of those things. There's going to be some new things that are going to be announced. But for all people who are thinking about Milestone, we thank you for your continued patience. There will be stuff to see and there will be stuff to see relatively soon. And hopefully, people will be back on the Milestone bandwagon, and it'll be good because I think that now, it's needed more than ever.
The thing Cowan mentions that was already announced is the Earth M imprint revealed in 2017 headlined by Cowan, Jim Lee, and Reginald Hudlin.
The hefty announcement placed Milestone's characters back in a self-contained universe, featuring characters old and new, written and drawn by the original creators, and some of the biggest names in mainstream comics today. It seems like from Cowan's words, most of that is still in play for the Milestone revival.
So with that in mind, I want to talk about three things I hope to see when Milestone is officially back in the spotlight for us all to enjoy.
Reprints
With Milestone coming back, that means so are most of the original characters. And while we'll be getting new adventures with fan favorites, it would be nice to be able to read the stories that started it all back in the day. It would work to inform new readers about the origins of these characters, and for long time fans, it would give them a chance to refresh their memories and inform them about the new stories. These books have been out of print for a very long time, and if you didn't buy them back in the day, it's near impossible to read them now.
Most of Milestone isn't in any collected editions, and single issues are extremely hard to come by, especially 27 years after they debuted. You can sometimes get lucky looking through discount bins at comic conventions (I try at every show I go to), but those stories should be more accessible than that at this point.
Collected volumes of all of the original series would be nice. I for one would buy every single one. It would also be cool to add original concept art and scripts and maybe even some commentary from some of the creators. We've really perfected incentives to buy trades these days. And these stories have been out of print for so long that they would basically sell themselves.
In addition to that, make them available digitally also. With Milestone coming back, it deserves to be back completely.
Continued Diversity
Another thing I'd like to see is a continued wave of diversity in this revival. But I'm speaking about a form of diversity that isn't talked about nearly enough in this industry: Fresh voices.
In the original revival announcement from a few years ago, while it featured a lot of the original creators and some exciting mainstream names pitching in their talents, there didn't seem to be too many younger creators attached to these stories.
I think it would be important to see some younger writers and illustrators tackle some of these Milestone characters for a few reasons. For one, it would put them all in a new light. People from different generations just see things differently. That's a fact. And while it's cool to see some popular names adding some validity to Milestone's return, it would really strengthen their catalog if some younger talent were able to tell their own stories.
We've seen how when fans grow up to contribute to the franchises that inspired them as kids, wonderful things can happen. Look at The Mandalorian, or some of the newer entries into the Star Trek canon. Most of, if not all of those things are created by people who were once fans. Kids whose gears began to turn because of those stories. When you let those kids loose in the playground that inspired them, the possibilities are limitless.
On top of that, it would speak to Milestone's mission for diversity to give younger creators a chance. Diversity isn't just about race or sexuality or gender identity. It's also about age and access. And so many younger creatives just need the opportunity. Milestone can be a place for that.
Continuity
In that announcement from a few years ago, it was revealed that the Milestone characters would be going back to a self-contained universe, like the one that they started in. And it would be called Earth-M. This was after a long and dull integration into the main DC Universe were saying that they were underused would be an overstatement.
While I would still like to see them in the prime universe, if they aren't going to get the agency that they deserve, then I'm more than happy for them to in their own corner of the greater DC Multiverse.
It would allow them the space to tell more stories with more characters than it would if they were still part of DC proper. And they won't be hindered by any big crossover events. They could even make their own which is dope.
But with all of that being said, it would still be cool if here and there, the Milestone characters got to interact with the heavy-hitting DC characters. DC has always had fun with the idea of the multiverse. Just look at what Scott Snyder has done with his stories over the past few years. So, it would be cool to see Milestone characters involved in the story that way.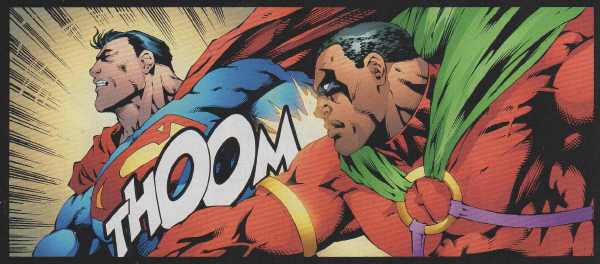 This is all to say, I want to read a story where Static and Cyborg hang out. Actually, I want to write that. This is me putting that into the world.
Milestone is coming back, and while I've learned to hold my breath when it comes to that coming to fruition, I can't help but get really excited this time around.
Want to get Black Nerd Problems updates sent directly to you? Sign up here!
Follow us on Twitter, Facebook and Instagram!