Writer: Tom King / Artist: Mitch Gerads / DC Comics
"The End Is the Beginning Is the End" – The Smashing Pumpkins
*Jay-Z Voice* I wanna thank y'all or coming out tonight. You could be anywhere in the world but you're here with us. We've been rocking for a year with Mister Miracle. The rollercoaster ride of going up and down between casual, violent, and hilarious day to day mundane moments concludes here for the New Gods. I'm going to be honest with y'all, I don't even know where to begin. We see Scott Free aka Mister Escape The Room waking up to a rather normal day after delivering the fade to Darkseid up close and personal (like a UPS package you gotta sign for). However, this is a Tom King and Mitch Gerads production so ain't a damn thing normal.
What we see are different voices speaking to Scott throughout the issue. Expressing their opinion on the choice he made upon seeing Metron and his Mobius Chair. Scott Free made a choice, but we don't know if it was right, wrong, or even real. Yeah, King getting super-meta with this take. What I do enjoy is seeing these ghosts of characters. I won't spoil who shows up, but it's fairly obvious who you will see. What isn't obvious is Scott's reactions and who he chooses to listen to or engage.
"And when you the only thing real, Really you the only thing fake"
My favorite thing about this issue is the stance King takes commenting upon the rebirths/retcons and Scott's choice to not go back into the fray of all that. I love that tongue in cheek nod to the real world events of comics. It's not really breaking the fourth wall so much as peeking through the cracks of it. It's such a great touch to the story and the bigger scheme of the character. As I write this, this issue isn't really a finale so much as an epilogue. It could probably be argued that issue #11 was the true end, and this is all aftermath.
We can get into the art, but you already know Mitch Gerads doesn't disappoint, so what's there left to say? It's really a casual ass day depicted, which we've seen before in Mister Miracle. This time it's more of a peace of mind as we know this is the end. I love the way Gerads depicts these characters coming back from wherever and talking to Scott. I dunno how he's able to make it look like these characters have this glitchy effect, but it works. It's a good contrast between what we think is real and then these aberrations that may in fact prove what we're seeing isn't real.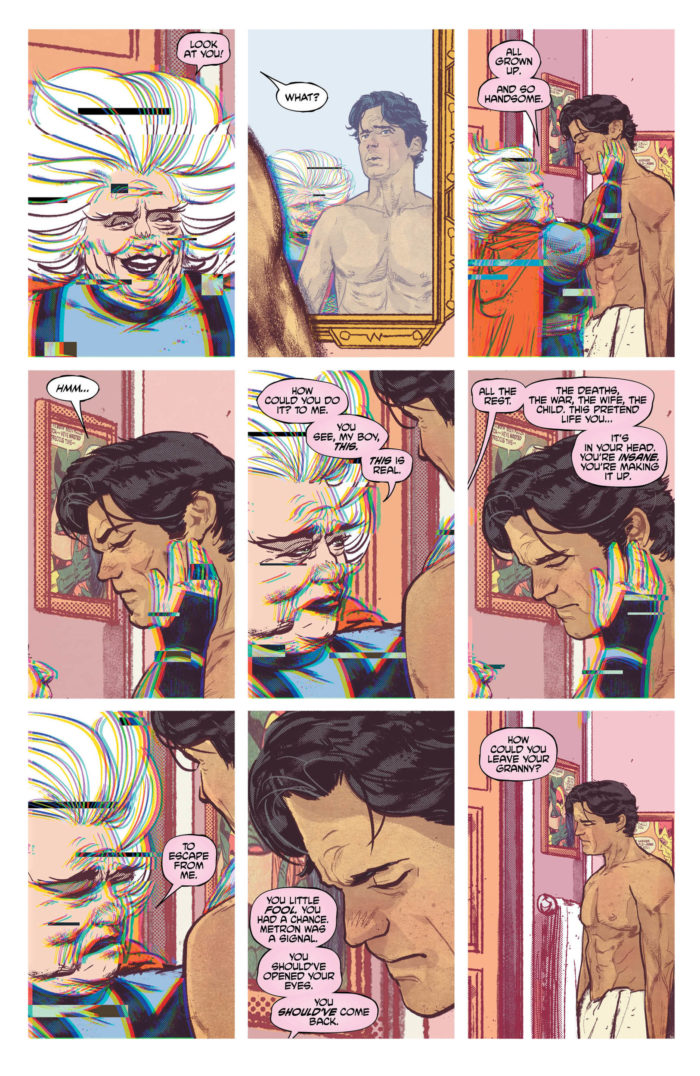 I mean, what else can I say?
Either way you want to cut it, you're going to have to put this series in with the top 5 storylines from DC Comics. I don't care. I don't care. I don't fucking care. That's all truth. The adventure has ended for Mister Miracle, Big Barda, and the War between Apokolips and New Genesis. We don't have to be too sad tho. King and Gerads have a successor series along the way.
It's safe to say they'll be taking some other not as known characters and making them household names by the end of the run. I think it's also safe to say we can put Tom King and Mitch Gerads up on the comic's creative tag team wall of MVPs. They way these creatives have worked together like a well-timed and tuned machine is nothing but majestic. The struck Nth Metal with this series, and I'm more than sure they'll be capable of doing it again for the next.
8.4 All good things that come to an end out of 10
Reading Mister Miracle? Check out BNP's other reviews here.
Want to get Black Nerd Problems updates sent directly to you? Sign up here!
---
Follow us on Twitter, Facebook,Instagram, Tumblr, YouTube and Google+?