Writer: Tom King / Artist: Mitch Gerads / DC Comics
"Making major changes to the life I'm living
I had no choice, I had to prove I made the right decisions"- Drake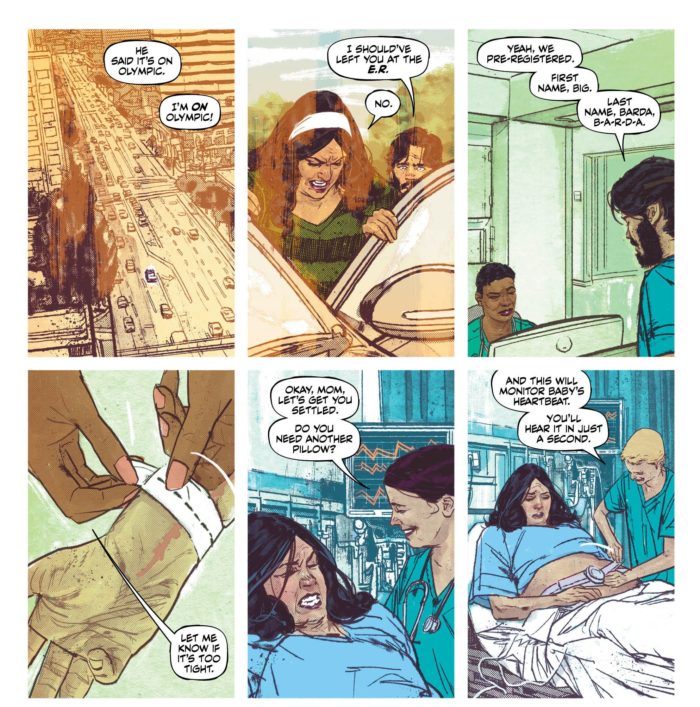 Mister Miracle is a beautiful representation of the potential, ambition, and execution of comic book plot. This is the only way I could start this review. King is giving us peak adventure and storytelling, while Gerads brings the vision to life on page with gorgeous-ass-gritty-ass-raw-ass visuals. I feel like I'm writing an essay instead of a review every time an issue comes out. This mini-series is going to be a classic. Easily.
*Whew* alright, now who is ready for the miracle of life? We last saw Scott and Barda storming New Genesis like Final Fight, Orion laid out First 48 style, and now we're in the hospital and Barda is in labor. What I love about this is that we don't know how much time has passed since the last issue. Barda didn't say how far along she was when she was pregnant so it is safe to assume (unless New God physiology is drastically different) it's been 9 months.
Female Furies' family affair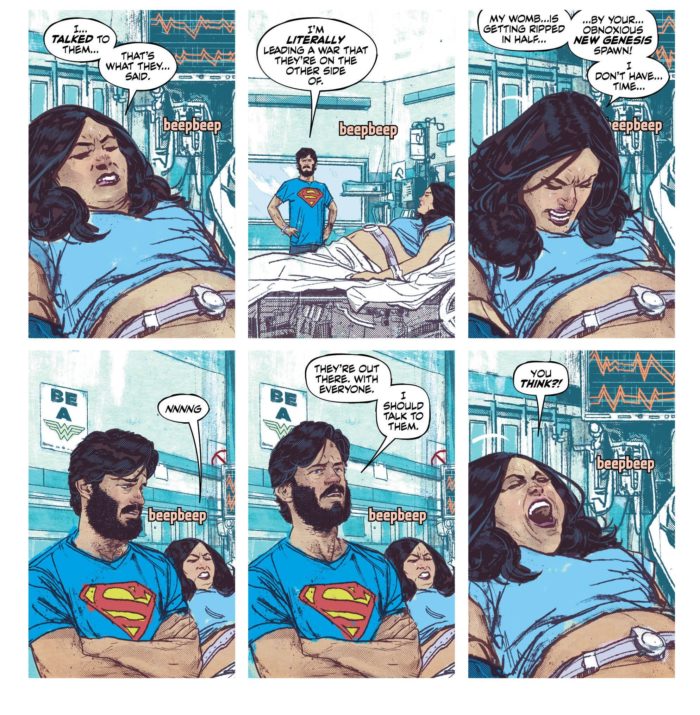 When Barda's… former work associates (upward inflection) The Furies show up? Oooooooo, my god, that shit is genius. We've explored this love-hate relationship between Scott and Barda with Granny. We get to see it unfold with The Furies who are legit warring with Scott and Barda on New Genesis, and take time to be there for the birth. This is a big event as Barda giving birth marks a rare occasion amongst all the New Gods. The Furies' presence make this the most awkward "family" gathering for the occasion. I love how each one comes across as well. Four distinctly different personalities that go over with very little dialogue. The dynamic between Barda and The Furies (especially Bernadeth) is obvious. It's nice that they are there, but Barda doesn't trust any of them for shit.
The arrival of The Furies had me realize something as well. Remember that Community episode ["Cooperative Community"] where they were trying to figure out who stole Annie's pen? Abed kept referring to the situation as them doing a Bottle Episode? I feel like King might be king (pun fully f'n intended) of the Bottle Episode for comics. This is the second time we've seen an issue play out in one room (two if you wanna count the hospital's waiting area).
King is able to take up so much space with dialogue in such little room. It's truly amazing. He's doing a TV bottle episode for comic books. Take all the history, family dynamics/relationships, the war, and issues with these characters into account and we're watching King and Gerads build a ship in that bottle (episode). This is art!
High Father giveth and Darkseid taketh away
Now if you thought this was all going to be smooth sailing without some kind of dilemma then you've been reading the wrong comic, son. There's always a price and this issue is no different. Just because Barda is pregnant doesn't mean we're guaranteed a happy ending. I won't stress it more but let's just say shit get's real Kanye "Through The Wire". Gerads embodies this entire moment gorgeously. As a reader, you're hoping things are going to work out for Barda and Scott (really Barda 'cause she doing all the work).
Gerads' detail with Barda's contractions and her frustrations with the process of childbirth pull the reader in. This may be Gerads best work; creating an environment to keep the reader guessing while providing moments for Scott's personality (quirks/attitude) to provide balance and humor. If Mitch Gerads ain't drawing sci-fi space fights, heart to hearts, traffic jams or child labor then I want no parts of it. Homie is too good. Too good!
What more can I even say?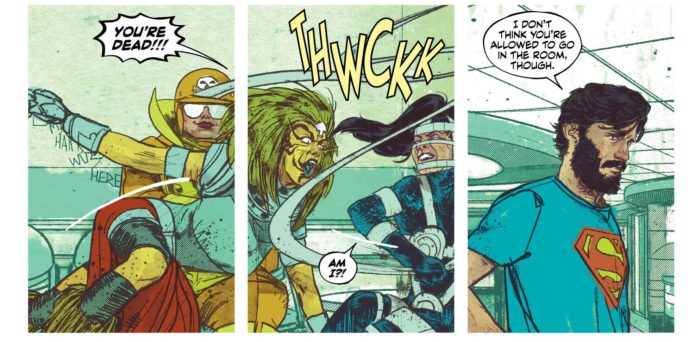 I fucking love this book, man. I love this series so much. You know when you just know shit is going to be good? This is by far my favorite iteration of Barda and Scott Free. The risks and unique approach to the New Gods lore by Tom King and Mitch Gerads is how you transform and pay homage to the characters and creators before you.
9.7 "As seen on Apokolips" knives out of 10
Reading Mister Miracle? Find BNP's other reviews of the series here.
Are you following Black Nerd Problems on Twitter, Facebook, Instagram, Tumblr, YouTube or Google+?