writers: Amy Reeder, Brandon Montclare/ artist: Natacha Bustos / Marvel Comics
Sometimes you open a comic and fall in love from page one. Sometimes that happens from just the cover art alone. Wherever it happens for you, Moon Girl and Devil Dinosaur #1 is without a doubt one of those comics that will have you running to change your relationship status in a flurry of heart emojis because The One doesn't just end up on your pull list every day, you know. Let me introduce you.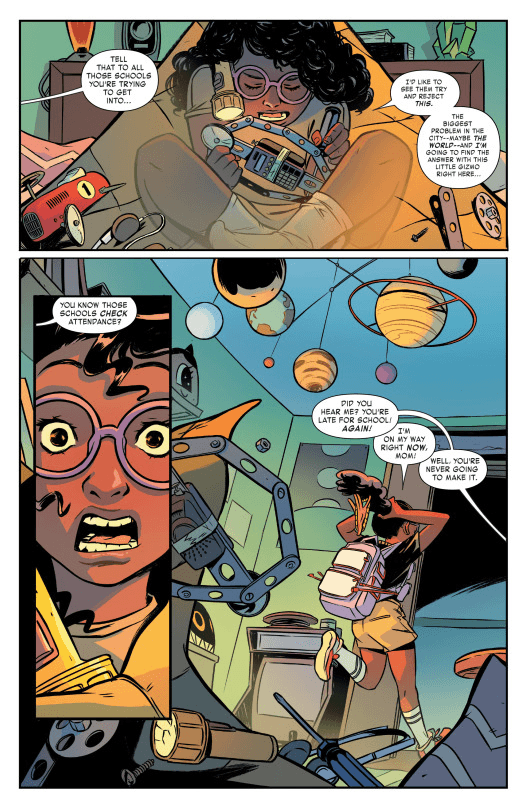 [divider type="space_thin"]
Lunella Lafayette, our titular Moon Girl, is a brilliant preteen with plenty of Black Girl Magic™ to boot. If you're a Blerd girl reading this you'll immediately relate to Lunella's struggles to fit in to school when that time could be used for so much better things, like being creative (okay, so doujinshi and kree-o-meters aren't exactly synonymous, but details). With the help of a magical artifact called the Nightstone, however, Lunella finds that her once intellectually unsatisfying life fraught with bullies now gets put on the hold as she faces off with creatures of otherworldly proportions— literally.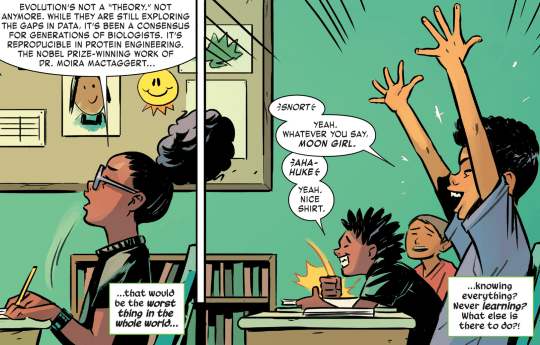 [divider type="space_thin"]
After reading this comic you won't be entirely shocked to find that the delightfully vivid cover art is actually by Amy Reeder, one of the writers on this project along with Brandon Montclare. Reeder and Montclare's story bursts from the page in a way that only someone really thinking in terms of the visual medium can do. Throughout the book Lunella's dialogue is fun and snarky while maintaining a believable voice, a struggle we've seen time and time again in popular media when representing precocious children. I especially loved the characterization of Lunella's parents who are neither overbearingly strict nor practically non-existent, but rather understanding with a healthy dose of concern for Lunella's emotional health due to her self isolation. The only places the writing slows down are the tie-ins to the original partner of Devil Dinosaur, Moon-Boy, since the language and culture are so different than our modern world. That being said, the glimpses we get are pretty fascinating and manage to bridge to the current story without feeling entirely contrived.
Natacha Bustos' pencils are superb in this series and have a great organic feeling with their pronounced curves and thick, chunky outlines. Lunella makes some great faces in every scene and the movement from panel to panel looks as natural as if it had been caught on camera. Even Devil Dinosaur displays an impressive array of expressions given his facial limitations. I'm a sucker for beautiful background work as well and this comic does not disappoint, from  Lunella's super adorable geek space to the deep, dark jungle to vast glowing cityscapes. Another great detail are the sound effects throughout the panels which really explore the possibilities through a variety of shapes, fonts, and placements without being intrusive, an art I think gets overlooked in comics too often.
By the time you put down this book your mind will already be on to the next comic eager to learn more about Lunella, Devil Dinosaur, and how their shocking relationship becomes a partnership in the pages to come. A fantastic read for all ages putting in that necessary diverse representation work, don't wait until Moon Girl and Devil Dinosaur #1 is sold out to get your copy!
9.6 World-Changing Gizmos out of 10
Are you following Black Nerd Problems on Twitter, Facebook, Tumblr or Google+?