If there's one thing you can count on it's a good Pixar film. Not all of them are universal but more often than not when you hear the name Pixar, you expect a certain level of quality from their stories. "Two brothers, sent on an epic quest to retrieve a magical gem to resurrect their father for one day." Yes, it sounds like Pixar plucked this idea right from their last DnD session, but they've managed to take what is essentially a quest film and present a simple yet loving about brotherly love.
Magic used to be abundant but hard to use. The mythical creatures turned to technology and magic eventually vanished from their world. Enter Ian Lightfoot (Tom Holland) a timid introverted elf who just wants to make friends and be a better version of himself. His older brother Barley (Chris Pratt) is a bit of a slacker and a total goober. He's a loving older brother but completely enthralled in his tabletop games and magic lore. For Ian's 16thbirthday their mother Laurel (Julia Louis-Dreyfus) gives them a present from their late father, a spell to bring him back from the dead for 24 hours and a magical staff.
But when the spell only brings back the lower half of him, the brothers sent off on a quest to fix the spell before time runs out. On the surface, the setup is a fetch quest, "Go get X before time runs out." But that is probably the least important part of this movie. The trailers and promos almost present this as an epic quest filled with action and it's really not. What this movie is really about is familiar bonds and relationships, and that's where this movie shines.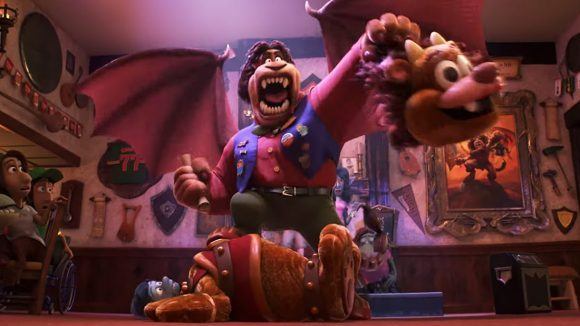 On their journey, Ian and Barley open up to each other and bond in a realistic way. They never hate each other, but they have their differences. Barley is goofy and carefree but loves the idea of an epic quest and wants his brother to succeed in a way an older loving brother would. Ian is worrisome and uptight who wants nothing more than to meet his dad. I feel like a lesser movie would throw in annoying confrontation for added drama, but here when there is conflict it makes sense. A mother moving on after the passing of her spouse is done well, it could have been so easy to make the new boyfriend a bad guy or a terrible person but he's not. He genuinely cares for Laurel and the brothers. Ian's growth through the movie is earned and Barley's care for him was never in question.
The one knock on this movie was the inevitable "thrilling action climax." It's nothing that takes you out of the movie and is done really well, it's just that it felt like Pixar could have found another way to make the ending work even better. The way they resolve their father's quest is surprisingly quite and poignant. It wasn't what I was expecting but definitely felt earned and true to the characters. This movie probably won't click with everyone but I think it's definitely worth a try.
Pixar found a way to turn an "epic quest" into a personal story of two brothers and nails it. It might not be what people are expecting, it certainly wasn't what I was expecting, but it works and it definitely worth seeing on the big screen.
Want to get Black Nerd Problems updates sent directly to you? Sign up here.
Follow us on Twitter, Facebook, and Instagram.