Blessed are the anxious, for they shall inherit the earth. OK, so that's not exactly how the adage goes, but what about the anxious? Nowadays it seems everyone suffers from some kind of anxiety. Millennials have been dubbed the most anxious generation, and I see it in my friends and coworkers. I myself suffer from anxiety daily. Sometimes social anxiety, sometimes general anxiety. Sometimes mild, sometimes crippling. Sometimes even the thought of the most casual of social gatherings causes me to panic, worry and obsess for days.
Of course, we've seen this in movies and TV shows as a comedic device: The "Woody Allen" character type — the one (usually a male protagonist, might I point out) who's the lovable neurotic. His worries are quaint, cute even, and might cause minor mishaps but ultimately don't cause any serious damage in his love life, social life or career.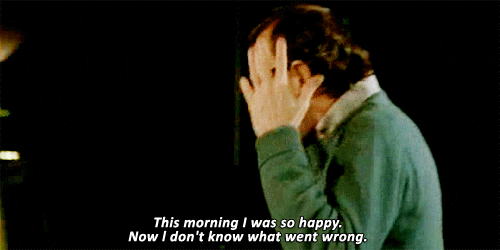 This take on anxiety, like the depiction of any other form of mental disorder in the media, can be easily glossed over. That isn't to say this degree of anxiety doesn't exist; everything exists on a spectrum unique to one's individual experience. But presenting this as the sole depiction of anxiety generalizes it as a lighthearted foible rather than an affliction people manage or even suffer from every day.
During New York Comic Con last year, I saw a preview of a new anime called Recovery of an MMO Junkie. It was marketed as a fun rom-com: A woman who's obsessed with MMORPGs (massively multiplayer online role-playing games) eventually sees her online life and real life collide. The ten-episode series premiered in October and was simulcast on Crunchyroll through early December. Undoubtedly a fun, slice-of-life rom-com, MMO Junkie, however, surprised me in its introduction of an atypical protagonist, Morioka Moriko.
A self-described single, 30-year-old NEET ("not in education, employment, or training"), Moriko quits her job and dedicates herself to the MMO world. Far from the typical kind of protagonist anime series tend to champion, Moriko is unhappy, withdrawn and socially anxious when we meet her. She desires a connection to other people but gets too anxious when she must interact with others in person. Even her age and status make her a bit of an oddity — with media's myopic fixation on stories of women in their teens and early 20s, a single, 30-year-old female protagonist seems old, particularly in a romantic context. This irony isn't lost on the show, which has Moriko frequently bemoaning the fact that she's already "old" at 30.
But Moriko is also a strikingly inert protagonist. In an genre that banks on shonen and shojo, full of passionate magical protagonists who fight to achieve their goals, Moriko appears downright slothful. She doesn't do much to affect the plot; rather, she's moved by the circumstances around her because, left to her own devices, she would let her anxiety (and sincere preference for MMO games) keep her at home in front of the computer.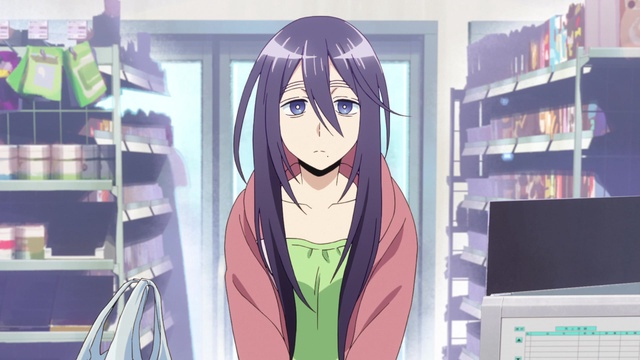 But MMO Junkie doesn't judge or pity her. Moriko, after all, has the capacity for more than what her anxiety may initially show. Roughly half of MMO Junkie takes place in the digital world, and that's where Moriko feels she's most able to express herself — even if it's as a character who doesn't match her gender identity (thankfully, MMO Junkie doesn't question or mock its characters' choices in how they choose to identify in the game, even when it's different from how they identify in real life).
Moriko's awkward exchanges and struggles with anxiety feel genuine and comedic without being flippant. She panics when she sees an old acquaintance at the store, gets overwhelmed by the prospect of a date and fusses about her age, appearance and employment status. When she's too overwhelmed by a social interaction, she refocuses her frenetic energy into cleaning.
But it's never assumed that Moriko can't be a romantic love interest despite her introversion and social anxiety. And Moriko — and this is the important part — isn't pressured to change at any point. When she does decide to make some changes in her life, it's because she chooses to do so — and she's still the same person from beginning to end. The show is loyal to its characterization of her and her anxiety throughout; it's a short series and doesn't have many major plot developments, but the action progresses slowly in keeping with Moriko's anxiety-induced inertia but also to makes room for her to grow beyond her own insecurities and fears.
One thing MMO Junkie proves is that "anxious" does not count as a personality type, or rather, it's too reductive of a view of both the affliction and the people it affects. It also proves that there are many different ways to live in the world; Moriko can grow while still being an "MMO junkie." She can feel empowered to create her own online identity and nurture her online relationships and use those as the means to her own happiness and evolution.
There are plenty of other reasons to watch this series, including the comedy, the romance and the animation, but for me, seeing an adult, female character with anxiety depicted with humor, care and realism tops my list of reasons why Recovery of an MMO Junkie was a pleasure, especially for viewers who may be anxious at heart.
Are you following Black Nerd Problems on Twitter, Facebook,Instagram, Tumblr, YouTube or Google+?