Writer: Geoff Johns / Artists: Dale Eaglesham, Scott Kolins / DC Comics
The Shazam fam is back, and things promise to never be the same! We are officially introduced to 2 new Magiclands and some exciting ideas that make the kid inside jump for joy on one hand, and shiver in shooketh on the other. In the real world, Billy and Mary deal with the fallout of adults getting in their business while villainous plans are set in motion. With Santucci gone, it's the Dale Eaglesham and Scott Kolins show, and I must say that there was a slight uptick in the quality of the magical creatures of these lands. The lightning bolts are still buzzing with kinetic energy, the facial expressions still have a life all their own, and the newly introduced Darklands are nice and ghoulish.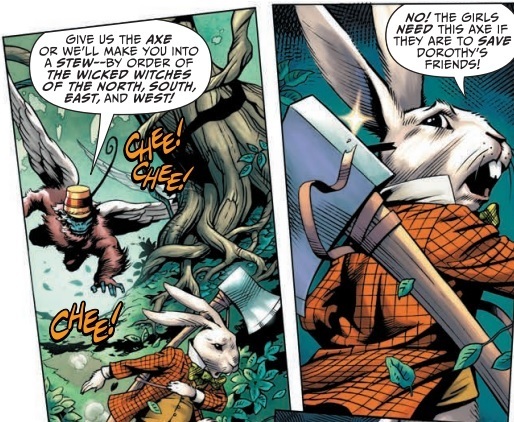 We start off with new concepts and a new magical ecosystem to go along with it. If you ever wondered if you'd see Alice or Dorothy in a comic book, you can wonder no longer because it certainly appears they are destined for an appearance in the coming issues. Pocket watch in hand, frantically running about, a white rabbit sets the tone for what we're to expect in this issue. The Wozenderlands is being labeled as the most wonderful and mysterious of all the Magiclands, and I can't wait to see where this fantastical journey takes us.
I love the story unfolding in the Wildlands. Freddy and Darla are in the clutches of the animal kingdom that despises humans. It's a dilemma for Darla who adores all cuddly, furry creatures, but being fed alive can change one's outlook awfully fast. Then there's the wonderfully written character of Tawky Tawny, the tiger very in touch with his humane side. The decision he has to make will cause ripple effects across all of the Magiclands, and my tiger loving behind is reading at the edge of my seat through all of it!
At the center of it all is a man who seems familiar, and by all accounts is an ally our lost family should be able to go to for guidance and safety. It isn't until it's too late that they discover things are not as they seem. Behind it all, Mr. Mind continues to weave his web of devious silkworm malevolence, with the help of the good doctor of course! I'm not supremely well versed in Shazam lore or rouge gallery but there's one group that cannot be underestimated or overlooked. By the end of this issue, Mr. Mind is looking like Bobby Pickett, because it's about to be a monster mash!
Although the future of this book is up in the air, Geoff Johns continues to write a tantalizing tale while Eaglesham and Kolins work their magic on the page. If Johns doesn't get to close out this arc, it would be a shame.
 8.5 Tiger Pit Sacrifices Out of 10
Reading Shazam? Check out BNP's other reviews here.
Want to get Black Nerd Problems updates sent directly to you? Sign up here!
Follow us on Twitter, Facebook and Instagram!