Writer: Max Landis / Artist: Nick Dragotta/ DC Comics
So, earlier this week, I sat down with the fellas at the Vexed Men podcast to talk all about Superman books. After about an hour of love and laughter (because the gang over there is incredibly warm, welcoming, and classy), I signed off because they had to talk about the latest Superman mini-series, Max Landis' American Alien, and I didn't want them to spoil it for me. In retrospect, I kinda wish I'd stuck around for the spoilers.
"Well, damn, Oz, why would you want someone to spoil a brand new comic for you?", you're probably asking yourself. To answer your question, when the comic isn't very good I have no problem with you saving me the four bucks. So, the idea behind this series is that it's six stand-alone stories that each depict a different moment in Clark Kent's life growing up. And, of course, because it's written by Max Landis, we're supposed to believe that each moment is presented in a way unlike anything we've ever seen (according to Landis, naturally). If you'd never read a Superman comic or, perhaps, had never heard of Superman before this first issue, that might be the case. For the rest of us, it's just thirty pages or so of Clark Kent being scared to fly. I suppose this would be a novel concept ten years ago if Jeph Loeb had done it….oh, wait. He DID do this.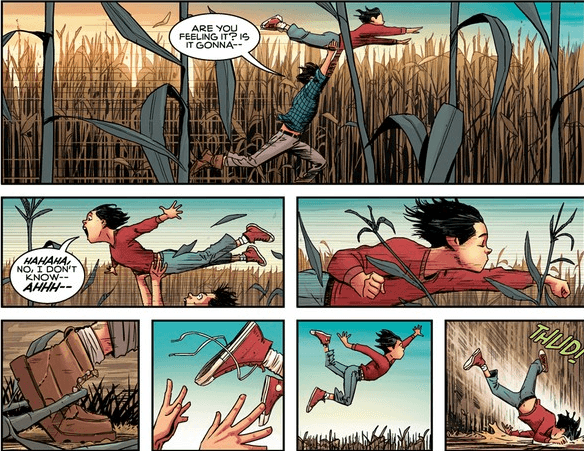 The disappointing thing is that we know Landis is a competent writer. We know that he's obsessed with the Superman mythology and has bold ideas about what works in a Superman story because we've seen him rant about it on YouTube for nearly an hour. If you've seen Chronicle, you know he gets the mechanics of a superhero origin and what brings about that childlike sense of wonder when you see that first spark of confidence that we all experience, whether it's conquering a fear of heights or learning to ride a bike. We know he gets it, so we know he wasn't even trying here. Clark is scared of flight and then he's not. That's the entire story. We've seen the proof before (a million times over) that this has the potential to be the groundwork for a great story, but everything falls flat here, entirely too straightforward. The only real saving grace here is that Nick Dragotta's artwork is unquestionably gorgeous, almost as good as his work on East of West.
Now, given that the next issue is a completely different moment in Clark's life, it's entirely possible everything that didn't work here will improve tenfold…or at least it'll be really pretty because Landis has a goddamned murderer's row of artists working with him. But if this first issue is a sign of things to come, the Dallas Cowboys have a better chance of making the playoffs.
Bottom Line: Nick Dragotta must have owed someone money and is working off his debt via humiliation. That's the only reason I could imagine DC putting him to work wasting such gorgeous linework and facial expressions on Max Landis' script, which is as dull as the look in Kanye's eyes when he's out with Kim Kardashian.
2.5 Wasted Richard Pryor Appearances out of 10
Are you following Black Nerd Problems on Twitter, Facebook, Tumblr or Google+?