Writers: Brian Michael Bendis, Greg Rucka, Matt Fraction, and Marc Andreyko / Artists: Yanick Paquette, Mike Perkins, Steve Lieber, Eduardo Pansica, and Julio Ferreira / DC Comics
You know what sucks? When the story you're digging in a totally normally priced comic book continues in a $10 comic. You know what rocks? (Besides getting access to a free advanced copy) 70 pages of comic book gold. I was blown away by the powerhouse line up on this book and was not disappointed.
The book is made up of a few storylines related to the mystery of Leviathan that's been plaguing Superman in Action Comics. First, we get Ms. Leone at an art showing in a bookstore. We know her as the silent organizer of crime in Metropolis. One of her impressive feats has been her organization's policy of avoiding "trigger words" that may bring a certain blue boy scout blasting through a window at supersonic speed. She is confronted by a representative of Leviathan. But rather than the quiet, blue explosion type we're used to, this one just wants to brainstorm. Actually, it's less of a brainstorm and more Ms. Leone walking him through her "how to get to Superman" Ted Talk.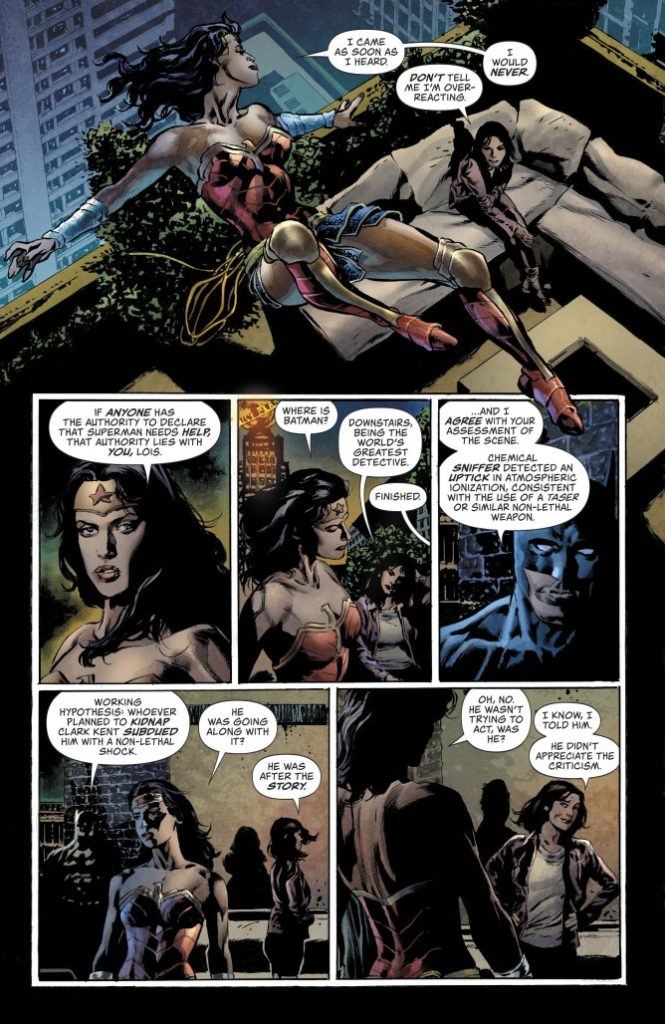 Thus begins Operation: Kidnap Clark Kent! Superman spots the strike team in his apartment from Chicago (does anyone know where Metropolis is supposed to be in the U.S.?) and decides he's going to play along for the sake of getting a story to write. What could go wrong? When everything goes wrong it's up to Lois to assemble the Justice League, Jimmy Olsen, and a cat to save him. Jimmy and the cat actually get a cute side story to explain their appearance and team-up.
Meanwhile, Supergirl gets a story arc as Leviathan works its Blue Magic on the Danvers' residence. As she pieces together what happened we get insight into the potentially relationship nuking tension pulling on Supergirl's adopted parents' marriage. The book ends with Ms. Leone and Robinson toasting to a new partnership and the upcoming media assault on Leviathan.
This book was beautiful, funny, and thoughtful. Even the Supergirl portion, who I am all but completely ignorant about was personally compelling. But Lois Lane was the MVP in this issue. I'm loving this ongoing theme that Bendis seems to like where Lois is clearly a better writer than Superman and is not shy about it. He also makes a point to make fun of the fact that spying and acting are forms of lying which Superman sucks at. When Batman tried to condescendingly question her worry about Superman she was not having it. That also brings me to the art. The whole book was nice, but the portions where Lois realizes Clark's in trouble and calls the big guns were just gorgeous. I wish the portions of the book were credited to their respective artist. In a lot of ways, the most impressive thing this book gave me was the Jimmy Olsen story. In a giant sized issue, a comedic relief story does not do it for me, but this was exceptional. And check it out, now he's friends with a cat.
9 "Oh GOOOAD"s out of 10
Enjoy Superman? Check out BNP's other reviews here.
Want to get Black Nerd Problems updates sent directly to you? Sign up here!
Follow us on Twitter, Facebook and Instagram!