Writer: Tasha Spillett / Artist: Natasha Donovan / Portage & Main Press
Just in time for Women's History month comes this offering from Portage & Main Press centering a group that we rarely see represented anywhere in most media: Indigenous people and especially Indigenous girls and women. Familiar with Portage & Main Press when I picked up and read A Girl Called Echo, Vol. 1 (Pemmican Wars) penned by Métis writer Katherena Vermette, I figured that I'd once again be able to read another graphic novel centering these women handled by a female creative team and this time both members with an Indigenous background. This graphic novel features two best friends, Miikwan and Dez, and chronicles their struggles not only being young but Indigenous young women navigating a world that historically hasn't been kind to those who look like them. Miikwan is Anishinaabe, and Dez is Inninew. Their friendship is strong, something akin to sisters, and they find themselves tested like never before.
This is writer Spillett's debut graphic novel, and I couldn't be happier to have a narrative written about Indigenous girls from an Indigenous woman who writes that she is most heart-tied to contributing to community-led work that centers on land and water defense, and the protection of Indigenous women and girls. As an educator, poet, and emerging scholar who draws her strength from both her Nehiyaw and Trinidadian bloodlines, I'm furthermore happier to see an educator writing a book about Brown girls aimed at tween and teen readers.

WHEW. The narrative presented in this comic offering does several things, and it's done so right–this work is not only centering Indigenous girls and women but also giving us a beautiful glimpse of sisterhood. Miikwan and Dez celebrate each other, their coming into womanhood together, fret, fall victim to fear, try to protect each other and ultimately make it back to each other. There was a world wind of emotions I experienced reading and following along in their journey; sometimes I wept, other times I cheered, and smiling at them being together and safe.
I picked up on the strong sense of community portrayed on the pages, from a parent who pops in with a family heirloom when needed with a kind word, to a counselor at school who takes one girl aside to listen and offer a spiritual resolution that honors ancestors, and to a female stranger who comes to the aid of a runaway teen girl. Spillett pens a tale where community matters and kinfolk ain't just your skin folk and the narrative is strengthened as a result. There are so many stereotypes that plague People of Color, Native and Indigenous people don't escape this reality, yet in this book there are no gross jokes beaten into our consciousness. They are no unfortunate caricatures of the folks who walked these lands before colonization disrupted their ways of life.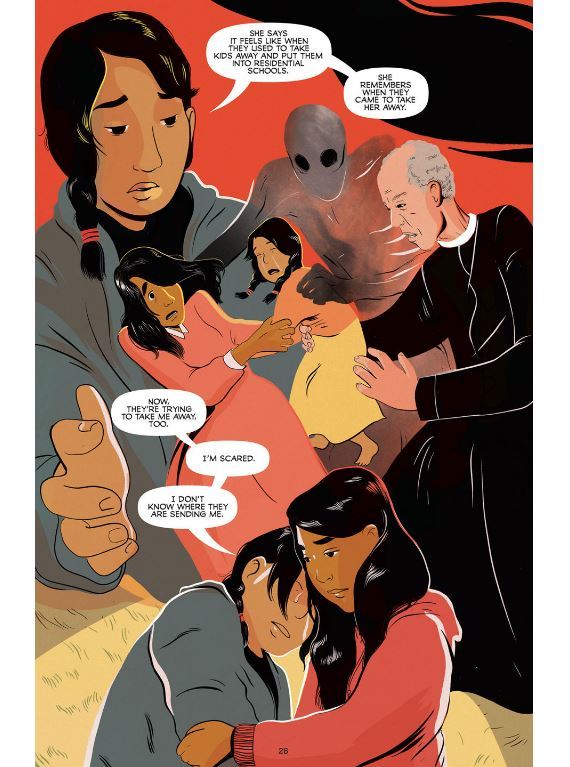 It is in one of the strongest and most emotional sequences of pages in the book where Dez reveals that she is afraid of being separated from her grandmother because of her ailing health. It is also in this moment that the book shines brightly. The threat of being sent to a group home makes Dez feel that she will be taken away from home, her kin, and everything she loves. It really touches upon what isn't empathized enough–the trauma that sets itself in the genetic makeup of many groups of People of Color and also ethnic groups that have endured and survived horrific events. (Trauma from the Trans-Atlantic slave trade continues to plague Black folks for example. More and more people are living with PTSD symptoms as researchers are linking together trauma and heritability.
For this, I appreciate the attention to detail here and the cultural authenticity. Dez refers to her grandmother as her Kokum, a Native counselor chants a prayer with an offering for their ancestors in another language-in Anishinaabemown with translations by Jerry Summer. While I believe that this book is accessible, I will note that I don't believe for one minute that this book caters to the white or male gaze. This is why I was elated to learn that the illustrator of this graphic novel was also another Indigenous woman. Artist Natasha Dononvan is a freelance creative and illustrator from Vancouver, British Columbia. A member of the Métis Nation of British Columbia, her sequential work has been published in The Other Side anthology, and she's responsible for the art for award-winning children's book, The Sockeye Mother.
Donovan's artwork is somewhere between dreamy and definitive: a few of my rereads of this title was to just focus on the art and be mesmerized. There's never a lack of Brown folks in the panels, and Donovan's coloring enriched the pages and made some moments stand out more: moments of joy and moments of fear, equally. The biggest takeaway was the artistic decision to portray the spirits of the women still here in some form watching over and protecting the young Indigenous women present. A more recently deceased female family member of one of the girls sits at her bedside as she mourns–that same family member stands behind her as she admires a sculpture created as a memorial for the missing and murdered women in town.
The women, and the ancestors, are on the pages in the book in faint forms colored with the palest of blues. Some have NO DAPL t-shirts, and others have less modern forms of dress like the ones in full skirts that look to be more from perhaps the later 1800's to early 1900's era. The other forms present are the grey, creepy, eyeless creatures that tend to appear and mostly cling to non-Native men who approach the girls and women in this comic. They show up in most places the female spirits are, and my best guess is that they are spirits of past efforts of colonization and fear that refuse to be banished from this plane. It is a visually compelling and moving depiction by the artist to include, and I immediately had an idea of what both spirits and what they were supposed to represent.
I initially was worried about the length of this book as it's not longer than sixty pages. I read A Girl Called Echo, Vol. 1 (Pemmican Wars) and while I really liked the story I felt that it was too short to fully fell immersed in it. (Thankfully, there is another volume to continue Echo's adventures.) The creative team paced the narrative well enough where Surviving the City Vol. 1 ends on a satisfying note, and I didn't feel cut off. As this book is for the demographic of younger audience in the grades seven to twelve, it's a good length with a few pages of educational content like stats about murdered and missing Indigenous women, girls, Two-Spirit people, and some additional readings to look up.
Surviving the City is one book in The Debwe Series, and it is a book that I can't recommend enough; first for representation reasons, and secondly for centering Indigenous girls and women in a narrative that doesn't succumb to the trauma porn People of Color are so used to seeing in the media. While this book focuses on Native girls and women in Canada and British Columbia, it is important to note that Native women are some 2.5 times more likely to be raped or sexually assaulted than any other ethnic group, and that is an international crisis of violence that affects Indigenous girls and women everywhere.
What I love most about Surviving the City is that it feels like a love letter from Indigenous women to Indigenous girls, letting them know that they are seen and that they are loved. Surviving the City is a promise that the fight is still ongoing, never ceasing to mourn those gone and to prevent more from going missing is heartfelt and true. While reading it, I kept seeing women come to the rescue of other women, the standout examples: the woman coming to the aid of teenage girl runaway getting her to safety and the older woman standing in as a grandmother, a spiritual leader, and later an activist. The cornerstones of many communities are women, and women are the protectors of other women.
Let the circle be unbroken.
Let women remain as protectors and guides and leaders.
And let the conversation about the murdered and missing Indigenous women, girls, and Two-Spirit people be one that we fight to keep alive and also one that brings justice and closure.
Here in the states, the first piece of legislation, a bill sponsored by Rep. Angela Romero, to designate May 5th as 'Missing and Murdered Indigenous Women, Girls, and LGBT+ Awareness Day.' (See the live tweeted updates on the passing of the resolution here on Twitter!)
The Senate Judiciary, Law Enforcement, and Crim. Justice Cmte unanimously PASSED @RepAngelaRomero's #HCR6 "Concurrent Resolution Designating May 5 as Missing and Murdered Indigenous Women, Girls, and LGBT+ Awareness Day." Now to the full Senate. #MMIWG https://t.co/qc7zxe09Oi pic.twitter.com/qpLVgzMfTb

— Utah House Democrats (@utahhousedems) February 26, 2019
See more of writer Tasha Spillett here and illustrator Natasha Donovan here. Follow along with publisher here and buy a copy of Surviving The City here.
9.9 Berry Festival Photo Collages Out Of 10
Want to get Black Nerd Problems updates sent directly to you? Sign up here!
Follow us on Twitter, Facebook and Instagram!