Storytellers: Joe Bennett, Jeff Lemire / Inkers: Sandra Hope, Jaime Mendoza, Art Theibert / DC Comics
Stuck In the Middle With You…
In the opening page of The Terrifics #3, there is a genuine moment of terror that consumes each of the main cast as they realize that they have to stay within constant proximity of each other or bad things will happen. Their facial expressions run the gambit from "did you say what I think you said" to "oh no. Oh. No. OH NO. I'm stuck with my coworkers until the end of time" and if that's not relatable content, I don't know really know what is.
The found family saga of Mr. Terrific, Metamorpho, Plastic Man, and Phantom Girl continues at a brisk pace with constant quips back and forth and lots of small endearing moments of family histories and new friendships. Stuck at Stagg Industries for the time being, each of member of the titular team has to do a bit of soul-searching as they try to figure out their next move. Bennett and Lemire continue to spotlight different familial relationships of the different characters to propel the story along, whether it's Metamorpho grappling with his feelings for Sapph Stagg, or Phantom Girl worried about her parents in a different universe. It's in these small humanizing moments that I find myself growing more fond of the cast, and it gets me to root for them when the cards get put down on the table.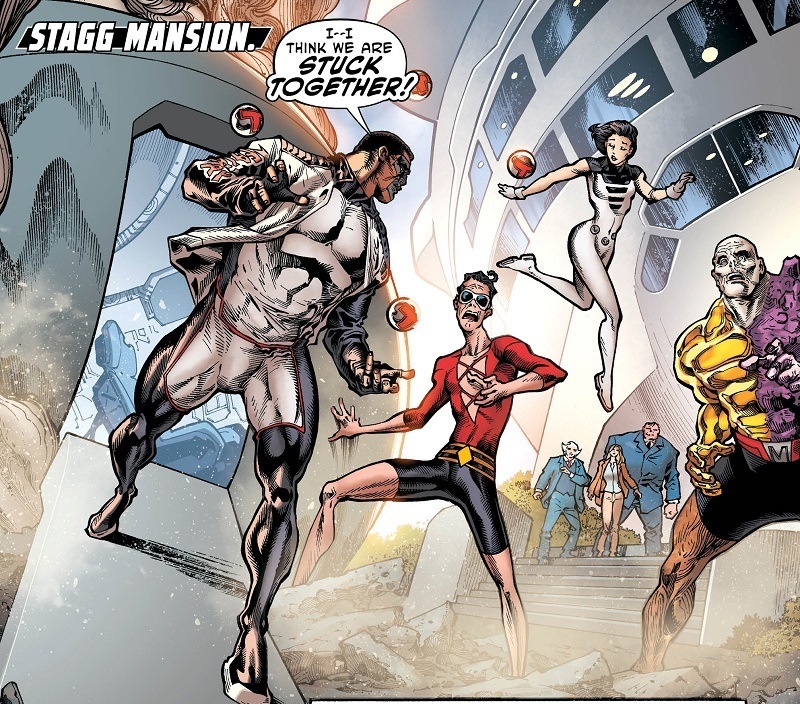 The artwork continues to be absolutely stellar, and while the story is set on Earth, there is plenty of otherworldly shenanigans to be had and the marquis action sequence that concludes the initial arc of the Terrifics is every bit as epic as the opening sequence that kicked the series of.
The Terrifics has got the right balance of offbeat humor, the joy of superheroics, and a directed mytharc. As long as Bennett and Lemire continue their playfulness when dealing with the Dark Multiverse, I'm going to continue to reading.
9.1 "War Wheels of Doom and Other Ominous Sounding Devices" out of 10
Reading The Terrifics? Find BNP's other reviews of the series here.
Are you following Black Nerd Problems on Twitter, Facebook, Tumblr or Google+?