Can you believe the Deadpool movie is literally just around the river bend? Because I can't. It might even be out earlier for you because of time zones and early releases. I feel like time zones are a really elaborate way to cheat and see movies earlier than others, but since I don't have all 7 Dragonballs yet I can't do anything about that and I have to bear with it. So I know everyone's excited for the movie, but before you get that overpriced movie food I must enlighten you for I have had another epiphany. Shenron has come to me with a mission to tell a story — the story of a legend that has been passed down for almost a decade. A tale full of sadness, hope, and finally triumph. A ship that set sail with no destination. This is the fantastic voyage of the Deadpool movie.
Disclaimer: This article is best read while listening to this song.
Our story starts in 2009 with a movie, which, FYI, literally doesn't exist in the cinematic universe anymore called Wolverine: Origins. Now, this movie wasn't good at all. No one liked this movie. Even the people who said they liked it actually meant to say that they didn't. This movie killed my goldfish. This movie is what Light Yagami actually used to kill all the people he killed in Death Note, not his actual Death Note. So this movie was bad, but there was a shining light in the middle of all the darkness.
That shining light was Ryan Reynolds, I mean Deadpool… I mean Wade Wilson. Deadpool wasn't in that movie. That abomination wasn't him. Ryan Reynolds portrayal of Wade Wilson in the short time he was allowed to be him in the movie absolutely stole the show. His wise cracking attitude of "I'm gonna talk shit, what are you gonna do about it?" while being the coolest, bad-assiest dude there was so refreshing in that otherwise garbage movie. If anyone watches or reads One Piece, Crocodile also has that attitude just with less jokes.
Moving on, after the movie-that-shall-not-be-named-twice-in-the-same-article caressed movie screens around the world, everyone wanted to know who the Baraka abomination was. What people found was that Barakapool was completely wrong and shouldn't have existed in the first place. Who let this happen? Where were the bouncers for this club? Those people then looked up Deadpool and found a bunch of pictures on the internet and probably got into his comic books as well. Hulk vs. Wolverine was also a major factor in the Deadpool hype train that left the station that year because he was amazing in that animated film.
Just like that there were talks of a Deadpool movie, which seemed like more of a possibility back then because people REALLY wanted it and it felt like it was going to be made soon. So a year went by and it was still in "talks," but we all still hoped that it would start being in production in 2011-2013. We were left grasping at any news we could get. Anything that would ensure that the movie wouldn't stay in development hell, in IMDB limbo of just having a title and main actor. For four whole years there was no official information. We were hanging onto every single thing that Ryan Reynolds said about the movie being in production, which most likely wasn't true and he just didn't want to let anyone down.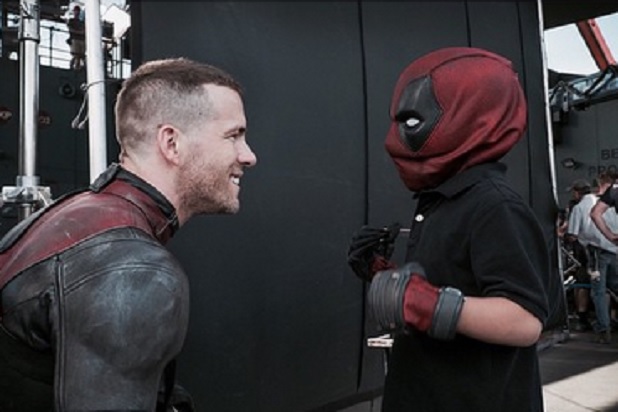 Now we're in 2014, after we had all but given up on any hope of seeing our crazy crimson mercenary on the big screen, the unthinkable happened. Test footage leaked. The internet exploded, I almost exploded, multiple nerdgasms were heard and felt around the world, babies were most likely made during while watching the footage. Where did this footage come from? Who leaked it? Well there's a 30 percent chance that Ryan Reynolds himself leaked it, honestly. The studio saw the reaction to the test footage and finally, after all this time, they gave Deadpool the green light. We, the fans, truly helped make this movie happen. Ryan Reynolds himself got into the Deadpool character so much that he pushed for the movie to be made along with the director and other folks who shouldn't go unappreciated.
With a budget described as "The cocaine budget for most superhero films" by Ryan Reynolds, the Deadpool movie was finished filming. Trailers were released and we all collectively rejoiced. A movie that was dead to rights had been resurrected. Or, maybe, the correct thing to say is that it was never dead in the first place. The hope we had for the movie when it was first in talks all the way back in 2009 never fully dissipated. It was never truly destroyed, it regenerated and came back stronger than ever and the power level we reached was — well you know what number it was over.
The fantastic voyage of the Deadpool movie has reached its first destination, but it won't be its last. With it being rated-R and the team behind it doing their damnedest to keep it true to the source material, this movie will be a true test for studios to actually give fans what they want. If this movie succeeds the way that it has been prophesied to, then we're in for a hell of a continuation to this fantastic voyage. We believed and we never gave up and we were rewarded for it. If that's not what dreams are made of, then I don't know what is. Maybe I should go ask Lizzie Mcguire just to be safe.
Are you following Black Nerd Problems on Twitter, Facebook, Tumblr or Google+?