Writers: Scott Snyder, James Tynion IV / Artist: Yanick Paquette / DC Comics
So far, as Scott Snyder's "Superheavy" story line nears its close, Batman has worked well as a "World Without Batman" story line. Even more so, it's been a unique plot that argues the notion of "A World Without Traumatized Batman," pondering what happens when you subtract tragedy from the legacy of Gotham's greatest protector. This week brings about something of a side story that takes an interesting detour while the all out war against Mister Bloom goes… umm, badly.
Yanick Paquette takes the wheel on artwork for issue #49 while Greg Capullo works on the final two issues. On one side of the coin, Snyder (teamed up with James Tynion IV) seems to offer a very personal viewpoint of the relationship between The Bruce We All Know, New Revenant Beard Bruce, and Batman. His approach to this aspect of the story comes across in a very Grant Morrison-esque. It almost makes "The Return of Bruce Wayne" story digestible. Almost.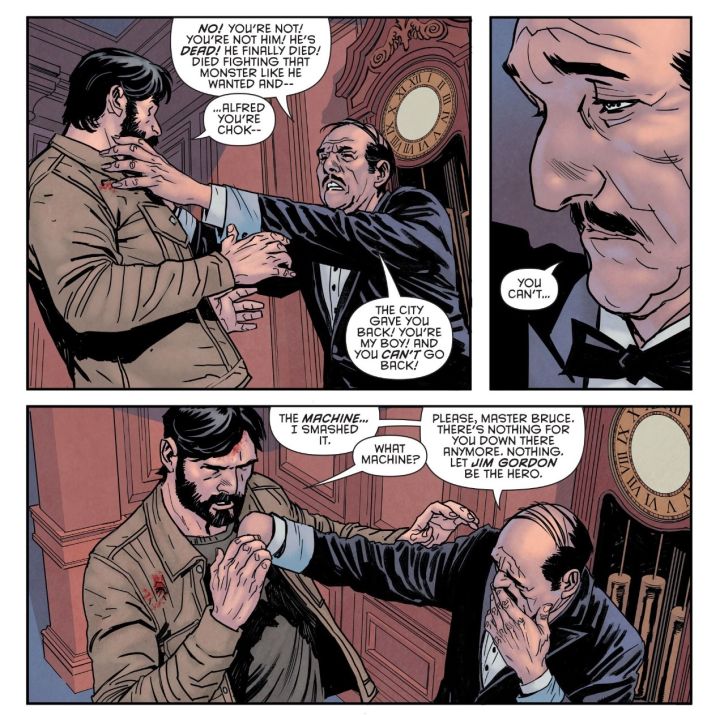 On the flipside, it's "The Last Temptation of Alfred Pennyworth," which really ends up being a more compelling, insanely sad story to run with. In earlier issues, I found Alfred to be a bit irredeemable in his dogged efforts to hide the notion of Batman from Bruce Wayne. Issue #49 re-humanizes a man who has stood by his charge who, essentially, has PTSD. When so many writers drive the point home so hard that being Batman takes a toll on Bruce, it's easy to overlook the fact that all Alfred has ever wanted is a day where Bruce no longer needs Batman as a coping mechanism. That, in itself, ends up making for a pretty powerful element of what makes this issue work so well.
Art wise, Paquette is at the top of his game, offering a very atmospheric issue visually. Symbolically, it very much looks like Revenant Beard Bruce being dragged back into the darkness of his former self. Right up until the end, Paquette's pencils blatantly regard Old Bruce and New Bruce as fundamentally different people which is part of the point of the script.
Bottom Line: Snyder and Tynion offer up a side story that turns out so much more powerful than your typical side story; far more psychological than it needed to be, redeeming Alfred emotionally. A deserving goodbye to Williamsburg Coffee Shop Bruce Wayne.
9 Sean Penn Peace Corps Beards Out of 10
Are you following Black Nerd Problems on Twitter, Facebook, Tumblr or Google+?