Whether you call it FLCL, Fooly Cooly, Furi Kuri, or That One Weird Ass Show with the Vespa Adult Swim Used to Play, the fact that it's already been fifteen years since Gainax's six episode OVA rocked the anime world and yet still seems due for a reboot can leave some of us fans feeling a little like…
Yeah. That.
Told from the perspective of 12-year-old Naota Nandaba, FLCL details the adventures of learning how to cope with an unpredictable alien woman, fending off giant robots, and a host of other usual preteen problems. Where many modern anime attempt to stretch themselves into epics spanning what damn near feels like forever (plus filler!) and cram as many characters in as possible, FLCL manages to showcase its characters' personalities, motivations, and arcs in about two and a half hours of film. Two and a half hours. You can't even make a movie about a third of The Hobbit in that time today.
At once a masterpiece of fast-paced action and intriguing storytelling, FLCL also gave us arguably one of the best allegories for the complexities of puberty and growing into adulthood. We were even challenged to consider how our actions blur the line between loving someone (whether romantically or in the familial sense) and manipulating that person with our own selfish desires, to question if there sometimes really is a line at all. Also, prior to this show way less people knew what a Vespa 180 SS scooter or a vintage Rickenbacker 4001 left-handed electric bass guitar looked like, so… you can't say it's not educational. Why fix magic robot alien battles that ain't broke?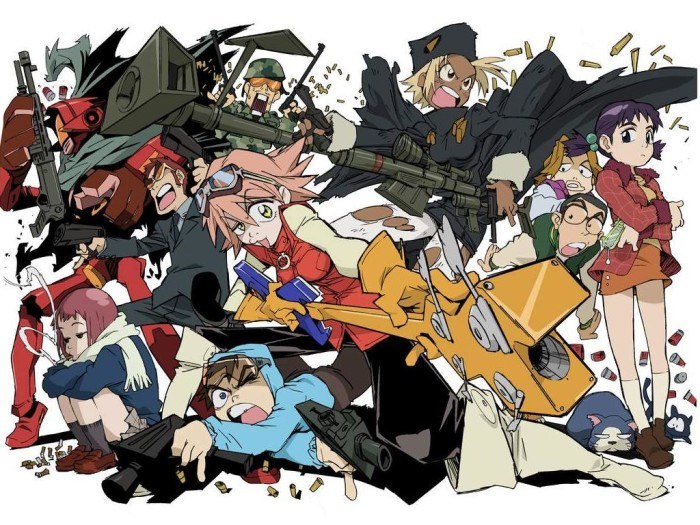 To be fair, the announcement that the fandom is making a fuss about stems from this tweet where Production I.G. acquiring the rights to FLCL and setting their sights on making a remake seems pretty certain. On the heels of arguable fiascoes like Sailor Moon Crystal, and the pure inundation of eviscerated nostalgia American audiences are currently experiencing from the box office (MCU aside, of course), it's easy to feel a bit nervous. However, while its hard to compete with Gainax's impressive resume of mega hits such as Neon Genesis Evangelion and Gurren Lagann, Production I.G. has had a hand in quite a few winners of its own with the beloved Ghost in the Shell series, Attack on Titan, and even the original FLCL itself. 
Perhaps what we're feeling after all is less distrust than just pure disbelief. Remakes are often a product of a brand new perspective trying to revive a dying franchise or an artist showcasing the story and characters from an angle the original version may have often missed because of the times. With a fandom that seems as healthy as ever, though, one can't help but to wonder what Production I.G. can bring to the table on a project they've already seen to successful fruition once before. For now, maybe all we can do is wait it out, hope for the best, and soak in that good old not-yet-disappointed feeling. Vespa ride, anyone?