Deka is a good girl. She's been one all her life, despite the fact that she doesn't look like the people in her Northern city. She's ignored the teasing and jokes to look forward to the one day that she'll be marked as Pure. Then her life will begin.
Of course, nothing is that easy.
Namina Forna's debut novel, The Gilded Ones, begins with a bang and does not let up. After Deka bleeds gold, she is designated as an alaki–a unclean demonspawn–and tortured until a mysterious woman comes to her village and takes her away. This woman, White Hands, is building an army to fight against terrifying monsters called deathshrieks. Deka makes friends with the other gilded ones, gains a male partner to fight with her, and learns more about her frightening abilities. What is her story? What is she becoming?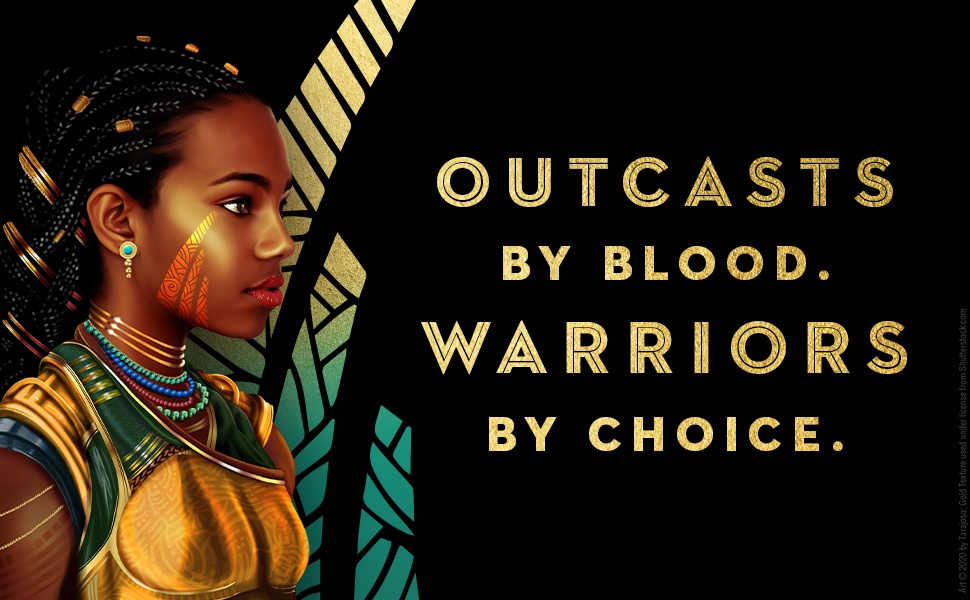 Girlhood, Defined
The Gilded Ones is a pointed commentary on how women are treated on a daily basis. At first glance, the pure/impure distinction refers to the color of a woman's blood. But it also determines status. Impure women, while ostracized, still have a value, whether it be their golden blood or their magical fighting ability. Even Deka, with all her strengths and power, is still only a soldier, belonging to the empire. Deka's society is steeped in misogyny and secrets, and as the novel goes on, the patriarchal layers are peeled back to reveal the ugliness inside. Women are shown to have their own important place in the world, both in the past and in the present.
Deka's friends, both the Gilded Ones and their male partners, are diverse both in personality and background. Although this novel is "West-African inspired", the characters run the gamut from pale Northerner to dark-skinned Southerner, and everywhere in between. In fact, Deka's dark skin sets her apart in the Northern city where she grows up. As an alaki, Deka belongs to a unique group, and each of the girls bonds and protects each other in their own way. There's no false-feeling "girl power" here–Deka and her friends achieve real sisterhood, despite initial differences, and they learn to work together to fight against several common enemies.
Of course, when a book has fighting scenes, the action is important. Each sequence feels quick and brutal. There are also moments with mind control that are genuinely creepy and a scene where a character is killed by the deathshrieks made me jump in surprise. These moments of violence make the war feel real, but thankfully there's no lingering focus on cruelty to affect squeamish readers. The scenes of torture on the beginning were difficult to read but short, and they strike home how quickly families and neighbors can turn on each other in times of strife.
Sisterhood and Beyond
The Gilded Ones combines action and character growth with societal analysis of how the patriarchy harms the very people it purports to protect. Though it ends with a satisfying conclusion, this is only the first book in a series. Thankfully Deka and her found family will be back to smash more heads! (In film adaption news, Author, Namina Forna, is set to write the script in the first of what will be a trilogy–Can you imagine seeing this on the big screen?!)
In the author's own words, her book is "is set in an African-inspired world & basically imagines what would happen if the Dora Milaje from Black Panther were stuck in The Handmaid's Tale and decided they weren't going to take it anymore." I would recommend for fans of The YA genre, fans of speculative fiction and also folks who enjoy well written girls and women in literature!
The Gilded Ones was published February 2021 is now available where most books are sold.
---
Namina Forna is a young adult novelist based in Los Angeles, and the author of the epic fantasy YA novel The Gilded Ones. Originally from Sierra Leone, West Africa, she moved to the US when she was nine and has been traveling back and forth ever since. Namina loves building fantastical worlds and telling stories with fierce female leads. See more of her on Twitter!
---
You can always check the Literature category for our site's book reviews and other book news here! Check out our bookstagram here!
Want to get Black Nerd Problems updates sent directly to you? Sign up here!
Follow us on Twitter, Facebook and Instagram!