Writer: Izzi Ward / Artist: Izzi Ward / Indie Comic
Hey, you looking for an urban fantasy indie comic about queer romance, magic, and tattoing? Yeah, I figured you might be. Or if you're not, you should be. Introducing The Ink Witch, a Kickstarted-comic from Izzi Ward, a UK-based illustrator. (Not to be confused with a novel of the same name.)
The Ink Witch has a fascinating magical setting where our main character, Nix, is a tattoo artist who enchants her work to move, evolve, or revolve depending on the request of the client. Nix' client is Bryn, a technomancer with all the troubles of modern day tech support, but also magical abilities, so that's damn cool. Over the course of several tattooing sessions Nix and Bryn have developed a serious mutual crush, but even in this magical setting getting to the first date takes some effort. The bulk of the comic then focuses on Nix' friends counseling them through how to be honest about their identity and desires so the relationship can start off right.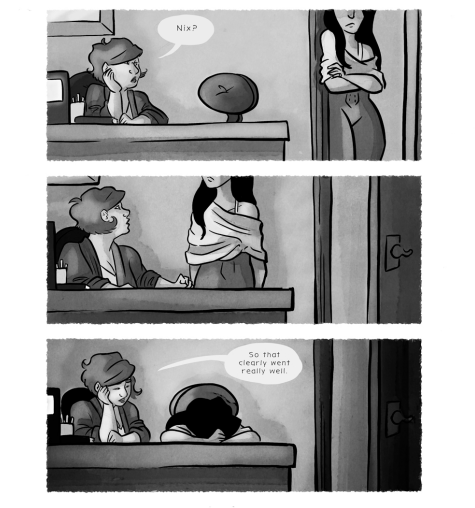 The plot is an accessible romance with a soft-focus style combined with just enough real-world angst to feel genuine. This is a perfect wrapper for the cast of lesbian, bi, and asexual characters, including a "Were'" character, who — in a world that is fully accepting of our conception of queer people — are the less-accepted class working for full equality before the law. The parallels are obvious.
The art, all black and white, has a watercolor touch that allows subtle shading to stand out. Even a blush is striking in this style.

Ward also has a nice touch with her panels of silence, or rather of "life going on" around the characters. This world has much more to it than just Nix, Bryn, and their friends. Every panel suggests more and makes me want to know more.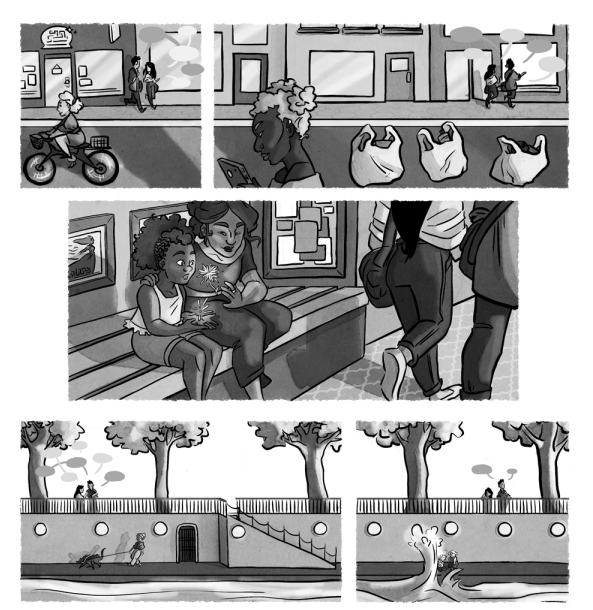 I'd love to read more stories from this world and to follow the growing relationship between Nix and Bryn, but for now, this will have to do. If you're looking for new characters, a little love, and maybe a soft kiss at the end, then The Ink Witch is a great comic. Start your new year with something warm.
7.5 out of 10
Are you following Black Nerd Problems on Twitter, Facebook, Tumblr or Google+?