I'm not one to hold grudges but there are certain things I can't get over. Or should I say, that I refuse to get over. The Bellas deserved an "L" (badly) against Das Sound Machine in Pitch Perfect 2, how incredible Cars 3 is (Yes, I'm still on that), and Dev's (Aziz Ansari) "search" for Sara in Season 2 of Master of None.
Lemme repaint the picture, Season 2 of Master of None dropped back in May 2017. In Episode 1 ("The Thief"), Dev is in Modena, Italy doing real chef shit. Ya boy cooking. He cooking. Dev decides to treat himself to a birthday lunch at this Bruce Wayne, entry-by-reservation-only type restaurant, Hosteria Giusti. He meets Sara (Clare-Hope Ashitey) who mistakingly booked her reservation for the following month. Dev invites her to eat with him 'cause it's the nice thing to do, and what ensues is 100% uncut cute shit.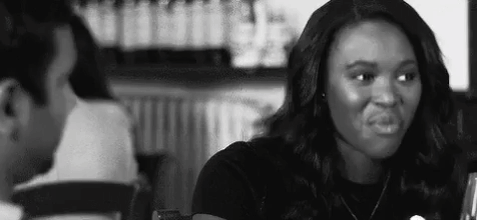 They engage in slightly awkward conversations getting to know one another, talking about the social norms of conversation. They see they have a similar type of humor and continue to hang out, eating ice cream and riding bikes together. It's a buffet of cute shit and I came back for fourths. Once it's time to depart, Sara tells Dev she and some friends rented a house in Puglia for the weekend. She gives him her number and tells him to come through. Dev later gets his phone stolen and gives a valiant effort trying to catch the thief, but comes up short. Y'all know how the rest plays out.
"Have you learned nothing from BBC's Sherlock?"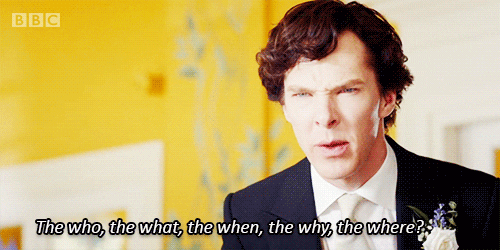 I'm watching this like, 'Damn, I hate it had to be you, Dev'. Then he just moves on with his life in Episode 2, and I'm like "Hold up? We not going keep it all the way real with the sleuth shit?" Y'all were riding bikes together, man. If you don't get your ass on Facebook and start going through Saras (without an "h" at the end) based in New York. Oh, you ain't even get a last name? Uh, that's Consensual Stalking 101. You know damn well we 'bout to Google each other to make sure the other person isn't a mass murderer, isn't arguing at celebs on Twitter, and has heard at least four tracks on
Lemonade
.
I had the editorial mapped out right then and there. A whole ass crazy wall with mad papers and strings connecting this all to Kevin Bacon and everything. Then, I said, 'Lemme chill'. Maybe it's just me—sometimes you gotta let go, right? I'm not going say things happen for a reason because I'll tell you like Dr. Horrible's Sing-Along Blog told me, "Everything happens". Fam, I could not let that shit go. I'd be washing my clothes thinking, 'but Dev coulda', playing Mario Kart with my nephew, accidentally driving off Rainbow Bridge lost in thought while muttering, 'If only Dev went and…'. I found myself randomly revisiting the issue, Googling 'Sara and Dev' today (2017 New Year's Eve). I don't even know why but I saw this MTV article about Master of None's unexpected Season 2 ending. In it, the the original ending was mentioned. I'ma 'A Tribe Called Quest' the entire excerpt so you understand my feels after reading it.
Dev and Francesca's flirty friendship-turned-something-more wasn't always the finale's focus, however. Mastronardi also revealed the season's original ending, which put Dev on a plane to find Sara (Clare-Hope Ashitey), the girl whose number he lost in Italy. She's the first girl he shares a real connection with after his breakup with Rachel (Noël Wells) in Season 1. "Francesca had chosen Pino, and Dev finally found the number of the girl from the first episode of the season. But then he said maybe it's too much, maybe the audience doesn't even remember this character," Mastronardi explained.
Now I'm most definitely back on my bullshit
[Stares at excerpt]
"Maybe the audience doesn't remember [her]."
[Looks into the camera like Maxine Waters]
Sara is who we were all waiting for. I talked to staff member, Jordan, like, "She'll be back at the end of the season finale, right?" The both of us were hoping, y'all. 2008 Obama hoping. "Please, Obi-Wan Kenobi, you're the only one that can help us" hoping! The whole squad still wondering about Sara like she starring in a sequel spin-off of Forgetting Sarah Marshall, Forgetting Remembering Sarah Marshall.
[me on my deathbed]

[hoarse, nearly inaudible whispering]

come closer

closer

closer

…..WHAT HAPPENED TO THE BLACK GIRL FROM SEASON 2 EPISODE 1 OF MASTER OF NONE

[collapses, dies]

— wikipedia brown (@eveewing) December 31, 2017
*Puts crazy conspiracy wall back up*
We remember you, Sara! So as I was fucking saying, Dev shoulda dove into what he already had to work with. Me? I'm Googling how big Puglia is, checking the Airbnb's that are booked up and if the most booked locations are near tourist attractions. Yeah, I'm making a weekend of it—driving up. Sara said she was in finance? I'm taking a business course online, signing up for the lead business firm when I get back home, successfully climbing my way up the corporate ladder and establishing connections in the field so I can hopefully find someone that knows her. "Um, a bit extreme don't you think?" No, I don't it's called a long game, fam. Listen, if we rode bikes together, I'm going all out to find you, my g. I put that on 'Matt Hoffman's Pro BMX'.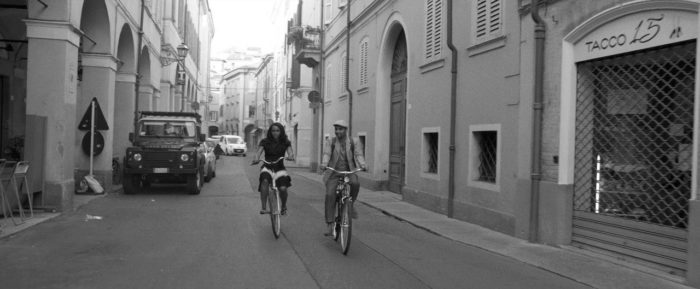 If Dev was really with the shits, he woulda broke the fourth wall and IMDB'd the actor playing Sara and connected with her that way. OoOoOoOoh, I'm not making any sense now? I'm being too irrational you think? Fine, we could just do it the easy way and do what Dev shoulda did in the first place. Go back to Hosteria Giusti restaurant, talk to the host, explain the situation, and get Sara's surname and contact info. They saw you eat together and leave together. You can look her up on Facebook, Twitter, Instagram, LinkedIn, Yellowbook, pigeon-carrier, whatever. If they don't wanna give contact info (protect a customer's privacy), it'll cost them nothing to send Dev's contact to her.
There. Loose ends clapped and capped off.
That way, we don't get Dev going Lancelot and flirting way too far with Francesca who is in a relationship with his freaking friend, Pino. What part of the game is that Dev? Did we learn nothing from TLC Dev? You out here kissing someone in a committed relationship on the other side of a pane of glass? Not a good look. I'm looking at you too, Arnold. You supposed to be Dev's mans and dem.
When your boy starts wylin' and damn near wrecking a relationship, you gotta tell him about himself, not what he wants to hear. Arnold shoulda told him to dead that emoji textin' with Francesca so he not out here looking crazy on some wild shit like, I dunno—kissing someone on the other side of a door with a pane of glass between each other's mouths. Don't get me wrong that shit was wild romantic. I'm just sayin', it should have perhaps been with someone not in a committed relationship. You got some blame in this, Arnold.
I mean it goes without saying I still love the show. Without Sara's absence, we may not have seen Dev's many dates, like the one with Aparna Nancherla's character shouting out SummerSlam and Samoa Joe's Coquina Clutch! However, if there's room for Sara in Season 3, then have her come down the aisle like she is on the Price is Right. The hood and the fandom still got love for Sara, Dev. If she doesn't appear again, then she'll always live on in the Dev/Sara ship and fanfics in my head and on Tumblr.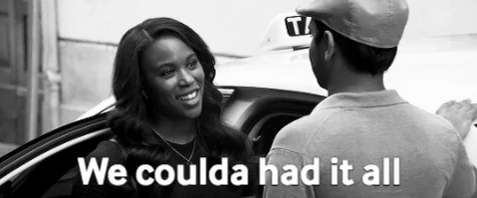 Are you following Black Nerd Problems on Twitter, Facebook,Instagram, Tumblr, YouTube or Google+?