writers: Azzarello, Lemire, Jurgens, Giffen / penciller: Scott Eaton
Issue #27 of The Future's End was all about taking chances on blind faith. Lois Lane blindly jumped from a plane to land on an island that she hoped was there. The heroes' platoon that was on Green Arrow Island left to fight a war when they didn't even know where to go. Cal Corcoran (Tim Drake) is dealing with a frustrated ex-girlfriend after blind-siding her with "by the way… I used to be a superhero."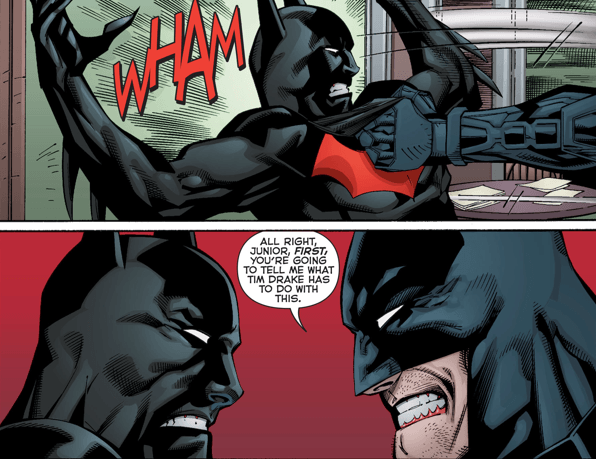 Do you remember way back in issue #0 when senior citizen told Bruce Wayne to avoid the younger version of the Dark Knight? Well, that was obviously foreshadowing to tell the reader, "it's going to happen, so get ready." In this issue we have Bruce Wayne at the top of his game going against a fully grown Terry McGinnis that's come into his own as Batman. Bruce has no idea who this impersonator is and Terry didn't even see this interaction coming. Sounds like a good matchup to me.
I seemed to fly through this issue, which I appreciated, but the only thing I walked away with was "THERE WAS A BATMAN FIGHT!" *William Dafoe voice*. I'd give this issue a B-.
---
Lois Lane is pretty badass. Fifty Sue is definitely badass.
Lois is the next of our main characters that's found her way onto Cadmus Island. The top notch reporter followed her lead to her almost demise but regained control of the situation.
Towards the beginning of this series, the presence of Voodoo and her group of mercenary friends seemed random and was a loose end that needed tying up. Consider that end tied. Voodoo popped on the scene right after Fifty Sue got done lashing out because she's realized what we all did a while ago, Slade Wilson's only loyalty is to himself. Voodoo offered Sue something she's obviously needed– A place to belong. What better place is there for a pig-tailed eight-year-old sociopath that can blow things up with her mind than a group of older, female guns-for-hire?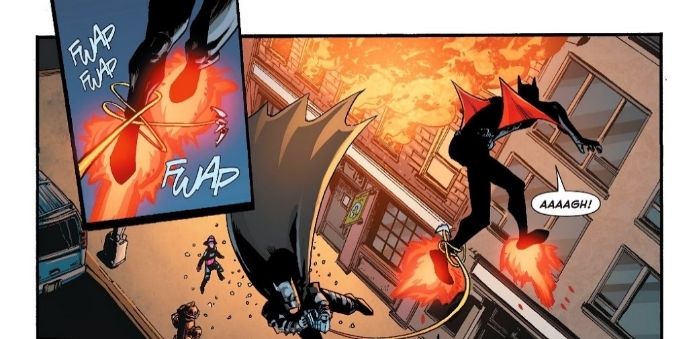 As you've probably read by now, the biggest issue with "Future's End" is the same issue that films with "all-star casts" often face. With all of these people that could individually hold their own stories, it's hard to juggle all of the personalities appropriately. Giving top-tier characters a back seat to others can be quite difficult.
When the story had to be set and the legwork had to be done, "Future's End" struggled with this–often bouncing back and forth between stories of lesser importance and not making much progress. Now it seems the book has chosen to focus on fewer stories an issue and let the ones they choose to feature get further along than cramming six stories into 22 pages.
Because of this progress, I'd give issue #28 a solid B.