Writer: Becky Cloonan / Artist: Steve Dillon / Marvel Comics
By issue #3 there was an identifiable pattern to Becky Cloonan's The Punisher: Frank stalks his prey, kills them in a bloodbath, and finds his next clue to continue his climb up Condor's organized crime ladder. Issue #4 was a deviation from our norm as Frank Castle calmly and thoughtfully paced our story towards – no, just kidding, it was just carnage, and it was great. An oddly refreshing shake up, the series decelerated Frank's hunt and cleverly focuses on other crazy people in this series; in this case, Special Agent Ortiz.
Until now the federal agents had been tag-alongs to the Punisher's hunt for justice, always one step behind, and used more as exposition tools than fully realized characters. Their development seems to begin now in earnest, which will be great in raising the stakes by giving readers someone to root for any analyze outside of Frank and his sadistic killing spree. Actually, up until now, a shortcoming of this series had been the thinness of its supporting cast, which was only mitigated by the distracting gunfire and explosions that more than compensated for having a silent hero and very little pathos. I wouldn't expect too much more of it – this doesn't seem to be the comic for that – but Agents Ortiz and Henderson needed to be more than just devices and now we can expect some depth to be added to at least one of them. The Punisher himself is a man of few words anyway; if the exposition will be partly shown through Agent Ortiz it's only right she begins to play a bigger role in its execution. Get crazy, Agent Ortiz! Be the outspoken, openly emotional complement to Frank's restrained dialogue and one-liners: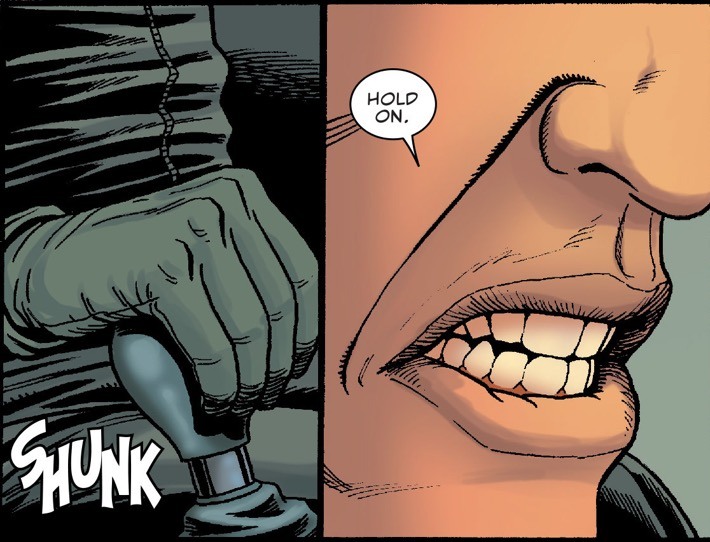 Start to finish, The Punisher #4 is a non-stop action ride. We learn more of Agent Ortiz, meet an interesting new character, and manage to stay full speed on the action the whole time. I could use a reprieve to balance out the chaos and expect issues #5 or #6 to offer a moment of calm before the next storm, and if so, I hope the action is in the form of fiery dialogue as we get to know Agent Ortiz, her temper, and just how far she might be willing to go to rescue a friend. And I hope Juniper sticks around, too. It's a dangerous world for that kid to be in, but hey, so far she's the only source of comic relief. She's very much welcome in this series.
9 out of 10
Reading The Punisher? Catch up on preview reviews here.
Are you following Black Nerd Problems on Twitter, Facebook, Tumblr or Google+?