In September 2016, a marvelous thing happened–two television shows, both created and produced by Black people and showcasing contemporary Black life in the South, premiered on cable networks the very same night. One of them, Atlanta, would go on to receive critical acclaim and be nominated for (and win) Golden Globes. The other, Queen Sugar, would attract some notice at its premiere but then quietly settle in and fly under the radar for the rest of its first season.
Created and produced by Ava DuVernay and based on the novel of the same name by Natalie Baszile, this languidly paced drama is as solid as the soil beneath its feet. The show follows the Bordelon family as three siblings struggle to put their patriarch to rest and restore the troubled sugarcane farm he has left them as his legacy. Set in rural Louisiana, the scenery provides a lush, saturated backdrop for standout performances by a gorgeous and talented cast. Dawn-Lyen Gardner plays Charley, the eldest child, who returns to the family farm with her teenage son amidst a scandal on her husband's Los Angeles basketball team. Conflict flares immediately between wealthy, type-A Charley and her younger sister Nova, a newspaper journalist and activist played by True Blood's Rutina Wesley. Kofi Siriboe turns in a disquietingly intense performance as Ralph Angel, the baby brother trying to keep his nose clean and care for his young son Blue after a recent stint in prison. Anchoring this family is warm, gregarious Aunt Violet (Tina Lifford) and her boyfriend Hollywood (Omar J. Dorsey) who tries to keep the siblings together even as she mourns the loss of her brother.
Perhaps Queen Sugar remained under the radar because of its two-night premiere, which put it up against Atlanta on the night they both debuted. Add to that its network–The Oprah Winfrey Network (OWN), which mostly offers a depressing parade of Tyler Perry melodramas and Iyanla: Fix My Life–and you end up with a viewership mostly of our aunties. Of course, Queen Sugar is exactly where it needs to be. Winfrey is one of the show's executive producers, and each of the first season's thirteen episodes saw a woman in the director's chair. It's beautiful, emotional television, shot in a way that loves our varied skin tones, lingers on our smiles and sideways glances. It glories in Black multiplicity–our different experiences of class, color, sexual orientation, and geography.
It's a rare occurrence these days to see stories about Black folks outside of urban environments, and especially one that isn't set during the civil rights era. So much of last year's presidential campaign was a declaration that real Americans are rural, and rural Americans are white. Queen Sugar asserts a different truth and draws on a forgotten history: Black folks have worked this land since we got here. After the number of Black farmers declined for decades, institutional racism being no small factor, Black farm ownership is now on the rise. Beneath the romantic subplots and family drama, Queen Sugar is rooted in this rich reality.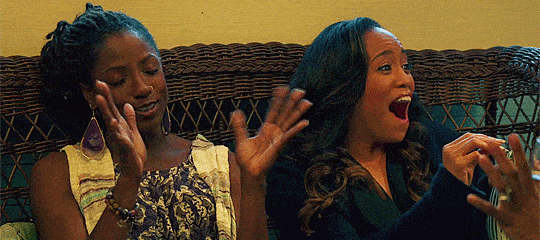 Which makes sense. As the three Bordelon children say while defending their farm from a white landowner trying to wrench it from them, "This land has been paid for. Over and over again. We ain't going nowhere."
Are you following Black Nerd Problems on Twitter, Facebook, Tumblr, or Google+?