Cartoon Network has an animated phenomenon on its hands with Rick and Morty. Created by Dan Harmon (think Community) and Justin Roiland (think Lemongrab), the irreverent adventures of a nihilistic mad scientist and his pubescent, anxiety-ridden grandson are based in a world where everything is knowable. That's implicit in its theme at least, as it's integral to Rick's ennui that leads him to the "mad" part of being a mad scientist. Rick knows everything, and thus can do almost anything, and so nothing is new, interesting, or exciting (imagine playing a simple game where you knew the outcome of every move and you'd be imagining a game you wouldn't play long without making new rules). The result is a compulsion towards adventures where he can re-experience the world through his grandson's novelty, a grand tour of an endless knowledge of science and technology.
Matt Brady wants to make use of that.
High school science teacher and pop culture savant, Brady was the co-founder and editor-in-chief of Newsarama — the first Eisner Award winning site for Best Comics-related Journalism. In his book The Science of Rick and Morty: The Unofficial Guide to Earth's Stupidest Show, he uses the Adult Swim hit as a springboard towards a deeper dive into the intellectual and systematic study of everything known and unknown, possible and maybe-possible, earthly and galactic. In other words, y'know, high school science minus the boredom.
And that's this book's mandate: covering high school science in a way that's digestible and interesting, all while hopefully landing as near as possible to the comedy and irreverence that makes Rick and Morty popular. As Brady describes, it's a Trojan horse of education; Rick and Morty as the horse, your brain unwittingly being invaded, or rather hopefully inspired to learn more about what we know and don't know about the possibilities of our chaotic world.
Chapters are broken into subjects from cloning to dark matter to multiverse theory by referring back to episode titles of the show and launching into the realities of the subject. Some topics — say, ecology — are basic high school science fair that you would imagine when thinking back to generic topics learned in school, where others — say, why is our home dimension called C-137 in Rick and Morty — scratch a deeper itch by connecting something seemingly trivial to an entire scientific concept most of us have never been aware existed. Those make for the most interesting chapters for a non-scientifically trained reader, ones like "Portal Gun" that connect something distinctly Rick and Morty and converting those charming quirks into more real science.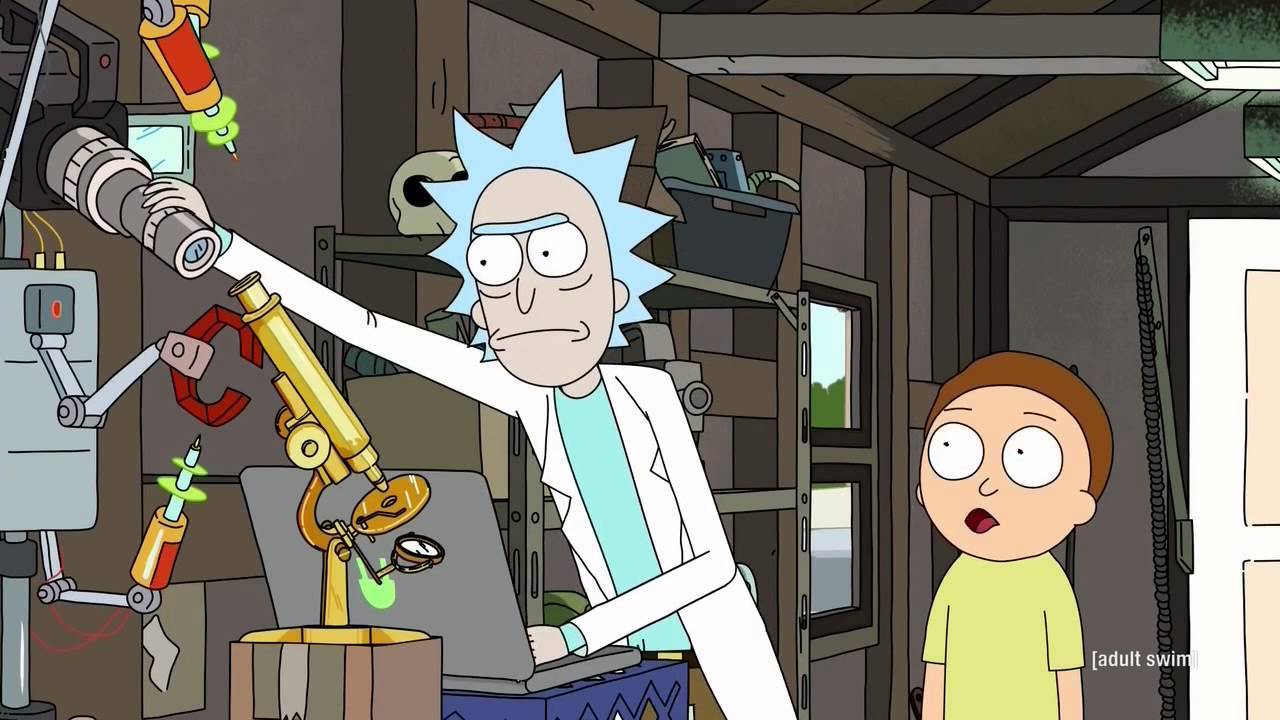 How well does The Science of Rick and Morty do at making extremely complicated concepts understandable to the layperson? If your goal is to understand a subject to a level of comfort, your standard would do well to come down a bit. Brady's writing serves as an introduction and general lay of the landscape on what we know and what truths are still out there waiting to be found. Most times when the content does get to a deeper level you'll likely find yourself without the prerequisite knowledge to make sense of it in a meaningful way. But still, that doesn't seem to be the book's goal; if you merely think to look that up later, then voilá, The Science of Rick and Morty did what it was written to do.
For the writer, at least. As a reader, the most glaring missed opportunity comes from not being very funny. The Science of Rick and Morty is a very safe book. Where it's obviously challenging to write a funny book about a famously funny TV show, Brady plays it relatively safe by avoiding many blatant attempts at humor, playing to his scientific strength more than any comedic one. I would have preferred him to swing for the fences — even if he missed — than failing to swing hard for the trademark irreverence of an Adult Swim TV show. Rather than references to episode titles (which are ubiquitous throughout the book, as if many viewers pay attention to them) it would have been entertaining or even hilarious to have a unique writer's voice give a comedian's play-by-play on their experiences with scenes from the show, or a comedic scene-by-scene summary of one of Rick and Morty's adventures. Instead, an episode title usually suffices, with the assumption you've seen the episode and would rather leave it at that.
Overall, The Science of Rick and Morty is a natural complement to a show filled with science-based Easter eggs that most viewers could never find on their own. Use it as a guide to the crazy universe of a mad scientist and reluctant grandson, and who knows, you might find yourself as inspired to learn more as you are to laugh. And if you do, science takes a small win. Hell, we all take a small win.
The Science of Rick and Morty is available where most books are sold.
Want to get Black Nerd Problems updates sent directly to you? Sign up here!
Follow us on Twitter, Facebook and Instagram