In 2017, in Mindhunter, we saw the fictional, fledgling beginnings of the Behavioral Sciences Unit at Quantico, Virginia during the late 70's as Holden Ford (Jonathan Groff) and Bill Tench (Holt McCallany) started to interview and analyze various inmates who had had committed multiple murderers in an attempt to understand the underlying pathology and psychology. The question on their mind: what makes a criminal tick? What the hell happened in their life that led them down this particular road? The duo would recuirt psychology professor Wendy Carr (Anna Torv) to help parse the details of some of the most depraved and deviant killers, most notably in the first season the Co-Ed Killer, Ed Kempter (Cameron Britton). Their work brought to the edge of darkness, but if they wanted to stop evil they had to understand it.
The second season of Mindhunter starts off relatively soon after the events in the previous season finale, with Ford hospitalized after a massive panic attack and tensions between Tench and Carr high with the unit under investigation. While Ford gets his act together fairly quickly, the status quo of the season is disrupted by the retirement of Robert Shepard (Cotter Smith) and the appointment of Ted Gunn (Michael Cerveris, who joins his fellow Fringe alum Anna Torv once again in an Observer role) who is much more enthusiastic about the prospects of the BSU.
The first half of the season feels very much in line with the dark atmosphere and suspense of the first season. The short interludes of an unarmed ADT serviceman (Sonny Valicenti) in Kansas continue to be unsettling glimpses into this man's slow descent, and underscore the arcs of the main characters. The members of the Behavioral Science Unit have opened their lives to depravity and deviancy of the worst of humanity's offering and they are unable to escaped unmarred, unscathed.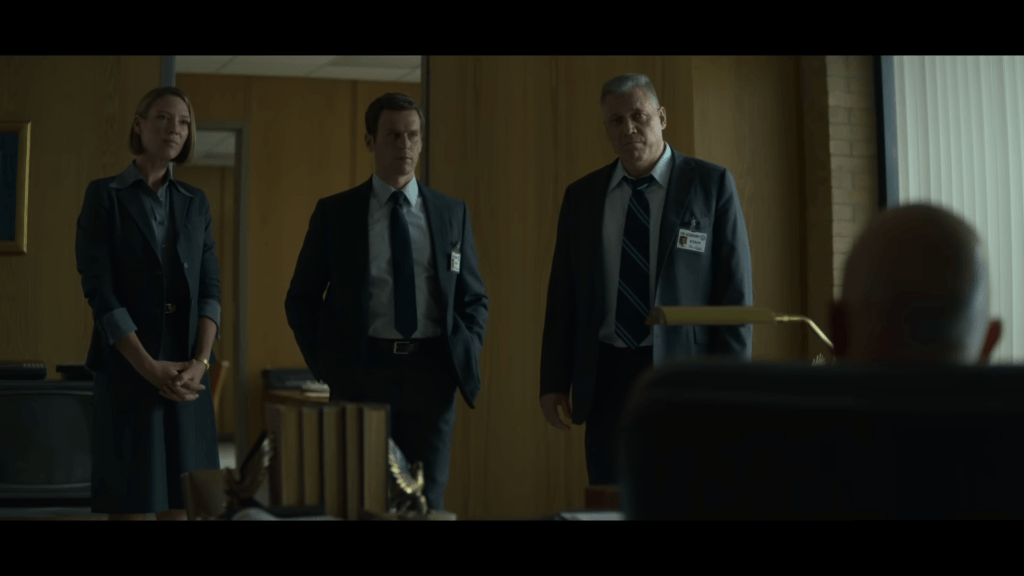 Joe Penhall's creation remains top tier in terms of cinematography, writing, character development, and music. Directors David Fincher, Andrew Dominik, and Carl Franklin masterfully capture the era and tone of the series. Every shot is deliberate, the dialog cuts like a finely honed blade, and all of the actors bring their A-Game. Tench's struggles to live a normal life despite his job and over the course of the season we see him slog through progressively frustrating circumstances. The stoic head of the BSU is doing his darnest, but the nine episode ordeal puts him through one of the wringer. The toll it takes on his family and the deterioration that unfolds is nothing short of heartbreaking.
From Wendy Carr's perspective… well we just get to spend most time with Wendy Carr and honestly that's the best decision that the show made this season. Anna Torv is a tour de force and measured responses and actions of Carr in both personal and professional life provide some of the best moments of the series to date. She is that good and has brilliant chemistry with Kay (Lauren Glazier), helping diversify the show just a little. Not nearly enough.
Meanwhile, Ford… does not really change. Holden Ford is beholden to a long history of vaguely well-intended straight cis white men (a.k.a. assholes) who are more concerned with being right than being empathetic. And Groff plays it well, but it brings us to a strange point of contention of the series.
Very early on in the second season, Ford gets roped into investigating what history would dub the Atlanta Child Murders. Twenty nine black children killed over a two year span. The story line gets temporarily suspended in favor of Mindhunter signature interviews with various "multiple murderers/serial killers" (including Charles Manson played by Damon Herriman, who apparently has an uncanny resemble to the character since he also played him in Tarantino's Once Upon a Time In Hollywood), but eventually the series gets consumed by this arc. Now, I'm not the most qualified person to hash out all of the details, but there is a clear dissonance when it comes to this narrative thread, which is best summarized by the following interaction between Tench and Ford.
Evidence informs the profile. Not the other way around?
What evidence is there to suspect the Klan?
Generations of violence and systemic racism?
And here is where reviewing historical fiction gets complicated, because we have the knowledge of what happened and how many years of perspective to digest it. Mindhunter takes creative liberties as an any TV series, but follows the historic record which ultimately leads to this moment of "anti-catharsis" where Ford's instincts is retroactively justified. To the series's credit, pretty much everyone in the cast calls him out on his myopicness constantly. Agent Jim Barney (Albert Jones) and hotel clerk Tanya (Sierra McClain) in particular admonish him for his behavior throughout the investigation and that's good.
Thankfully, Carl Franklin directs the last stretch of episodes that deal with the Atlanta Child Murders giving a much needed black film maker a chance to guide a black driven story. The cast does a fantastic job with the material and the writers (Doug Jung, Joshua Donen, Courtenay Miles, Jason Johnson, Colin J. Louro, Liz Hannah, Pamela Cederquist, Alex Metcalf, and Shuan Grant) are not an entirely monolith of white men telling this story, which I am thankfully for because this could have gone in a widely different direction. Ultimately, this arc and the prominence of said arc feels intentionally dissonant for a wide range of reason especially since a white man constantly cast aside the mere possibility of a Klan member being responsible for killing black children. In the Deep South. Where the police openly admit that the Klan still has ties in their organization. Again, my best description is "anti-catharsis."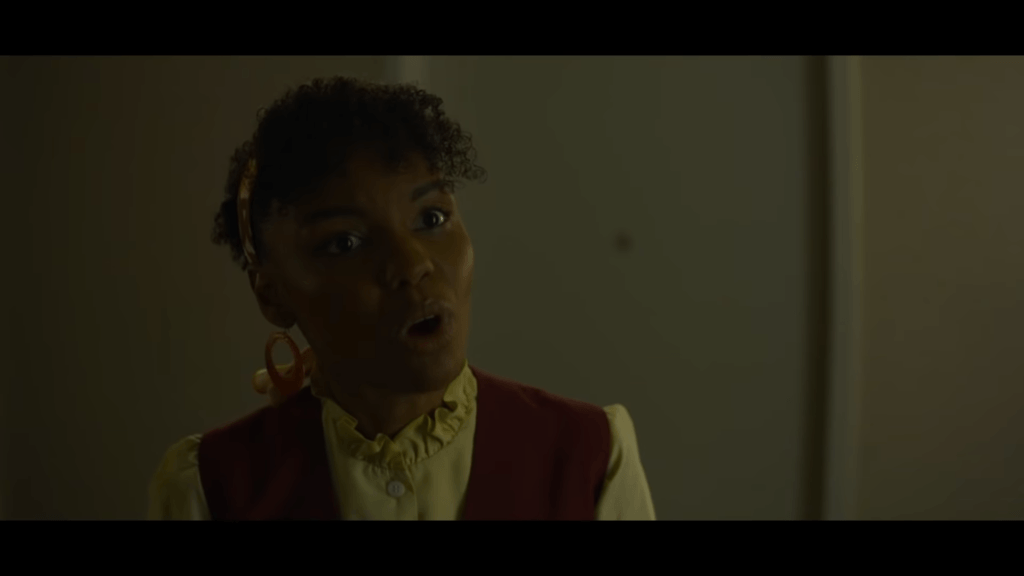 After all is said and done, Mindhunter's sophomore effort show an ambition when it comes to its craft. When focusing on the pathology and psychology of various serial killers, it invokes a special type of entrancing bile fascination, a particular type of horror that compels you to watch. It's curated atmosphere is without rival and is a unique experience. However, much like the BSU it is based on, Mindhunter can not be content merely examining evil. It must evolve and adapt in response to its finding. And the evolution this season took the form of retelling the Atlanta Child Murders and a brief, somewhat surface engagement with the complexities of race and criminality. How successful it was is going to vary person to person, but if you were induced into an terror-struck/awe-struck binge last season you should consider tuning in.
Want to get Black Nerd Problems updates sent directly to you? Sign up here!
Follow us on Twitter, Facebook and Instagram!