Writer: Tim Seeley, Tini Howard & Blake Howard / Artist: Devmalya Pramanik, Nathan Gooden / Vault Comics
If I had to posit, the Venn diagram of comic book readers and tabletop role players is not quite a straight up circle but there is almost certainly plenty of overlap between the two. This happens naturally when it comes to weaving fantasy worlds for the purposes of escapism. If I'm being honest, it's one of the reasons I opened my copy of Vampire: The Masquerade. The other major reasons are Tim Seely and Tini Howard, both phenomenal writers, who I always enjoy reading regardless of genre.
I myself have never played The Masquerade, but I have plenty of experience with other games that utilize the Storyteller system (a d10-centric paradigm) including Prothemean: the Created, Geist: The Sin-Eaters, and Scion. All of this to say is that my biggest piece of praise that I have for Vampire: The Masquerade #1 is that it makes me want to get another core rulebook.
The comic itself is a two for one special, with two distinct stories: Winter's Teeth by Tim Seeley and Devmalya Pramanik and The Anarch Tales by Tini Howard, Blake Howard, and Nathan Gooden. The stories are unified both by their shared setting in Minnesotan cities, and the coloring from Addison Duke and lettering from Andworld. If you've been exposed to Vampire: The Masquerade, the premise is simple and well explained: vampires are real, but they work very hard to make sure humans don't find out they are real and there's a lot of effort put into making sure the different clans uphold some semblance of peace. Both of the comics approach this dynamic through different lenses. Winter's Teeth deals with Cecily Bain acting a sort of enforcer for her clan whereas the The Anarch Tales focuses on Colleen Pendergrass who is more or less trying to make it as best she can.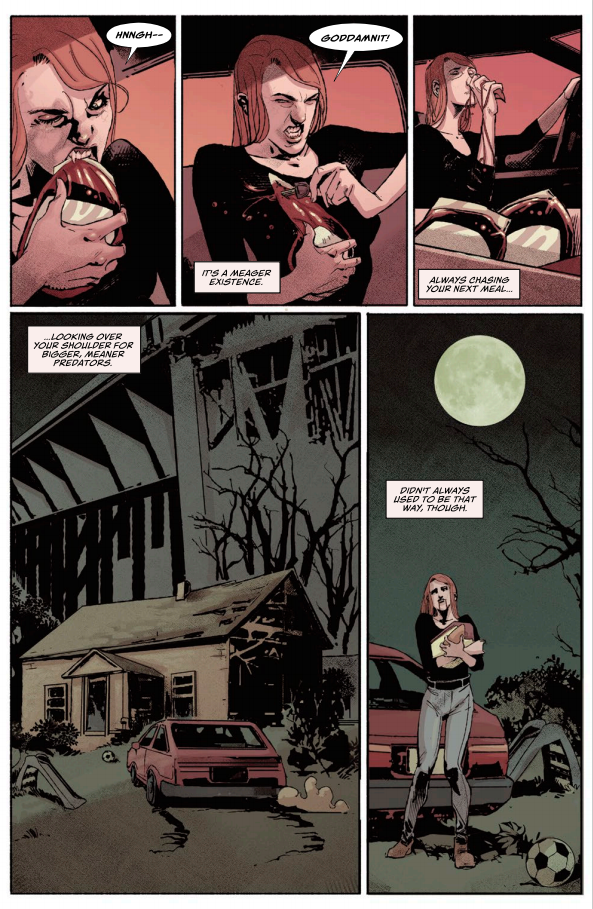 Vampire: The Masquerade is a fascinating introduction to the world. It's provides a great jumping off point into the universe, as it stages various conflicts while maintaining a crisp urban fantasy veneer. Yet, what truly sets it apart for me is that the character sheets at the end also make the comic a great supplement for any game master and fan who wants more tools to work with. That's kind of the dream for a project like this. Well written, well drawn, and a font of inspiration to tell other stories. Not sure you need to immediately add this to your pull, but it's definitely a fun little tome that I'm glad is in my collections.
8.5 "Twin City Tales" out of 10
Want to get Black Nerd Problems updates sent directly to you? Sign up here.
Follow us on Twitter, Facebook and Instagram.