Writer: Benjamin Percy / Artist: Jan Bazaldua / Marvel Comics
It says a lot that X-Force is probably one of the most pivotal books in Dawn of X. I honestly don't know you get the full picture of Krokoa without reading it. If X-Men focuses on the big moments during this new era of mutants, then X-Force is all about the fight to protect the status quo. Benjamin Percy does a fantastic job of showing us different shades of well-known characters and presenting threats that rival the greatness of the X-Men's new nation.
Last issue, the X-Men dealt with a bit of a Russian nesting doll situation, which is probably the creepiest group of genetically altered super soldiers ever. Oh, and Quentin Quire died … again. By my count, this is death number three and may still be the best running joke of this series. Picking up right where we left off, the nesting soldiers ran amok all over Krokoa, making off with the Cerebro sword, running it through Quentin Quire's still-beating heart and pushing the two through the Russian gateway.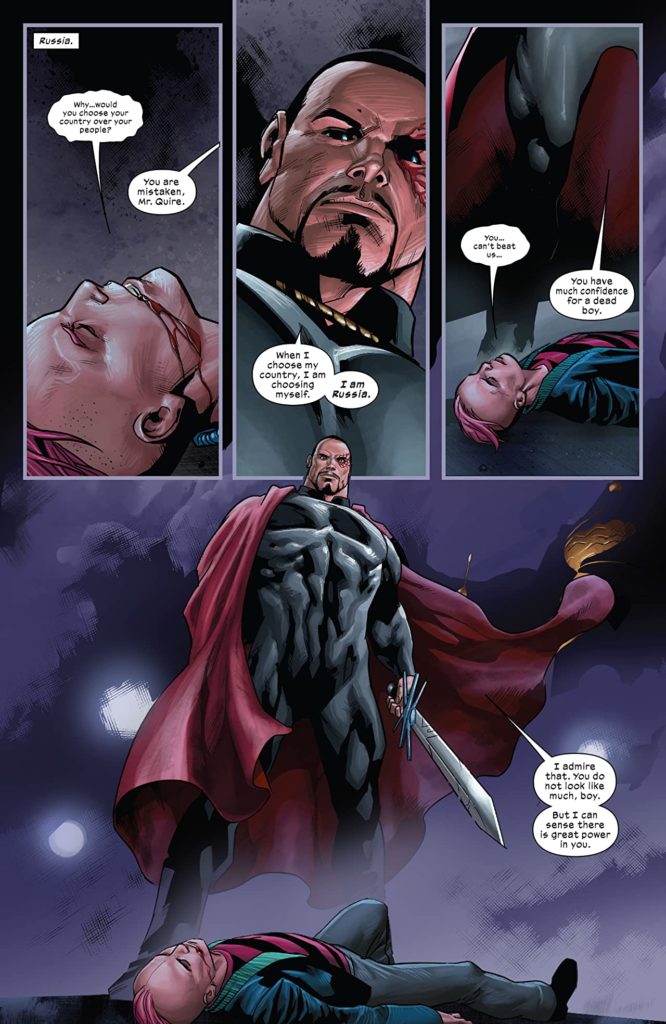 What makes this issue of X-Force particularly good is that Benjamin Percy does one of the things that I look forward to the most in Dawn of X. He expands on the inner workings of Krokoa as a nation. In the aftermath of the Cerebro sword being stolen, an investigation begins into how the incident came to be and the possibility of a mole. Of course, this moment in the book comes from Beast, who is one of the characters, aside from Domino and Colossus, who have benefited the most from Percy's run. What we get to see is how Krokoa deals with policing itself and handling threats from within and Percy makes great use of the logbook interludes to do so.
One of the reasons I feel like X-Force is such an important series in the new line of X-Books is definitely because of the threats. In X-Force, we get to see bits and pieces of how the world has adapted to mutants' place in the new world order. That includes the lengths governments and organizations of the world are willing to go to make sure the nation fails. The new villain Mikhail is a step towards seeing just how that unfolds. As we learn more about him, the organization plotting against the mutants, and their plans for Krokoa, one thing is certain. X-Force is the book where the fight to keep Krokoa alive takes place.
8.7 Dead, Pink-Haired Psychics out of 10
Reading X-Force? Find BNP's other reviews of the series here.
Want to get Black Nerd Problems updates sent directly to you? Sign up here. Follow us on Twitter, Facebook and Instagram.