Writer: Benjamin Percy / Artist: Joshua Cassara / Marvel Comics
Now that's how you finish a story arc!! From now on, you end your 5 issue mini runs like that! Can I get a Rick Flair WOOO!! The culmination of the Wolverine vs. Omega Red through time story was bonkers and capped off another good Wolverine time traveling story. Benjamin Percy hit us with some serious hero vs. traitor static and upped the stakes for our psychic mutants helping Logan traverse the time stream. The cherry on top are the incredible visuals that Joshua Cassara infuses all throughout the story, making this book an even more satisfying end.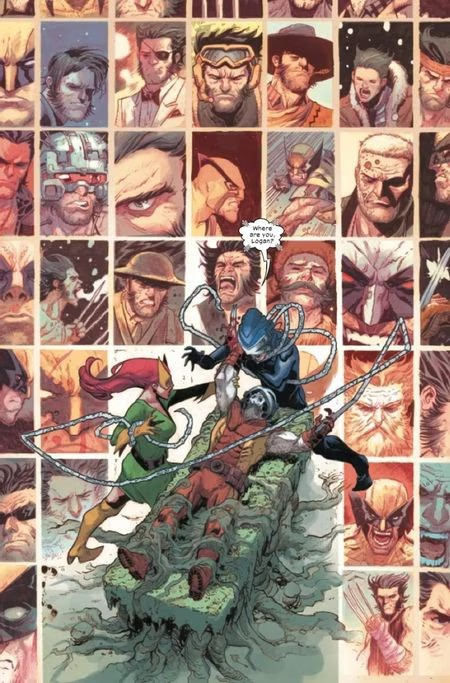 Now, there are plenty of people who say there is an oversaturation of Wolverine in Marvel comics, akin to there being too many Batman books in circulation at one time. I just so happen to be one of those people, and I still heavily enjoyed this half of the Death and Lives of Wolverine package.
I spoke about Joshua Cassara crushing the artwork, and there was one panel that made me stop and appreciate the fire he was throwing into this book. On page 9, Xavier and Jean are in unfamiliar territory, being bested by another psychic whose power has never been fully understood. Mikhail Rasputin was giving our psychic tag team a run for their money, and it resulted in this iconic shot I won't be soon forgetting.

Jean and Charles with their yellow and blue helmet and costume accents positioned so perfectly. The electricity in the air signifying how difficult of a psychic battle they were entrenched in. The icing on the cake, of course, is the "Krakoa is where you belong" message being sent through time.
The rest of the book is a love letter to the fans of guts and glory all over your page. The battle between the adamantium claws and carbonadium tentacles was one of the best 1v1 faceoffs in a long while. Can't wait to see how the final chapter comes to a close in X Deaths of Wolverine.
9 Products of the Old Soviet Republic out of 10
Want to get Black Nerd Problems updates sent directly to you? Sign up here! Follow us on Twitter, Facebook, Youtube, and Instagram!