I came to Afropunk 2018 for two things and two things only. To see Jamilla Woods perform (which was incredible) and to find a shirt that's Black AF, with art that's hard AF, with a Black woman or woman of color at the center of it. Lemme run that back, I feel like I that may have been too middle of the book for yall. I love t-shirts. Each one has a story or tells a unique story. For me, t-shirts are my version of having a collection of Jordans and my collection goes very hard. However, it can be better. I decided to make my collection better by getting even more art that's celebrating Black women and women of color.
Now, it gets a bit tiring wading through the internet for what you think you're looking for. So what better place to hopefully find such a shirt than Afropunk szn in NYC? I mean, Afropunk is literally "In the parties where it be so packed // And that atmosphere be so Black." Surely, amongst this festival celebrating Blackness across the arts, I could find a shirt that captured me. Surely, here amongst the village of my peoples/mans and dem, I could find something, right?
Man, I was walking and minding my own damn business when I saw the MVP of sarcasm Daria Morgendorffer drawn Black with the weeping willow hair? I had to take a knee and put my hands in the 6 god prayer formation. My search had ended. *church organs start playing* I said, I was lost Lord but now I am found, now that I've found this booth. I looked up for the name of the company and I saw a sign that said, "Happy Monstah". The joy that filled my heart man. I saw this company down at Blerdcon earlier this year and to see find out that they're based in Brooklyn, NYC? Yes. All of the yes damn it. New York your rent is oppressingly high but it's things like this that make it worth it.
Happy Monstah was created by the sisters Tiana Mone'e Scott and Nia Imani Scott. The first day of Afropunk also marked their first full year of being in business. The name Happy Monstah stems from Tiana's gamer tag she had since the age of ten. Tiana is an animator that was always interested in working in that field. She's done work for Cartoon Network, Jim Henson Henson company. Currently, Tiana is an art teacher teaching students how to make clothes so that they can raise money for college (bawse). Her younger sister Nia is more into painting but has delved deeper into more artwork due to her older sister's influence. Nia is in trying to surpass Tiana like the younger sibling in any anime (Younger siblings unite!).
When I asked Tiana what made her start the company, she reiterated this being Happy Monstah's first year to the date. How that date coincides with a dark period she was going through. A period where she was contemplating suicide and decided to instead create this company. Even if it didn't do well, she wanted to keep pushing through with it. In doing so she got out of her comfort zone and along with Nia have met a warm community of amazing folks online and in real time.
Hearing Tiana's story, in my head, I said to myself "Oh shit." and once she was done I said, "Oh shit." aloud. She apologizes for it getting dark "But that's real shit." is my instant reply. Way I see it, Happy Monstah is not only a company with great works of art but a stamp of survival.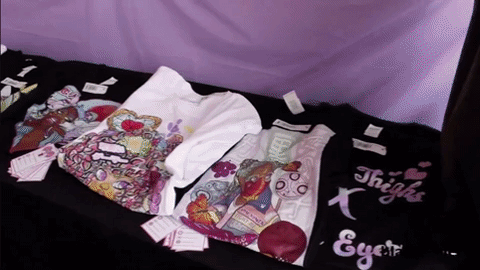 Way I see it, Happy Monstah is not only a company with great works of art but a stamp of survival.
The decision to keep moving forward granted spectacular works of art to the people. The amount of people walking in smiling, pointing, and looking through all the shirt designs, pins, and totes with women that looked like them was such a joyous sight. Make no mistake, those expressions of joy is also that real shit *Throws hands up in nerd gang signs* and Happy Monstah made that possible.
Fam, I'm such a fan of the art and the wide range of Black women drawn from different complexions, hair textures, hair colors, outfits, and looks. this is the hard shit I'm talking about. I also like the fact that all the artwork is of Women repping different genres as their set. *Gladiator voice* "Are you not entertained? Is this not what you came for?" You Bast damn right this is what I came for. Look at that inventory my guy. This is the shit I been searching for. I'm home yo. Search over fam. I strongly suggest checking Happy Monstah out on their Instagram and their store so you can see all how trill it really is.
Want to get Black Nerd Problems updates sent directly to you? Sign up here!
Follow us on Twitter, Facebook,Instagram, Tumblr, YouTube and Google+.