Why didn't anyone tell me that Nakia was a villain?
Reading Amazing Spider-Man: Wakanda Forever was the first time in a long while that I was surprised by the difference between the adaptation of a character in a show or movie vs the comic book. The last instance of this I remember was learning that the Venom Symbiote was not brought to earth on a space shuttle piloted by J. Jonah Jameson's son (Why would you lie to me, 90's Spider-Man cartoon?)
Written by Nnedi Okorafor, Nakia aka Malice attacks a Brooklyn neighborhood with a powerful weapon in order to draw the attention of Black Panther. To her dismay, she is confronted by Okoye and the Dora Milaje as well as Spider-Man. Okorafor is a prominent Nigerian-American science fiction writer who has dabbled in comics as of late. She definitely has a knack for the characters, capturing classic Spider-Man and Okoye as portrayed in the Black Panther movie.
This classic story was made for someone who saw BP and is curious about comics. It is witty and exciting seeing Peter Parker and the Dora Milaje interact. But let's get back to the unpleasant dose of reality I got hit with. I adored Nakia in the BP as played by Lupita Nyong'o. A fiercely independent fighter of injustice around the world. Nakia's character in the comic book called "Malice" is none of that but instead a villain who threatens the innocent solely to attract the attention of King T'Challa, the Black Panther.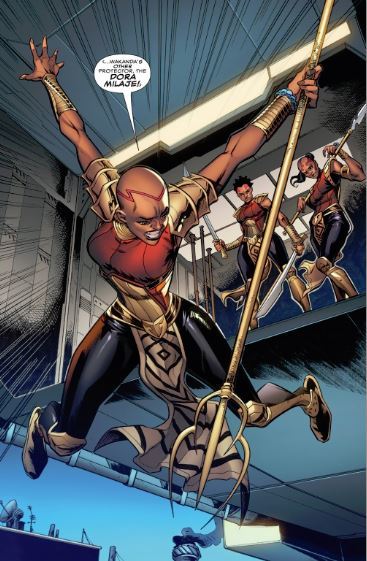 My thought was, "How could they stray so far from this character?" After thirty seconds of Googling the thought in my head was, "Oh, I'm not as familiar the Black Panther lore as I thought". Despite having my assumptions uncomfortably checked this is a solid story and I look forward to next month when Okoye meets another hero with a very special connection to Black Panther. Wakanda Forever!
7 "Annoyed Wakandans" Out of 10
Reading
Wakanda Forever
? Find BNP's
other reviews of the series here
.
Are you following Black Nerd Problems on Twitter, Facebook, Tumblr or Google+?