Writer: Mark Waid / Artist: Fiona Staples / Archie Comics
So, no, it wasn't a joke. Yes, we covered the reboot of Archie last month and yes, we gave it a rave review. All of those things happened. And guess what? It's happening again. Despite my feelings about Mark Waid's other ongoing project, he and Fiona Staples struck creative gold giving a the long celebrated town of Riverdale a much needed overhaul. But does comic lightning only strike once in the same place?
Hell no. Issue #2 continues with more of what we adored last month. In this installment, Archie finds himself desperate for a quick buck and ventures out into the workforce. What ensues (I'm not kidding here) made me literally laugh out loud. It takes a very special sort of creative team to make old fashioned slapstick comedy work as effectively as it does here. Archie's clumsiness, which rivals Spider-Man's "Parker Luck", is hilarious yet comes across realistic and hardly ever contrived. Meanwhile, though we don't see nearly as much of her as we'd like, Betty's post breakup woes are equal parts relatable and touching. Waid's pacing has been spot on for these two issues so far and his penchant for character building rings true as we get some real insight into Jughead's past.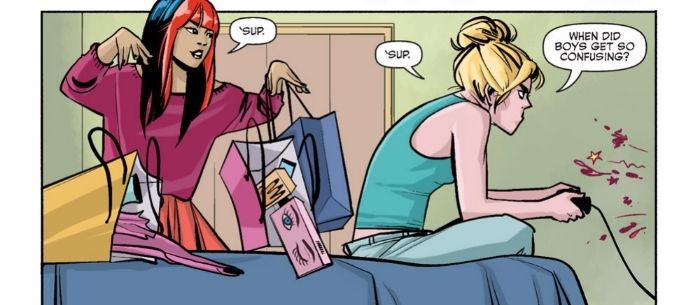 Fiona Staples, as she is in most things, is a godsend to this book. Her characters are endlessly expressive, never feel stiff and are rarely ever a bore to look at even during moments of plain exposition. Staples truly understands the timeless charm of these people and works in glorious sync with Waid's script as though they were mind-linked, piloting a giant robot from Pacific Rim.
Bottom Line: This book proved that Issue #1 was definitely no fluke. Waid and Staples have something special, a magic that is difficult to replicate and makes Archie (I can't believe I'm saying this again) one of the best, most accessible comics happening in the industry right now.
9 Sugar Sugar covers out of 10
Are you following Black Nerd Problems on Twitter, Facebook, Tumblr or Google+?