Experience Valhalla in Its Full Glory
I woke up this grand morning, popcorn in hand ready for the Assassin's Creed antics. Because you know when Ubisoft drop that Assassin's Creed you 'bout to step into cinematic territory. It is 10:50AM, the trailer drops and we see the skipping children and the lit torches. "They are heartless, godless barbarians" sings the King of England. Then the flames arise and by this point I already know this mean that everybody about to catch these hands.
You trying to barbecue my family? Embarrass me? In front of my kingdom? I wasn't ready for anything that was about to come next. Both parties pulled up to the battlefield on large ships, so you already know that meant battleships are back. I'm excited to see the improvements they made to battleship functions. At first Assassin's Creed's introduction to battleship was quite shaky. It was weird to maneuver. The battle functions felt rusty, and it didn't allow me to live my best life.
They stepped it up with Odyssey they knew the grit they were looking for, it became smoother and focused, eventually it started to become a standout for the series. "You know what that is? Growth."
Striking Combat
After the flaming arrows and the battleship scene, they pull up to the field, and y'all know what time it is. They about to engage in some delicious combat. Raids are back! Bloodshed everywhere. They got the true weaponry here swords, axes, and shields tailored perfectly for true viking combat. You know the works. Choppin', slicin', shish kabobin'. The trailer is making these battles look smooth. We get the visceral combat made to signify the treachery we about to face in this game.
Now, we all want those glorious weapon upgrades, but you know what the BNP staff is truly looking forward to? The glorious tomahawk.
Anissa: I just want to throw a tomahawk at everyone.
Mikkel: imagines Anissa throwing someone, who then throws a tomahawk.
Chris: Or throwing someone at a tomahawk.
Me: throwing someone like a tomahawk.
Mikkel: throwing someone like a tomahawk, to clash with a different tomahawk, that was thrown by an ally.
Needless to say. We're looking forward to toma-antics.
Odin is with Us
After seeing the vikings unfurl their weapons, we experience the heartbreak of seeing our comrade fall to the blade. Don't worry comrade, you did not die in vain, we will avenge you right now. Then you look up and see the raven lift off from a nearby perch sailing into the sky, followed by a shout "Odin is with us". That beautiful connect with classic Norse mythology (Odin's ravens) immediately had me shook. So, you know what that meant it was time for the main battle, because we're powered up from the help of the gods.
Next, big armor fella pops up to the scene. Tells you to run your fade. You're clearly getting the works. Smacked to the floor, all your hits connecting but doing no damage. Finally, he spins you around; this is your end. Are you about to meet the fate of your comrade? Is this how it all ends?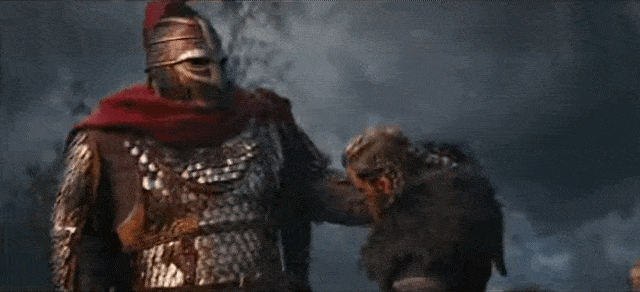 WHAT?! Struck with the hidden blade?! That's it. Everything is done. Pack it up. Take my money. I should have seen this coming. The raven, the signal of the assassin. And yet, it was still one of the best plot twists I've seen in an Assassin's Creed trailer. TO THIS DAY. This man really looked home boy in the eye after killing his main man like "What's good? What you 'bout to do? Nothing."
Assassin's Creed really knows how to capture an audience. In this game, like Odyssey you get to play as a female character, travel the seas to forbidden kingdoms, grow your settlement, chances to share your custom raiders with other players, and more! The game will be launching this holiday season with more updates to come! You can follow their progress for more updates on their official website here.
Want to get Black Nerd Problems updates sent directly to you? Sign up here!
Follow us on Twitter, Facebook and Instagram!