Writer: Tom King / Artist: Mitch Gerads / DC Comics
Despite being a member of the Justice League and taking on Darkseid, Batman never forgets about the common man. He's as much a superhero as he is a detective and issue #23 of Batman from Tom King and Mitch Gerads focuses on the latter.
The "Jordan number" issue of the series produces "the strangest team-up in history!" by pairing Batman with none other than Swamp Thing. The issue is a bit of an ode to Alan Moore, who famously revitalized the character of Swamp Thing and wrote one of Batman's darkest stories to date in The Killing Joke.
Swamp Thing and Batman are both very dark characters, and Mitch Gerads' art in this issue sells that tone with every page with a noir-type look.
The issue starts when a man who lives the life of a lonely shut-in is found shot dead in his apartment. While Commissioner Gordon and Batman speculate on a suspect and motive, Swamp Thing grows out of thin air and appears behind them. Again, Gordon has the response you'd expect a normal person to – shock at a giant green mass suddenly appearing – while Batman doesn't even flinch. It's revealed the murder victim is Swamp Thing's, or Alec's, estranged father.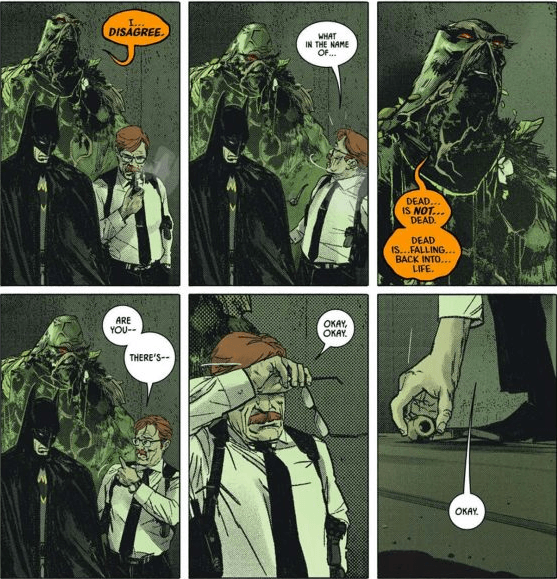 Back at Wayne Manor, Bruce – out of costume, by the way – and Swamp Thing discuss the loss of life. They're both dealing with the loss of their fathers in very different ways. Swamp Thing, being a walking forest, believes in the circle of life and doesn't view life as linear. He's seemingly handling it far better than Bruce who still struggles with the event that shaped his life forever.
With two great minds working together, Batman and Swamp Thin work to find out how a murder could've gotten to Lloyd McGinn from his window on the 84th floor. ("The grass… told me…"). This leads to a hilarious cameo from Kiteman and other oddballs of Gotham's underground circuit – another reminder that Batman's never too busy for the little guys – through a series of chapters.
[Side note: Chapter 7 is going to be stuck to the wall of the next generation of comic book writers.]
In the end, we're reminded that Batman isn't always in control. Especially when he thinks he is. I like flaws, they keep characters relatable.
Credit to King for continuing the tradition of saving some of Batman's best stories for his one-off issues. If we're ever lucky enough to get a new DC animated series that highlights Batman, "The Brave and the Mold" should have dibs as a stand-alone episode. I really wis Justice League was still on the air specifically for issues like this.
King' is the first run of Batman that I started with issue #1 in the present instead of having to play catchup or missing altogether. If this pace and quality keeps up, this may end up being my Batman series. That's saying quite a lot.
22 pages didn't feel like enough for this story, especially given the ending. I'm a sucker for closure, that's really the only thing keeping this from being a 10 out of 10.
9.5 out of 10
Reading Batman? Find BNP's other reviews of the series here.
Are you following Black Nerd Problems on Twitter, Facebook, Tumblr or Google+?