Writer: Tom King / Artists: Clay Mann, Seth Mann / DC Comics
Guys, I'm starting to feel bad. Tom King's 30 issues into Batman and I can't find much to complain about. At least, nothing worth complaining about out loud. Is this kind of what survivor's remorse feels like? Am I worthy of reading a series this consistently good in comics? I'm not so sure anymore.
Anyway…
Batman #30 is a continuation of the truth that's been "The War of Jokes and Riddles." We last saw Batman deciding which side he'd choose to join between the Joker and Riddler.
"Who does the Riddler have that hits as hard as Batman?" asks Kiteman, as he heads into war. Sadly, he finds out there's only one answer – Batman.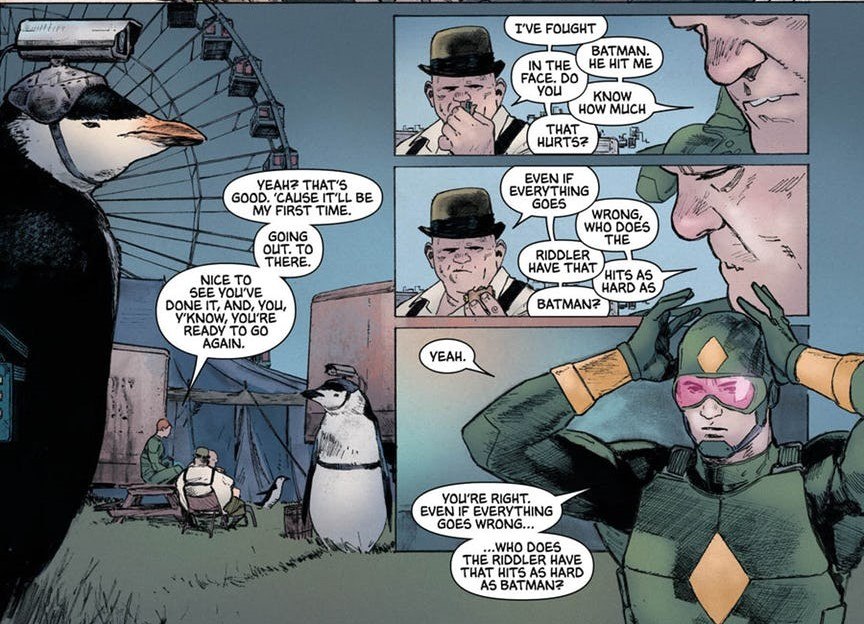 In issue #30, the Detective is seen sporting a green armband with a purple question mark. With his help – on the condition that none of the Riddler's soldiers kill anyone – the two completely dismantle Joker's forces. Much to his delusion.
This results in one of my favorite Joker moments, as the Clown Prince of Crime delivers a powerful speech of victory to an auditorium where the only other person is his last remaining supporter. This is one of those moments "Fatman on Batman" Kevin Smith would likely gush over in a podcast if he were keeping up with today's Batman series.
I once wrote a hypothetical introduction for Kazuma Kuwabara being inducted into the anime Hall of Fame. He's not there yet, but by the time Tom King is done, Kiteman's looking to earn a spot in the Comic Book Hall of Fame*.
*as a minor supporting character. I'm not that delusional, people.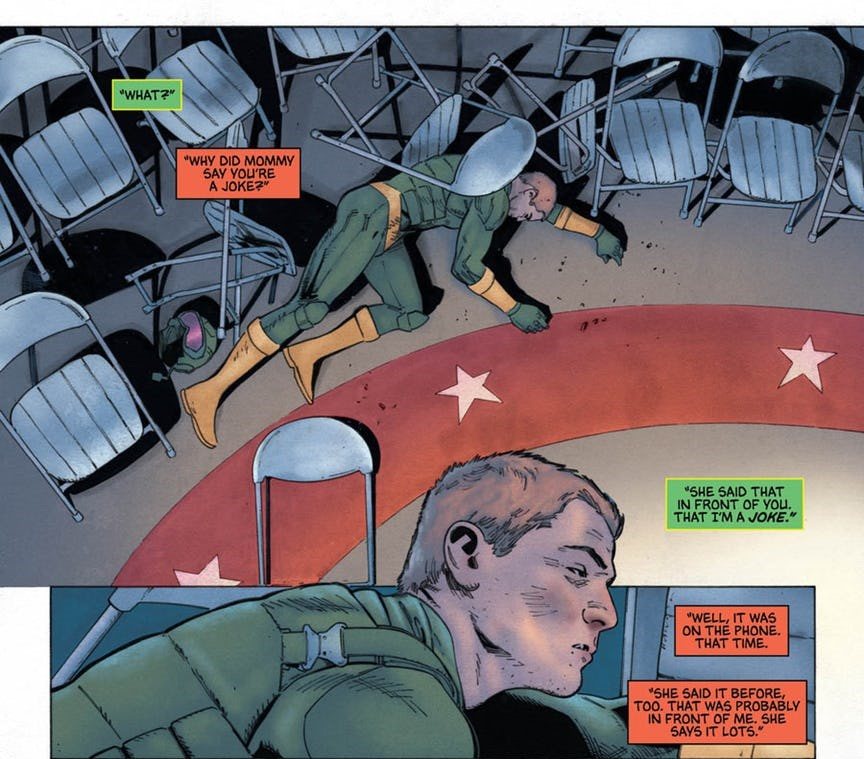 It's been a lot of fun seeing him go from a character I'd never even heard of to the keystone of the entire conflict between the Joker and Riddler. His conversation with his son broke my heart into a million pieces only to rebuild it in a way I never expected. Way to know your audience, King.
9.4 out of 10
Reading Batman? Find BNP's other reviews of the series here.
Are you following Black Nerd Problems on Twitter, Facebook, Tumblr or Google+?