Dat album, doe.
Black Panther is the gift that keeps on giving. Even before T'Challa takes the throne in theaters everywhere February 16th, Kendrick Lamar and the homies at Top Panther Entertainment dropped a kick ass soundtrack to complement the film, and. It. Goes. HARD!
Y'all think y'all ready for this heat. You not.
As soon as you press play, Bast pounces from the spirit realm, scoops your tiny existence up in her giant paws, and takes you on a 808 and djembe-laced trip across the nation of Wakanda featuring some of the biggest and brightest artists from Compton to Cape Town, such as Kung Fu Kenny, SZA, Vince Staples, Yugen Blakrok, and Babes Wodumo. We're doing a track-by-track breakdown of the album, so tie your headwrap tight and iron your dashikis, cuz on Bast these beats are thrice blessed.
Black Panther
Performed by Kendrick Lamar
Vibranum Bars
"King of the empathy, you resent me, king of remorse
King of my enemies, may they father feed, I rejoice
King of the skyscrapers, dodging haters, broke religion
Nine faces, go against 'em, I erased 'em with precision
I embrace them with collision" –Kendrick Lamar
Kung Fu Kenny kicks off the album by embodying the titular hero, chanting "I Am T'Challa." He is king, laying claim to all that shines in the light and all that shakes in the dark. Everything Black Panther stands for summed up in 2 minutes of heat. Sounds like T'Challa made a stop in Compton during his years abroad to spit some bars in between study sessions.
All The Stars
Performed by Kendrick Lamar and SZA
Vibranium Bars
"Skin covered in ego
Get to talkin', I get involved, like a rebound
No control, no off switch
And the way that you bringin' me down
It's a turn on, get it away from me
Know you mean wrong, keep away from me" –SZA
"All The Stars" has the young king looking to the ancestors for help with maintaining the stability of his kingdom. His lines about entitled men wanting a seat at his table is a direct reference to Killmonger, who plans to snatch Wakanda out from under the Panther. SZA's voice is carried by the heavens as her chorus lights the way to T'Challa's destiny.
X
Performed by Kendrick Lamar, Schoolboy Q, 2 Chainz, and Saudi
Vibranium Bars
"Are you on ten yet? (hol' up, hol' up)
Do you have Henn' yet?
Jewelry on Windex
Woop, eighty my Rolex
Might Maybach the Benz, two-door comin' out
Black on black again, I might gold the trim
I might built the wind, I don't exit here
Too much flexin' here, Go-Go Gadget this" –Schoolboy Q
Ok, put all the drama that comes with the crown aside for a sec, it's time to party. Kendrick faces a royal dining hall filled with loyal subjects, cups filled with the finest firewater imaginable and asks, "Are you on 10 yet!?" Schoolboy Q's verse perfectly depicts what life as the king of the sauciest nation in Africa feels like. This party is exclusive, you better keep it locked to WKDA and listen in for your chance to win some tickets!
The Ways
Performed by Khalid and Swae Lee
Vibranium Bars
"Somethin' in the way you move
Radion beams castin' vibrant views
Pick me up when I fall down and out
Dust me off and show me all truth" — Khalid
The party's been going strong for a while, but it's finally starting to calm down. T'Challa watches his Dora MilaBAE Nakia stirring a drink from across the room. It's time to get his power girl back. Khalid and Swae Lee smooth things over as the king sheds his rough exterior to show his old flame he's grown since they last spoke. Because what's a king without his queen?
Opps
Performed by Vince Staples and Yugen Blakrok
Vibranium Bars
"Stack bodies, not figurines
Move beneath the surface, submarine
I'm half machine, obscene with a light sword
Look inside the brain, it's a ride in the psych ward" –Yugen Blakrok
Fun time's over. The enemy's on the horizon, time to don the vibranium woven Panther habit and bust some heads. Kendrick and Vince Staples' lyrical martial arts leave their opponents crawling in the dirt as Bast whispers "You're dead to me." And Yugen Blakrok? Whew. Her breakneck bars got the right energy for the Dora Milaje to make human shish kabobs to.
I Am
Performed by Jorja Smith
Vibranium Bars
"I been out here tryin' to see my homecoming
And of course, somebody's always gonna say something
Try and shoot me down for voicin' my own opinion
Triggerin' a part of me that's always been indifferent" — Jorja Smith
This one's for Nakia. Jorja Smith sings the tale of this young Dora Milaje who left her country on several spy missions. She wants to bring new ideas to the elite female fighting squad, but she keeps clashing with the older generations' more conservative methods. You hear Nakia's conflict in Jorja's voice; she'll have to find balance within herself and her team to help bring the nation closer.
Paramedic
Performed by SOB x RBE
Vibranium Bars
"Glock get to growling, something like a black panther
Tryna touch a mil, fuck sayin', "Get yo bands up"
Fucking with the gang, yeah I had to man up
One fist in the air, I ain't finna put my hands up (Gang!)" — Slimmy B
Kendrick Lamar turns from T'Challa to Killmonger on this track. Slimmy B's scrappy West Coast delivery sounds like Erik wrote it himself. Killmonger didn't grow up in the protection of a shiny kingdom, and it burns him up inside. He's been clawing his way to the top for years and he's plotting to take everything. Panther better watch the throne.
Bloody Waters
Performed by Ab-Soul, Anderson .Paak, and James Blake
Vibranium Bars
"Blood on my hands, I'ma need hot agua
You gon' meet Jamaica, I'm won't say it in Patois
Hope I strike a nerve like a package of matches
You might wanna bypass, this smoke ain't gas trick" — Ab-Soul
Anderson .Paak channels Zuri, the spiritual center of Wakanda as he preaches about Hail Mary's and false prophets. Ab-Soul paints a picture of the carnage that comes with the crown as the sound of dripping liquid gives the track a blood-soaked backbone. Heavy is the head.
King's Dead
Performed by Kendrick Lamar, Jay Rock, Future, and James Blake
Vibranium Bars
"La di da di da, sl- SIKE
Not your message, not your freedom
Not your people, not your neighbor
Not your baby, not your equal
Not the title y'all want me under
All hail King Killmonger" –Kendrick Lamar
The Golden Jaguar's planning his attack. Kendrick Lamar takes the role of Erik Killmonger yet again as he lyrically goes into battle for the crown. Jay Rock and Future trade snappy lines like movie henchmen — Future even starts making weird voices like one. It all finishes in a Kendrick verse that pulls out every tool in Erik's arsenal. It's war in Wakanda.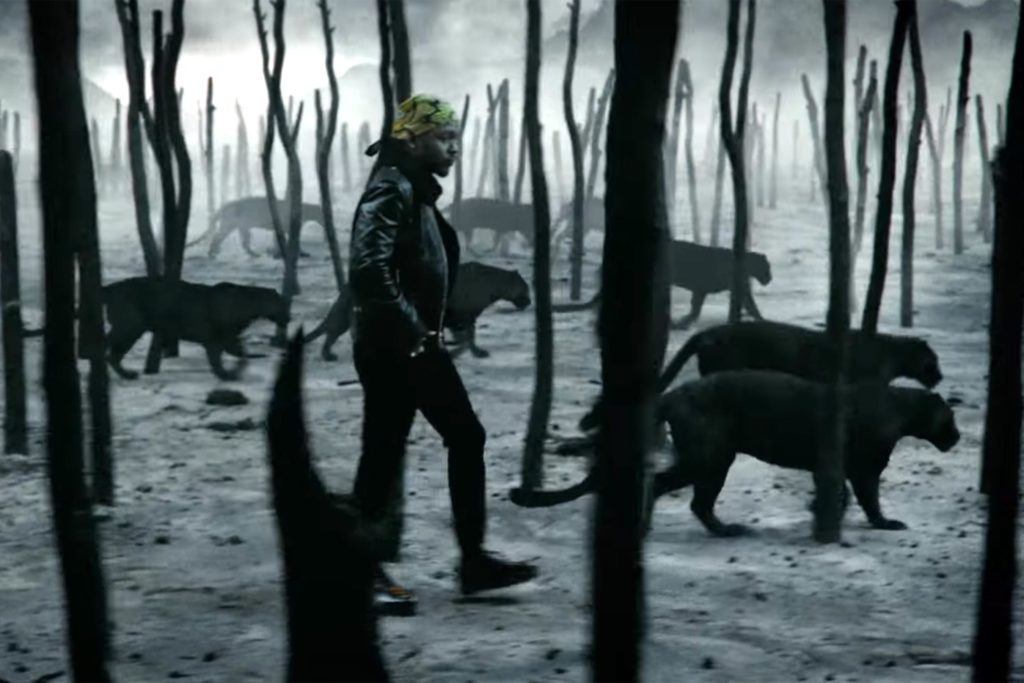 Redemption Interlude
Performed by Zacari
Vibranium Bars
"You love it when I fall on my face
Don't act so surprised when
I'm in, oh, rightful places
Ain't it righteous?
Amen (amen)" — Zacari
This song feels like a moment of reflection for both T'Challa and Erik. They're two sides of the same coin, and Zacari sings of an insecurity both of them share about struggling to maintain an image of strength in their followers' eyes.
Redemption
Perfomed by Zacari and Babes Wodumo
Vibranium Bars
"Everybody say kikiritikiki (kikiritikiki)
Everybody say kikiritikiki (kikiritikiki)
Ung'bambe, ung'dedele. Ung'bhasobhe, ung'gudluke
Ung'bambe, ung'dedele. Ung'bhasobhe, ung'gudluke" –Babes Wodumo
T'Challa takes an Afrobeat laced trip to the spiritual plane on "Redemption." Zacari continues to bless the album with beautiful vocals, easing the king's stress filled head as he looks to Bast for guidance. She speaks to him in the form of Babes Wodumo, reciting chants about African cypress trees and knowing when to let go.
Seasons
Performed by Mozzy, Sjava, and Reason
Vibranium Bars
"Poverty, jealousy
Negativity
Ngith' angandawo la
Go away (far away)
Poverty, jealousy
Negativity
Ngith' angandawo la
Go away (far away)" — Sjava
Zuri comes back to give another word via Sjava's call for an end to all the ills of Africa, spoken in beautiful Zulu. Mozzy and Reason tell dark tales of the past in hopes of finding peace among their people in the future. It's a dope bridging of the gap between African American and continental African artists, sharing their talents, their pain, and most importantly their triumph. Kendrick finishes out the track by bringing his roles as T'Challa and Killmonger together. Like all Africans, they are forever connected.
Big Shot
Performed by Kendrick Lamar and Travis Scott
Vibranium Bars
"Mmm, woo, and I Wakanda flex
And you know what time it is (yeah)
But don't know what grindin' is" — Kendrick Lamar
The day has been saved and now it's time for the king to take his victory lap. Kendrick borrows his standout lines from "New Freezer" to accentuate T'Challa's superior sauciness. Travis Scott bops around on the track, providing echoing adlibs from the ancestors. It's lit in Wakanda.
Pray For Me
Performed by Kendrick Lamar and The Weeknd
Vibranium Bars
"Who need a hero? (Hero)
You need a hero, look in the mirror, there go your hero
Who on the front lines at ground zero? (Hero)
My heart don't skip a beat, even when hard times bumps the needle" — Kendrick Lamar
With his first test as king behind him, T'Challa walks to his throne with his kingdom cheering him on. The Weekend delivers a regal decry:
Who gon' pray for me? Take my pain for me?

Save my soul for me? 'Cause I'm alone, you see If I'm gon' die for you, If I'm gon' kill for you, Then I'll spill this blood for you
He has accepted his role as protector and ruler of Wakanda, and with a tribal yell from the background, he dares anyone to take what he and his people have built.
This album is a perfect complement to the Marvel film. Kendrick Lamar hits hard as the host of the album, really digging into the theme of the film and the talents of the artists and producers to deliver a project that blerds have been waiting for for a long time. Expect to hear all these songs bumping through everyone's speakers when the pull up to the theater opening night.
There's always more Black Panther coverage here at Black Nerd Problems. Check out all of our commentary, fashion tips, and so much more.
Are you following Black Nerd Problems on Twitter, Facebook,Instagram, Tumblr, YouTube or Google+?