Blood of Zeus / Netflix
Blood of Zeus is exactly what you think it is. Just done really well. The opening crawl says it all. There are stories, myths, and fables from some long-forgotten time that were passed down using oration. Never written and often reimagined by the teller. This is one of those. Netflix might strike the same success with Blood of Zeus as it did with Castlevania and Transformers: Siege.
Pandora's Box
Blood of Zeus is a well-written adult animated series with a complex narrative. It's just done well, to great impact. Greek mythology is some of the most overused source material. Bast knows how many pieces of media reference these myths. What Blood of Zeus offers is a very grounded reimagining of some very magical stories. All of the world-building in the show occurs because of the relationships between characters. Whether between commoners, nobles, gods, animals – all of their connections define the landscape of the narrative. It's fairly impressive how the scale of the story moves throughout the series. The 'Hero's Journey' is done as typically as it can be, which makes a lot of sense, given the device has some roots in Greek mythology. There are definitely going to be comparisons to Castlevania – mostly because of the visual palette and heavy horror elements. It doesn't break the mold but it gets the job done, has great action sequences, looks dope, and pays astute attention to detail.
Midas' Touch
The animation style is vivid, dynamic, and most importantly – consistent. If their art department was an NBA bench, it'd be the Team USA roster. Artists from heavy hitting project all across the Nerdosphere have been drafted to make this project happen. There is a level of gore and shadowy tones that easily meets Castlevania, along with an anime influenced dynamism to the action that just feels good. The satisfaction of watching warriors, gods, and monsters go hard in the paint and see the impact of it? Just lovely. Tip of the hat to the art team, every episode has a differently designed opening title tied directly to the episodes theme. Add to that, every ending shows the behind the scenes visual work; from raw animatics, to character designs and pre-vis all the way through to early CGI-sculpting. The attention to detail, and the transparency of how much work goes into each episode, will not be lost on the avid Western anime consumer.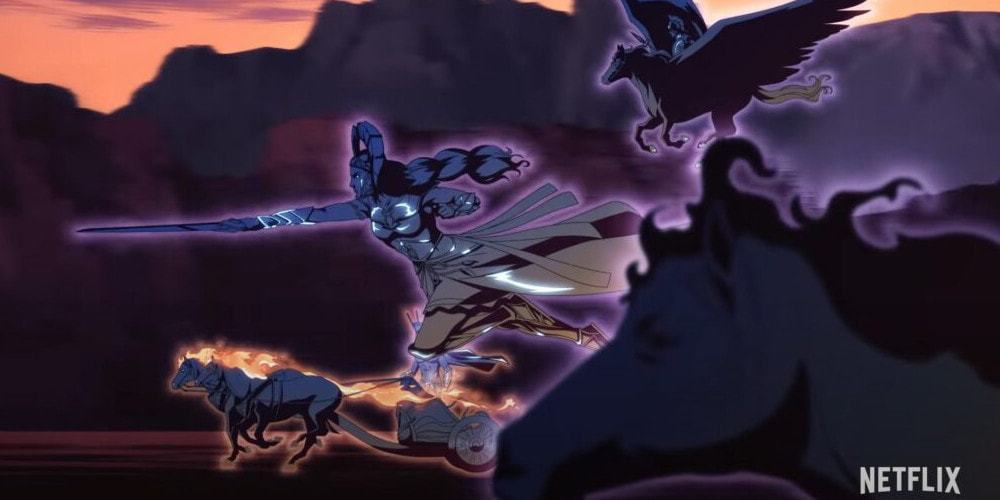 No Stone Unturned
A voice cast can make or break an animated project. Blood of Zeus brings together a group of diverse talents. Much of the story is carried by veteran actors Claudia Christian (Hera), Jason O'Mara (Zeus), and the steady practice of Derek Philips (Heron). Netflix always brings back their faves and we get Jessica Henwick (aka Colleen Wing from Iron Fist) in a badass role as Alexia. The rest of the cast is comprised of the newer voice acting vanguard from the animated and video game arenas, and everyone pulls their weight. There is little wasted dialogue and even the smaller characters shine in their moments without pushing for corny or cliché lines.
Achilles' Heel
There are a couple of spots where a slow-motion and staggered zoom in or out will attempt to further dramatize an important moment. It only lands once, but it happens enough times to be noticeable. Also, it is well known and documented that the gods are petty (Tom Petty, Petty LaBelle, Petty Mayonaise, etc.), but it strikes a strange cord in 2020 to watch an apocalypse go down because of said pettiness. On the other hand, it's also cool to watch divine clapbacks manifest because Hera don't like people playing on her phone.
It's All Greek To Me
It is of particular importance that when telling a Greek myth that there is some acknowledgment of Greek people and culture. Cultural competency comes with research and respect for the people being explored. That the creators and showrunners, Charles and Vlas Parlapanides (writer duo behind the film Immortals), are of Greek descent speak volumes to the attention to details. The rites, rituals, enunciations of names, places, and things in the world, the designs of the pantheon. All of these add a layer of authenticity that forces Blood of Zeus to stand out and stand apart from the multitude of media that sources Greek mythology. If your only window into Greek storytelling was Disney's Hercules and My Big Fat Greek Wedding, get into this and add some anime flavor to that list. Blood of Zeus premieres on Tuesday, October 27th on Netflix
Want to get Black Nerd Problems updates sent directly to you? Sign up here. Follow us on Twitter, Facebook and Instagram.