Our latest SpookMonth features a relatively new show that just ended September this year. Full of cute characters with cute animation and cute school outfits, it's a happy show about friends who live in their school to get the full experience of school life. Oh, there's also a Zombie Apocalypse. Welcome to School-Live!
Since this show is only 12 episodes and it ended somewhat recently the spoiler line is extremely easy to cross so we're gonna keep it super general in terms of the plot and keep it in the first episode.
The show is about high school girls who live in their school because they're part of the "School Living Club" to get the full experience of high school. Yuki Takeya is extremely cheerful and talks to all of her classmates and is a super bubbly girl. She goes to the club every day to hang out with her friends, but for some reason her 3 closest friends are worried about her.
Throughout the first episode there is a sense of dread even though nothing dreadful has happened. Yuki goes to class and talks to her friends. The club's dog runs away and they have to chase it while having a generic comedy chase routine. You know, a normal high school day, but at the end of the episode it's revealed that Yuki and her friends in the School Living Club are the only survivors of a zombie apocalypse and the reason why they live in the school is because it's the safest place.
The thing that makes this show SpookMonth-worthy is the fact that Yuki still believes that the school and everyone in it are alive even though there's no one else there other than her club friends. In her mind everything is still the same as it was before the zombie outbreak. In this show there's drama, action and a little comedy all in one package. Be warned though, this show isn't for you if you don't like cute anime girls and zombies.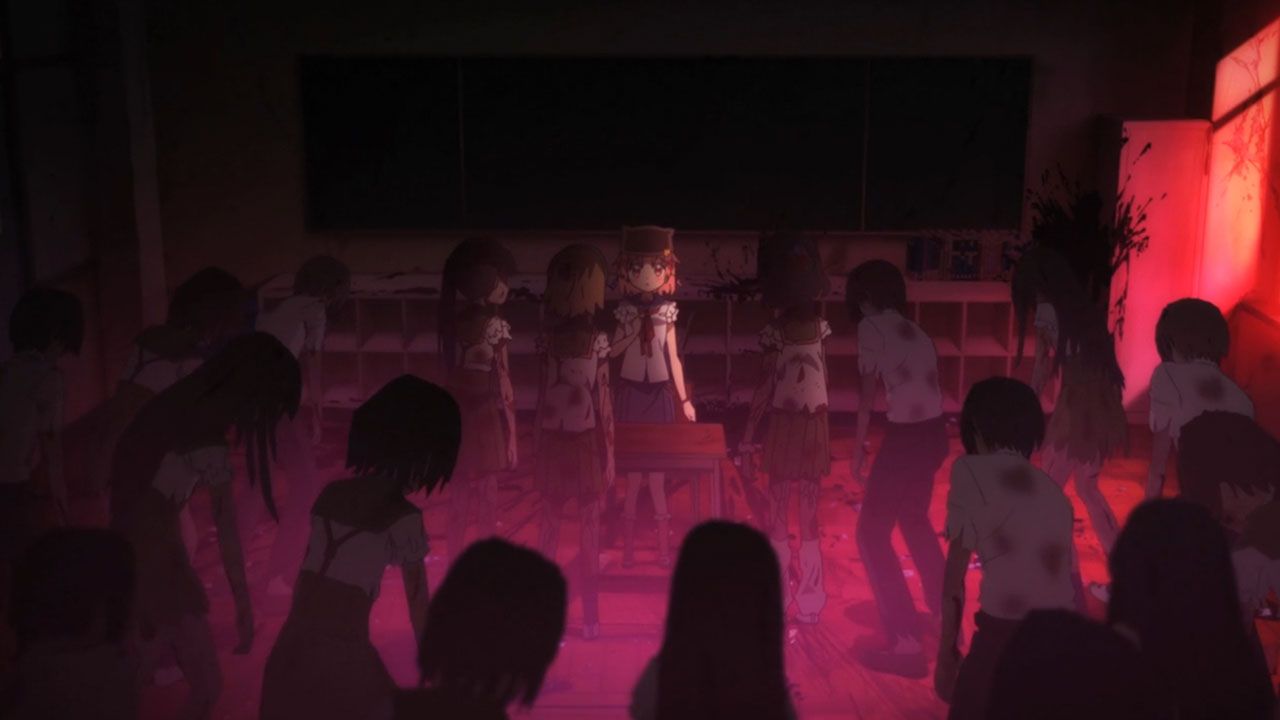 The big reveal that they were the only survivors in the first episode was done so well that even though I knew what the show was about and I knew that it would eventually turn into a darker show it still hit me harder than a seismic toss. The way the show's opening song is used and the way that characters were drawn as silhouettes rather than full characters really brings it home. The opening episode was done beautifully all around.
School-Live ended up being a unique story with Yuki's friends pretending that everyone else is alive because they don't really know how to handle Yuki and the fact that her mind is still living in the past. As the show goes on you get to know each character more and more and their backstories with the zombie outbreak get more tragic as time goes on. With an all-around satisfying story and character development, you can enjoy School-Live whether you watch it in SpookMonth or if you just check it out later after Halloween is over. Once again, happy SpookMonth and don't forget to wash the zombie blood off of your shovels.
Are you following Black Nerd Problems on Twitter, Facebook, Tumblr or Google+?