Robert Zemeckis's Who Framed Roger Rabbit? (1988) is a fondly remembered, nearly seamless marriage of animation and live action. Set in 1947, the film starts off in the crime noir genre yet surprises by evolving into a hybrid offering with plenty of comedy, adventure, and even a touch of a musical. Who Framed Roger Rabbit? pulled in more than 20 awards including a few Oscars (Best Film Editing, Best Effects, Sound Effects Editing) and an Annie for Best Individual Achievement: Technical. This beloved film, that pays homage to Hollywood and to the film industry as a whole, is turning 30. On this, the anniversary of its release in theaters in North America, the BNP crew celebrates a favorite from our childhoods. -Carrie
---
Aisha
This film not only pushed the boundaries of film and technology, but made me who I am today. I know that sounds intense, but when I watch this film and think back on who I was when I first saw it, I know this is where I began loving comedy. This film gave us the pure essence of slapstick. It is a flick about what humor really is, what it does to people, and how it has been seasoned and challenged in Hollywood. The slapstick is blended with our favorite cartoon characters from the past and present of the time. When you see Yosemite Sam fly over that wall from Toontown "My biscuits are burning!", you can't help but feel that tickle in your tummy and laugh straight out loud — you don't even know why it is so funny, but it is. It was one of the first movies of its kind to blend animation and live action so seamlessly. Movie magic at its finest.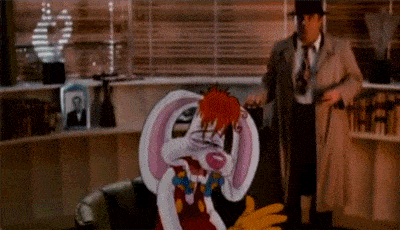 When you put the technology, great comedic timing, silly and witty characters aside, the story arc and meaning behind the movie is unmatched for this type of work. Who Framed Roger Rabbit? is about innovations and expansion for the future. But when expansion is done without honoring our past and our roots it bends to evil and corrupts the mind and community. I mean a Toon that creates a dip that can liquidate other Toons! What kind of sick mind would do such a thing? That dip was the saddest, scariest thing I have ever seen. I legit can't watch the scene with the shoe being dipped, and his eyes welling up – OH GOODNESS, I always look away.
A gumshoe detective movie that uncovers corruption, revitalizes a city and town and changes people in the process, Eddie Valiant (Bob Hoskins RIP) got closure and learned how to treat himself and his relationship better in the end. I think this movie also made me realize the type of partner I wanted in life. I idolized Jessica Rabbit and Roger's relationship, two unsuspecting people together loving from the inside out and doing anything for each other. My favorite scene is when Eddie and Jessica are riding in the car and Eddie says to Jessica, "What do you see in him?" and Jessica says "He makes me laugh."
UGH! I know it sounds so simple, but it's so deep! In a world where laughter  and entertainment is the very fiber of which you were created – he makes me laugh, that's the highest compliment. This movie changed the game for cinema and changed the game for me. It's about honoring classic laughter, while still looking forward into the future. Thank you Roger Rabbit – 30 years old and still laughing.
Mikkel
I was absolutely obsessed over the film noir aesthetic in high school and early college. My senior year, I went to New York and acquired an honest-to-god black fedora like all the classic film noir protagonists used to work. I rocked that goddamn thing through my high school graduation all the way up till sophomore year in college, when my friend browbeat the fedora out of me because of its rampant association with the "nice guy" archetype. (Even though most of their hats were actually trilbies.) My friends knew I didn't roll with that. They also knew that the trench coat look was not as timeless as I wanted it to be. One of the reasons I was goddamn attached to film noir was the proto-noir that was Who Framed Roger Rabbit? It was this perfect mix of the animated characters I grew up watching and this new genre I was discovering for the first time.
Bob Hopkins as Eddie Valiant was such a pitch perfect film noir detective who completely rocked his performance dealing with the Toons. The Toons ended up being this fascinating metaphor for Hollywood race relations. Freaking Christopher Lloyd going full on capitalist villain gave me life. It gave me life y'all. You know what else? Roger and Jessica Rabbit are a great couple who are with each other specifically because they have compatible personalities. They honestly care each other in a healthier manner than a lot of other media-depicted marriages.
Despite the grit and the mystery surrounding the film's plot, Who Framed Roger Rabbit? is unapologetically optimistic in its fantasy. I watched it a decade and a half after it was first released and it still holds up. It venerates old school animation and the film noir aesthetic. The movie continues to present a challenge: How can we get that many Intellectual Property holders to agree to participate in the same project and make them an integral part to the story.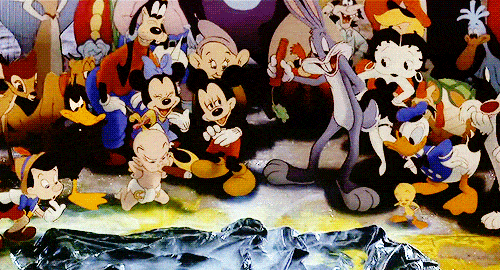 Jon-Carlos
Amadeus, Purple Rain, Top Gun, Kiss of the Spider-Woman and Who Framed Roger Rabbit?: these films have nothing in common except that they were all released during the Reagan administration and I saw them before the age of six. They all left traces on my psyche, some more visible than others. One thing is certain – I lived a good part of my childhood somewhere between Toontown and the "real world." In retrospect, Who Framed Roger Rabbit? was beyond genius. I felt it then, but the words and the understanding were not yet developed. In retrospect, the film is a classic noir meets comedy that satirizes not only the film and television industry, but society and the concept of urban progress. From the age of six to now at thirty-four, I realize the following:
Who Framed Roger Rabbit? is basically the exact same plot as Robert Towne and Roman Polanski's "Chinatown." Subtract the troubling sexual implications the plot produced, add a talking NYC taxi named Benny, and you have a noir film that is kid-friendly…kinda.
Baby Herman predicted Harvey Weinstein?
Judge Doom still gives me nightmares. That voice, those eyes and gentrification go hand in hand.
Jessica Rabbit awoke feelings in me I wasn't sure I had…or wasn't supposed to have yet.
I still think I am playing Patty Cake the right way…I am either doing it too fast, too slow, or starting with the wrong hand. At this point, though, I have to be thankful I didn't end up in a seedy motel playing Patty Cake while drinking Acme Vodka with a two-dimensional animated character in a red dress. Not that I play Patty Cake or anything…
The final words of wisdom from R-Dub himself:
If you ain't gotta sense of humor, you're better off dead!" – Roger Rabbit.
Seen.
Who Framed Roger Rabbit? is the big 30 as of today! For fellow fans: what helped make this film a darling for you? Why do you see it as a iconic film to be loved and rewatched? Let us know in the comments!
Want to get Black Nerd Problems updates sent directly to you? Sign up here!
Follow us on Twitter, Facebook,Instagram, Tumblr, YouTube and Google+.