Writer: Charles Soule / Artist: Phil Noto / Marvel Comics
The Death of Daredevil. This is one of those eye-rolling titles long time comic readers have been plagued with for years. "Yes, you'll kill the character and bring them back in however many months or years". The headline almost feels like an insulting attention grabber to those of us loyal to the most recent Daredevil run. Lucky enough, all this bitterness and cynicism fades away quickly once the comic is opened. Charles Soule and Phil Noto tell the second part of the "Death of Daredevil" story where The Man Without Fear and his investigative team is on a mission to prove that Kingpin stole the election for the mayor of New York City.
This issue begins with our hero romantically confronted by a very special re-occurring character, Electra Nachios. After a night of passion, Electra is adopted (somewhat reluctantly) into the team. The plan is to kidnap Kingpin's right-hand man, John Wesley, to uncover further information. "Complications" arise when the escape car (driven by the blind Inhuman, Reader and his corgi, Forey) is immobilized by a new assassin calling himself "Vigil". His goal seems to be to take out Wesley to prevent him from spilling any valuable information.
Expertly Done
The story Soule tells is a clever outgrowth of the decision to make Wilson Fisk the mayor. Daredevil has been protecting people from assassins for years now. Injecting a couple new plot points makes the narrative feel fresh. Soule's dialogue really shines in Matt's inner monologue about Electra during their night together. He reflects on all the love interests who have died because of their involvement with Daredevil. In fact, Electra is one of them. She holds a special place, exuding an eager willingness and unique capability to take that risk. There's a moment, too, where he thinks she ghosted him afterwards. There's such loss and sadness in the monologue and when he finds her still with him: incredible relief.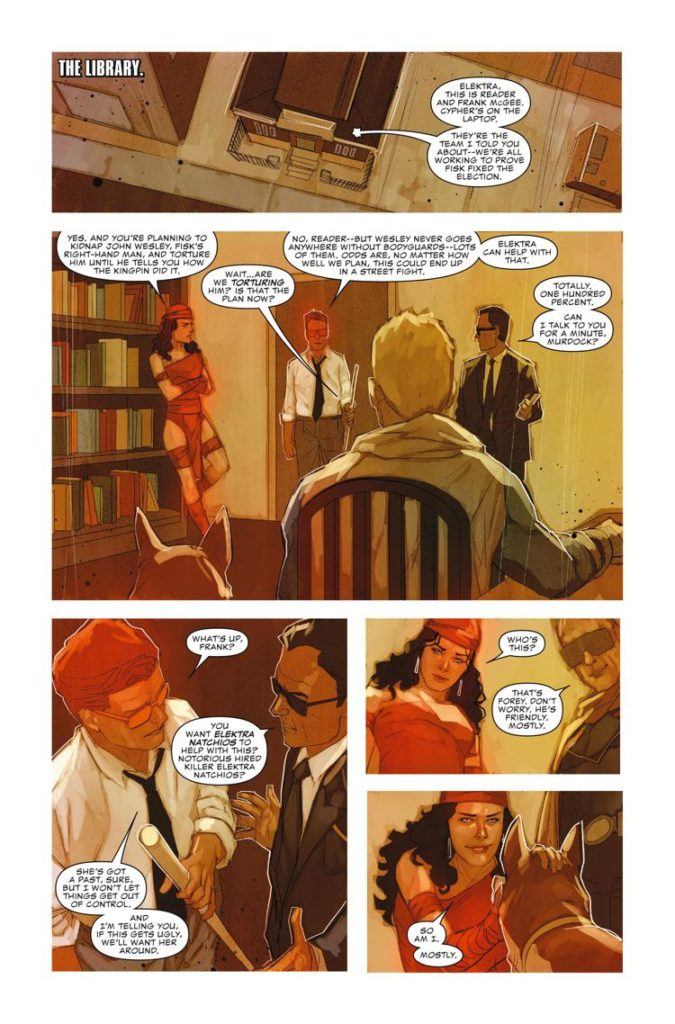 Phil Noto absolutely murders this book art-wise. The first page has Murdock and Nachos embracing, with a backdrop of the night's cityscape and an illuminated silhouette around them, and it sings. There's a deliberate blue and red hue throughout the scene permeated by Daredevil's radar. The rest of the book is also expertly done. Different color palettes are used in various scenes and the attention to detail is just glorious. More so than Daredevil's apparent death at the end of this series, I'm most terrified at the possibility of Phil Noto not drawing Daredevil.
10 "Half-Naked Greek Assassins" out of 10
Reading Daredevil? Find BNP's other reviews of the series here.
Are you following Black Nerd Problems on Twitter, Facebook, Tumblr or Google+?